By Brendan Gilmartin
Overview
Yahoo! Inc. (NASDAQ:YHOO) is slated to report 1Q 2014 earnings after the bell on Tuesday, April 15. The earnings release is expected at approximately 4:05 p.m. EST with a conference call to follow at 5:00 p.m. Despite the expected cash infusion from the widely publicized Alibaba IPO, Yahoo! shares are off about 15% from the early March highs near $40 and set at the lowest level in close to 5 months.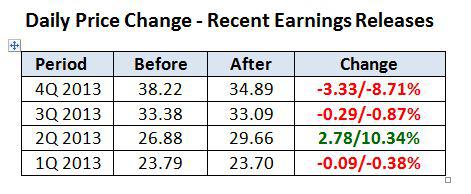 Outliers & Strategy
Key measures:
Non-GAAP Earnings Per Share: The current Street estimate is $0.37 with a range of $0.31 to $0.48. (Source: Yahoo! Finance).
Revenues: Analysts expect a relatively flat year over year at $1.08 bln.
Despite the recent pullback, Yahoo! shares are trading at 26.8x earnings, 7.3x sales, and 2.6x book value - a slight premium to the five-year averages of 23.1x, 5.1x, and 2.0x, respectively.
While the equity has come under pressure ahead of the quarterly results, the volatility in the options has picked up, with the market pricing in a 6.25% off the results, versus the average price move of 5.51%.
Apart from the earnings and revenue figures, other variables that could impact post-market trading include display revenue, ads sold, paid clicks, and price-per click.
Recent News
04/07: Yahoo's ramping up their TV programming efforts could profit on advertising as well as licensing but finding popular shows is the hard part, according to a post on Forbes.
04/04: Local News may be worth the $300 million being discussed for News Distribution Network, or NDN, which had 573 million video views in January alone, according to a post on TheMotleyFool.com.
04/04: Rumors are circulating that Yahoo wants to launch its own YouTube with support seen by a growing appetite for network content, according to a post by Entrepreneur.
03/17: Yahoo shares rose more than 4% amid reports that China-based Alibaba Group Holding was looking to list its IPO in the U.S. Yahoo, which owns a 24% stake in the China-based e-commerce company also received a positive note from Topeka Capital, according to a post on Barron's Online. The firm reportedly reiterated a Buy rating and $47 price target on Yahoo! and believes it could net $9.3 bln in immediate after-tax proceeds from the Alibaba offering, while the company is experiencing improving fundamentals and improving traffic trends.
Technical Review
Yahoo! shares moved up over 250% since October 2012 but ran into some resistance above $40. The stock is testing the 200-day moving average after having moved up too fast to produce any noteworthy support levels above the low $30s. (Chart courtesy of StockCharts.com)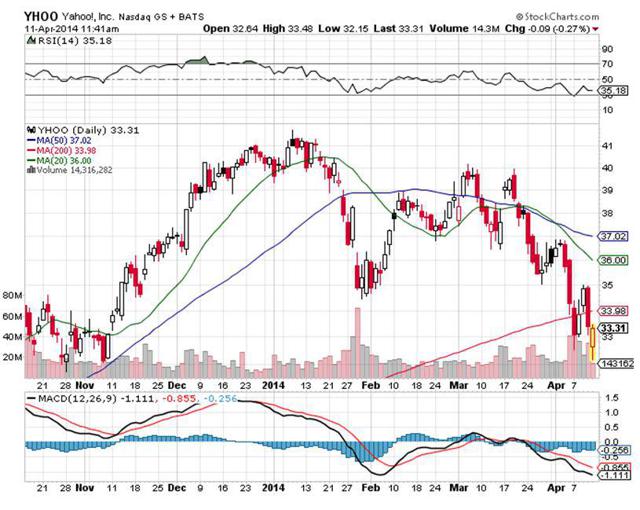 Summary
Yahoo! has beaten estimates in each of the last four releases but the market reaction has often been indifferent. With the recent focus on a departing COO and the Alibaba IPO, earnings could come in at the high end of estimates and still see limited reaction from the stock. Above $40 and the stock runs into resistance. Below the $33.00 and $32.00 area would suggest a lack of support by the 200-day moving average and the October/November consolidation area.
DISCLAIMER: By using this report, you acknowledge that Selerity, Inc. is in no way liable for losses or gains arising out of commentary, analysis, and or data in this report. Your investment decisions and recommendations are made entirely at your discretion. Selerity does not own securities in companies that they write about, is not an investment adviser, and the content contained herein is not an endorsement to buy or sell any securities. No content published as part of this report constitutes a recommendation that any particular investment, security, portfolio of securities, transaction or investment strategy is suitable for any specific person.
Disclosure: I have no positions in any stocks mentioned, and no plans to initiate any positions within the next 72 hours. I wrote this article myself, and it expresses my own opinions. I am not receiving compensation for it (other than from Seeking Alpha). I have no business relationship with any company whose stock is mentioned in this article.