I cannot help but like occasional market sell-offs. I like them because they give me the chance to double down on my high conviction investment ideas: Most notably Ford Motor (NYSE:F) and Bank of America (NYSE:BAC). Both companies are market leaders in their respective industries and I can't imagine either the car- or financial industry without these companies.
I believe yesterday's market sell-off gives investors an interesting opportunity to add Ford Motor to their investment portfolios or to increase the exposure to the car manufacturer. Yesterday's correction has likely been driven by some kind of profit-taking and, possibly, the influence of algorithm-based trading. Economic news, however, did not warrant an adjustment of equity valuations.
The US economy, as sluggish as it grows, is doing ok. With ultra-low interest rates and low inflation, the US economy is far from overheating. Good news also came from Europe: Greece made a successful comeback to the capital markets by selling a boat load of five-year bonds -- for contrarian investors, Greece is probably the most promising hunting ground there is today.
Top notch sales performance underpinning long-term company value
Ford Motor presented strong results this month in terms of car sales performance. This comes after already solid sales results released in prior month. For those investors who got caught off guard by yesterday's market correction, they should take the time to consider Ford Motor's recent press releases. Both press releases (see below) were disseminated at the beginning of April and highlight, that Ford Motor is at the top of its game in both the United States and emerging markets.
On April 1, 2014 Ford Motor released information with respect to its car sales performance in the United States [emphasis added]:
DEARBORN, Mich., April 1, 2014 - Ford Motor Company U.S. total March sales of 244,167 vehicles are up 3 percent from a year ago. Retail sales of 166,030 vehicles are up 3 percent and represent the best March result in eight years.

"March sales turned noticeably higher mid-month and finished strong," said John Felice, Ford vice president, U.S. marketing, sales and service. "Fusion set an all-time record in March, as overall retail sales in the West continued to expand at the fastest rate in the nation - including California being up 32 percent. F-Series also had a very strong month, as did Lincoln MKZ."

Ford Fusion sales of 32,963 vehicles set an all-time monthly record since the vehicle was introduced in 2005. The western region of the U.S. continues to drive Fusion retail sales higher, including a 22 percent increase in March.

Ford F-Series surpassed the 70,000-vehicle sales mark with 70,940 trucks sold. During the last seven years, F-Series has surpassed the monthly 70,000 truck mark only four times. Last month marks F-Series' highest March sales volume since 2008.

Lincoln MKZ sales of 4,052 vehicles are up 72 percent, setting an all-time monthly sales record. The strong performance of MKZ drove overall Lincoln sales to a 31 percent increase in March, the sixth straight month of sales gains. During the last six months, Lincoln has increased sales 27 percent with 43,445 vehicles sold.
Ford Motor is heavily reliant on the US auto market with the majority of its revenues and earnings originating at home. Ford Motor achieved respectable results across its product portfolio -- especially with regard to Fusion and F-Series. While the US auto market appears relatively saturated, the booming Chinese presents Ford Motor with solid incremental growth opportunities.
On April 8, 2014 Ford Motor released Chinese sales numbers which were up significantly y-o-y [emphasis added]:
SHANGHAI, CHINA April 08, 2014 - Ford China goes into the Beijing Auto Show with record monthly sales of 103,815 vehicles, a 28 percent increase over March 2013, crossing the 100,000 monthly sales mark for the first time. Excellent March performance brought first quarter sales up by 45 percent, with 271,321 vehicles sold compared to 186,596 during the same period last year.

"We're pleased that China's car buyers continue to choose Ford," said John Lawler, Chairman and CEO of Ford China. "Our strong sales momentum demonstrates the success of our accelerated China growth plan and puts Ford in a great position as we get ready to showcase our full product lineup at the Beijing Auto Show."

Ford-brand car sales--which include sales for the imported Ford Explorer, Ford Edge, Ford Focus ST and the Ford Fiesta ST--grew 57 percent in the first quarter, with 204,196 cars sold, up from 130,176 during the first quarter of 2013. In March, sales were up 35 percent with 75,314 cars sold compared to 55,787 during the same period last year.

Ford's passenger car joint venture Changan Ford Automobile saw sales rise 52 percent in the first quarter, with 195,198 vehicles sold compared to 128,006 in the first quarter of 2013. March sales also grew, with 71,888 vehicles sold, up 30 percent compared to 55,348 in March 2013.

Sales for the Ford Kuga reached a major milestone last month, with over 120,000 vehicles sold since its launch in February 2013. With its smart technology, sleek design, leading safety, quality, and fuel efficiency, the Ford Kuga was in high demand last month, with 12,107 vehicles sold, up 26 percent from March 2013.

Steady growth continued with Ford's commercial vehicle investment in China, Jiangling Motors Corporation (JMC). JMC sold 67,125 vehicles in the first quarter, up 19 percent from the first quarter of 2013. March sales also increased to 28,501 vehicles, up 11 percent compared to the same period last year.
China is the most attractive auto market in the world -- as proven by its high y-o-y sales growth rates. The country has a population of over 1.3 billion, representing the greatest market penetration potential in the world. Contrary to the United States and other markets in the developed world, China's car market is far from saturation and I expect Ford Motor's top sales results to continue for the time being.
Technical picture
The market sell-off has pushed the share price of Ford Motor again below the $16 mark. The $16 level was just recently crushed by the car manufacturer after it presented top notch sales performance for March 2014.
The Relative Strength Index suggests, that Ford Motor is oversold and a technical reaction could push the share price quickly above the $16 level again in the short-term.
In any case, the recent consolidation allows investors to pick up a leading car manufacturer at a low valuation (the forward P/E ratio stands just at 8.2x according to Yahoo Finance) providing investors with a solid margin of safety.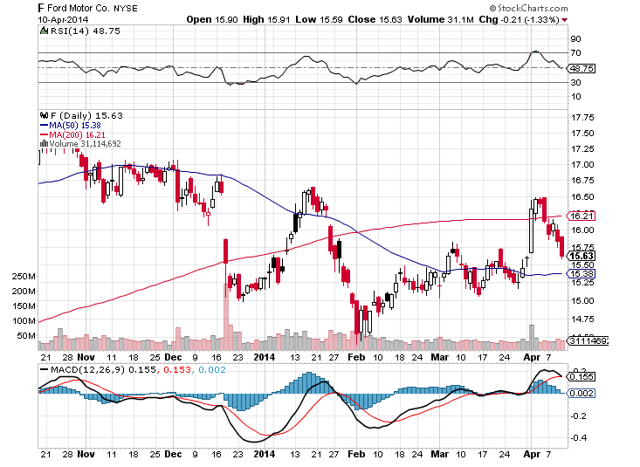 (Source: StockCharts.com)
Conclusion
Occasionally Mr. Market quotes irrational prices for high quality businesses. One such business is Ford Motor. The car manufacturer has shown over and over that its sales are going strong in a variety of geographies. Ford Motor's press releases at the beginning of April suggest, that the company is capable of sustaining its sales momentum -- both in the important domestic market as well as abroad. Ford Motor presented extremely strong Fusion and F-Series sales results in the United States and high double-digit y-o-y sales growth rates in China.
The current consolidation offers investors the chance to pick up Ford Motor at a truly ridiculous valuation. Ford Motor trades at only 8.2 times forward earnings and at about 6.5 times estimated 2014 free cash flow. At about $15 per share Ford Motor is an extraordinary bargain and I will continue to purchase Ford Motor's stock aggressively at these levels.
Disclosure: I am long F, BAC. I wrote this article myself, and it expresses my own opinions. I am not receiving compensation for it (other than from Seeking Alpha). I have no business relationship with any company whose stock is mentioned in this article.