Consumer credit decreased at an annual rate of 4-1/2 percent in May 2010. Revolving credit decreased at an annual rate of
10-1/2 percent, and nonrevolving credit decreased at an annual rate of 1-1/2 percent.
So non-revolving is now declining again, and the decrease in the revolving credit continues apace.
There's absolutely nothing encouraging about these numbers from a standpoint of "recovery". Remember, all money is debt (that is, is backed by debt issuance) and so is credit; ergo, if credit is contracting then the economy must follow.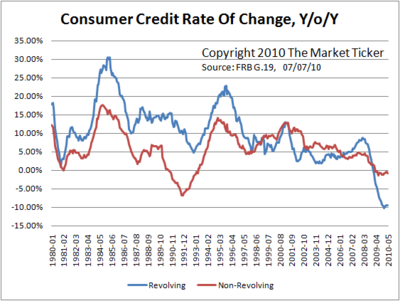 That's rather compressed due to the long range of the chart - let's expand it: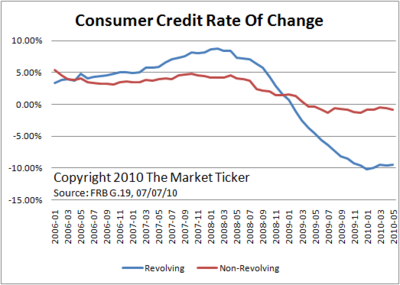 No growth of any sort in either since the first of 2009, and the rate of decline in revolving (credit-card) debt has not improved one iota in the last six months.
There is no more consumer pull-forward capacity in the economy.
The levels show what's going on: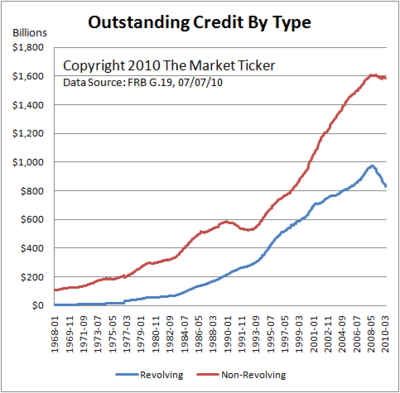 Take that $200 billion in revolving right out of GDP - yeah, it's "only" $100b a year. But remember, before we were adding it, now we're subtracting it, so the swing is double the subtracted amount.
Where's my "recovery" BenDover and TurboTimmy?
I'll tell you where it's not - in increased credit capacity and acceptance.
PS: The revisions were ridiculous too. The charts above reflect the revisions as well.... they effectively erased the alleged "improvement" in the rate of decline that was allegedly "reported" last month.