Wireless handset chip provider Skyworks Solutions (NASDAQ:SWKS) is due to announce its second-quarter results on April 22. The company's shares have already appreciated 24% this year, and is poised to do well in the future. With smartphone growth in emerging markets, involvement in Machine-to-Machine technology, and favorable fundamentals, Skyworks proves to be a valuable investment with major potential for long-term growth.
Revenue and Earnings Expectations
Looking at analyst estimates, Skyworks' revenue for this quarter is expected to come in at $470.26 million, indicating a 10.6% sales growth from the same quarter the previous year. Although this is a decrease from last quarter's revenue numbers of $505.20 million, this is mainly due to seasonal variation. Going forward, revenue should continue to increase this year, especially with further development of the relationship between Apple (NASDAQ:AAPL) and China Mobile (NYSE:CHL).
With earnings, estimates show that Skyworks is expected to post a profit of $0.59/share, compared to $0.48/share from the same quarter the previous year. Last quarter's EPS was $0.67/share, so this decline is due to the decrease in revenue over the past few months.
Downside Risks and Going Forward
Downside risks to Skyworks include the competitive environment that the company is in, and general macroeconomic and geopolitical risks that are out of the company's control. As a whole, the semiconductor industry is a rapidly-changing field, with new products and technologies being released constantly. Any company, including Skyworks, will have to keep up with this fast pace in order to operate efficiently. In addition, macroeconomic trends that can affect the entire technology sector will affect Skyworks accordingly. Slumps in the mobile market, as seen previously in the PC market, can hurt Skyworks in the future. Fortunately, Skyworks is diversifying its products and expanding into new areas, such as Machine-to-Machine technology.
Skyworks is positioned to do well in the semiconductor industry over the next year, and has major room to grow. Smartphone growth in emerging markets will give a boost to the company, its exposure to the Internet of Things industry will give it further leverage, and its cheap valuation and upcoming dividend program make it an attractive investment.
Apple and China Mobile
The upcoming report should factor in the results of the Apple-China Mobile agreement. With this agreement, Apple has been authorized to sell iPhones on the largest mobile carrier in China, whose population is undergoing the shift from 2G to 3G and LTE smartphones. February was the first full month in which the iPhone was available on the network, and The Wall Street Journal reported that 1.34 million new users were added to the carrier's 4G network that month, with most of them being iPhone users. Although this falls short of analysts' expectations for iPhone sales on the network, it is important to also look at new 3G users as well. China Mobile's 4G/LTE network only covers 20 of the country's major cities, so it is essential to consider that 24 million 3G users were added in January and February combined. The carrier is looking to expand its 4G service to over 200 new cities over this year, which is indicative that the Apple-China Mobile relationship is still in its infancy.
The Internet of Things
The advancement of Machine-to-Machine technology and the Internet of Things industry should also serve as a major catalyst for Skyworks' growth in the future. Morgan Stanley states that over 75 billion devices will be connected to the internet by the year 2020, and as Skyworks' designs serve numerous products, it is inevitable that the success of this growth will trickle down to the company. Further, it is reassuring that management understands this and labels it as a key priority for the company to tackle. President and CEO of Skyworks, David Aldrich is quoted as saying, "We are capturing margin-accretive content across a broad set of end markets spanning automotive, industrial, smart energy, home automation, medical, mobility, and cloud computing… Our system-level innovations and scale advantages are translating into accelerating top line growth, margin expansion, and most importantly, returns well in excess of our cost of capital. Accordingly, Skyworks is well-positioned to capitalize on the Internet of Things tsunami and to outpace the broader analog semiconductor market while increasing shareholder value."
Financials and Valuation
Skyworks' financials and cheap valuation make it a lucrative investment that sets it apart from its peers, such as Broadcom (BRCM). The company has a P/E of 22.19, compared to a peer median of 23.75. Its profitability ratios are generally better than its competitors, with an EBIT Margin of 20.57% (11.35% peer median), ROA of 13.35% (3.74% peer median), and an ROIC that is roughly in line with the median, at 14.21%. Also, the company holds no long-term debt, and will be introducing a quarterly dividend program scheduled for later this year. Analyzing the ROIC to WACC relationship, its ROIC of 14.21% is greater than the Bloomberg-calculated WACC of 12.30%, indicating that the company is using its invested capital efficiently.
The investment fund at my school uses an Excel spreadsheet based on Bloomberg data to compare a company to its peers. As you can see with Skyworks, its ratios are incredibly impressive.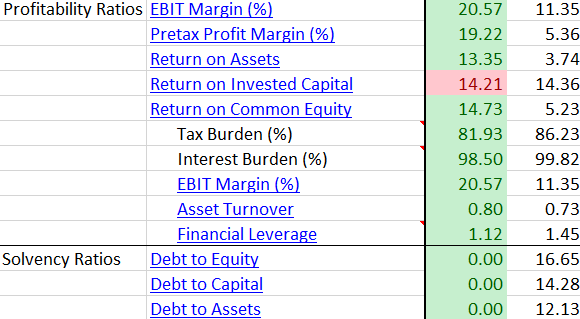 Conclusion
The upcoming earnings report will show that Skyworks is a great company that consistently flies under the radar, despite showing growth and financials that outshine its competition. It is a well-positioned opportunity for investors to take advantage of, and its tremendous balance sheet and involvement in an exponentially growing market will help to further its cause.
Disclosure: I am long SWKS. I wrote this article myself, and it expresses my own opinions. I am not receiving compensation for it (other than from Seeking Alpha). I have no business relationship with any company whose stock is mentioned in this article.