Looking for stable dividend stocks in this topsy-turvy 2014? Like many of the stocks in our recent articles, this week's focus stock is a high dividend stock, with good growth. What's more, it's beating the market so far in 2014.
Profile: Omega Health Investors (NYSE:OHI) is a Real Estate Investment Trust ("REIT"), providing financing and capital to the long-term healthcare industry in the US. 97% of its facilities are skilled nursing operations. As of 12/31/14, OHI owned 538 health care facilities, in 37 states, for a total gross real estate investment of around $3.9 billion.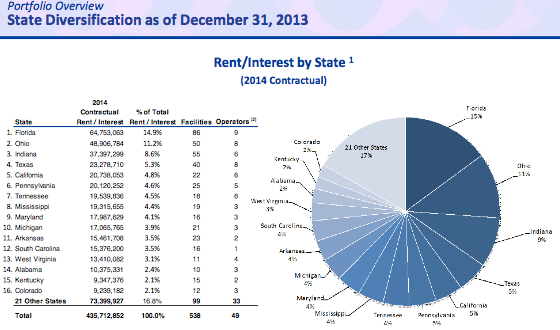 OHI employs long term triple net leases, with cross collateralization provisions and monthly reporting requirements, to customers with strong credit profiles: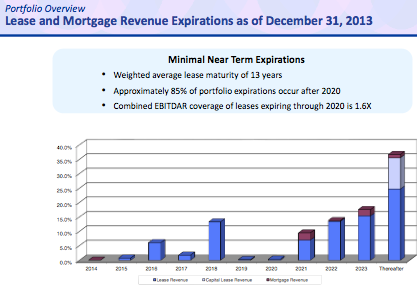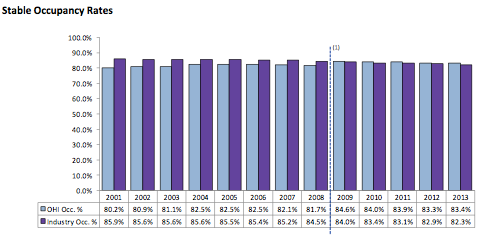 (Source: OHI March 2014 Investors Presentation)
"While certified beds and patient occupancy rates remain stable, the number of skilled nursing facilities (SNF) has trended downward." SNF supply went from over 17,000 facilities in 2000, to around 15,700 in 2013. Looking into the future, OHI has the advantage of being in a business that will be increasingly supported by the aging of the US baby boom generation, which is forecasted to live longer than previous generations: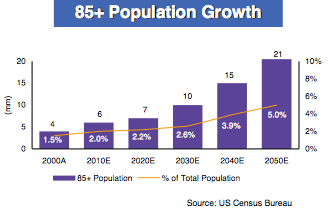 (Source: OHI website)
Performance: While OHI has lagged the market over the past year, it has outperformed in 2014 - the S&P is down -1.77%, as of 4/11/14, vs. OHI's 14%-plus ytd return:

(Source: Yahoo Finance)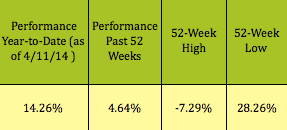 Dividends: OHI has steadily raised its quarterly dividend since 2004, going in $.01 increments, from $.17/share, to the current $.49/share. In fact, it has raised its quarterly dividend by $.01/share for the past 6 straight quarters. With its 5%-plus yield, it's listed in the Healthcare section of our High Dividends By Sector Tables.

The company has ample Funds From Operations - FFO - to cover its dividends, and was ranked 1st among HealthCare REIT's in 10-year Total Shareholder Returns by Keybanc Capital Markets: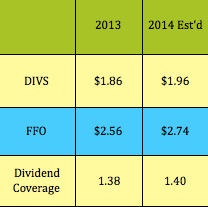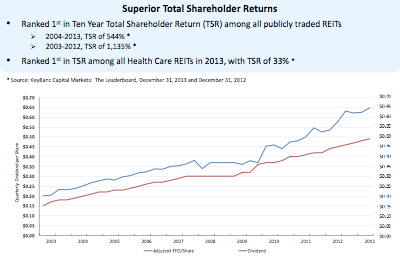 (Source: OHI March 2014 Investors Presentation)
Options: We haven't added any trades yet for OHI to our Covered Calls Table or our Cash Secured Puts Table, as its options yields aren't that compelling currently.
Earnings: In addition to providing good shareholder returns over the past several years, OHI has also shown steady growth over the most recent 4 quarters in FFO, Revenue, and EPS: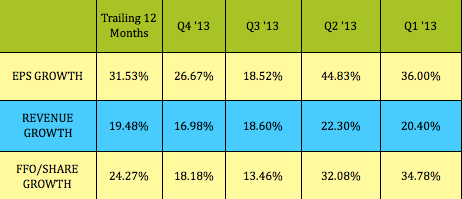 Valuations: OHI looks undervalued vs. its peers on a trailing P/E, forward P/E, and 5-year basis. In addition, it has a lower than peer average Price/Tangible Book. However, it has a much higher Price/Sales ratio:

Financials: OHI's management efficiency ratios are in line with its peers, while it Operating Margin is much higher. It does carry more debt, all of which is long term. In March, the company issued 4.950% senior notes due 2024, to institutional buyers, in the aggregate principal amount of $400 million. It intends to use the net proceeds of the offering to repay a portion of its outstanding term loans and revolving credit facility borrowings.

Disclosure: Author had no positions in OHI as of yet, at the time of this writing.
Disclaimer: This article was written for informational purposes only.
All tables in this article are furnished by DoubleDividendStocks.com, except where otherwise noted.
Disclosure: I have no positions in any stocks mentioned, but may initiate a long position in OHI over the next 72 hours. I wrote this article myself, and it expresses my own opinions. I am not receiving compensation for it (other than from Seeking Alpha). I have no business relationship with any company whose stock is mentioned in this article.