Three weeks ago I noted that the second quarter has been the worst performing quarter for the US markets in three of the past four years. If the past two weeks are any indication of what's to come for the averages in the second quarter, investors will be very disappointed.
According to the Stock Trader's Almanac, April marks the end of the stock market's strongest six-month period. "We found that most of the market's gains are made from November to April, whereas you either go down or are flat from May through October; hence the sell in May and go away (strategy)," says Jeff Hirsch, editor-in-chief of the Stock Trader's Almanac.
PowerShares QQQ (NASDAQ:QQQ) looks like it will test its low for the year of $83.74. If it breaks that level, it could easily return to fill the technical gap that was created on October 18, 2013. This would take another 5% off its current price. Without any real technical support there, the price could easily drop another 5% from there.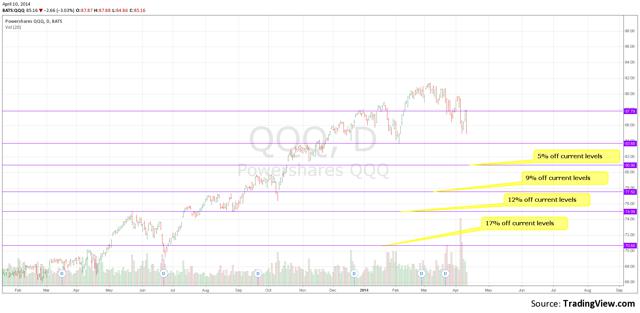 The last three corrections of more than 10% for the S&P 500 (NYSEARCA:SPY) have taken place in the second quarter. In 2012 the price dipped 10% from its high in April to its low in June. In 2011 SPY began a 21% slide in May that would continue until October of that year. In 2010 the price would drop by 17% to its low for that year on July 1, 2010.
Prior to last year, the last two highs for SPY were at $157.61 in 2007 and $155.31 in 2000, roughly 17% lower than its all-time high seen in 2014. A drop of this magnitude certainly is not out of the question as SPY dropped by that much in 2010 and 2011.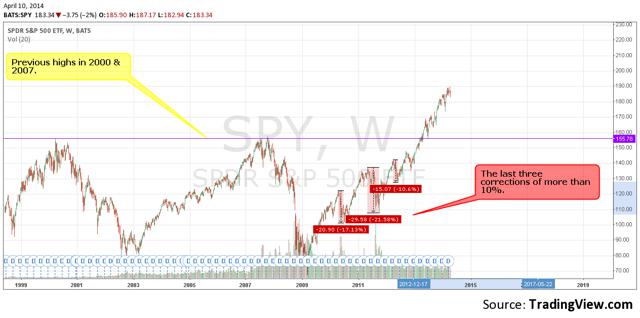 It is very challenging to find alpha in down markets, particularly for those investors who do not like to expose themselves to the risks of shorting. It is important to control one's emotions and not get overly optimistic when the market rallies from its latest selloff. It is easy for traders to get sucked into these rallies if they are worried about recovering losses they may have on the year. Losses need to be minimized as they can become much greater by chasing gains, especially in down markets. There is much more risk to the downside in current market conditions than there is upside reward.
Plan of Action
Cash is King. A truly active investor or portfolio manager will begin to accumulate cash in their portfolios when they feel the market is about to begin a decline. Not only does this give investors insurance in case the market sells off, but great opportunity is also created for those fortunate enough to build up a cash reserve before a move to the downside.
Opportunity created by having a portfolio full of cash when the market bottoms out. Patience and preparation are rewarded in down markets as major bottoms are typically seen in October. It is important to remember that your long-term financial well-being should be the primary focus. The best recommendations I have ever made were not stocks that skyrocketed in value, they came when I have recommended a client stay out of the market. There is no greater investment opportunity created than from having a portfolio full of cash when the market sells off. Not only was damage to portfolios avoided, but clients had the ability to take full advantage of the buying opportunity that is created after a selloff stops.
Identify the types of stocks that can withstand market declines: turnaround companies, deep value stocks that unlock a catalyst that forces investors to pay attention, and companies making clear advancements that could significantly add to the company's revenue stream. If the markets experience an extended decline, certain stocks will stop declining in price, turn sideways, and then begin moving to the upside. These stocks have tremendous potential to provide substantial returns as they become the stars of an otherwise dark market. Investors who would otherwise overlook these stocks are forced to pay attention as there are few other places to put their money.
Best Case Scenario
The first quarter of 2014 was the market simply taking a breath and the average end up taking another move higher, further extending the rally that has lasted five years.
The last time the S&P was positive for six consecutive years was in the 1980s. The results during that particular stretch look very similar to what we have seen the past five years. Two years of double digit gains, a relatively flat year, and then two more years of double digit gains. The sixth year of that cycle provided a gain of only 2.03%
The last two five year bull markets were followed by losses of more than 30% to the S&P 500. The potential losses the market is currently exposed to far outweigh any possible gains that may be forfeited under the best case scenario. The risk is not worth the potential reward.
For those seeking alpha in their portfolio the question may be more a matter of when to look, not where to look. Chasing gains can be devastating to portfolios in down markets. After major market bottoms everything goes up, and gains don't need to be chased - they come to those who have the cash to invest. In order to be able to take full advantage of the premier periods to generate alpha in a portfolio, it is essential for investors to have reverses of cash already built and the ability to become fully invested.
Disclosure: I have no positions in any stocks mentioned, and no plans to initiate any positions within the next 72 hours. I wrote this article myself, and it expresses my own opinions. I am not receiving compensation for it (other than from Seeking Alpha). I have no business relationship with any company whose stock is mentioned in this article.