By Chris McKhann
The real estate market is still hurting, but real estate investment trust Annaly Capital Management (NYSE:NLY) is up almost 30 percent in the last six weeks and option traders are betting that current levels will hold.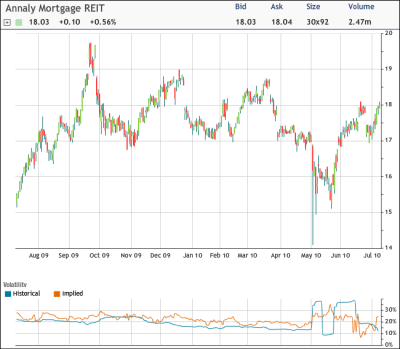 NLY is up fractionally to trade at $18.03. Shares were down near $15 at the end of May but have found solid resistance at $19. That level was broken only for a couple of days back in September 2009.
There has been tremendous volume in NLY options, but today's activity is led by a relatively small trade in the August 18 puts. One block of 2,000 were sold for $0.54 against open interest of 1,078 contracts, indicating that this is a new opening position.
Selling an at-the-money option is used by traders who are very willing to get long the stock if assigned. If NLY is below its current price at expiration, for example, the seller will be obligated to buy shares. This strategy reflects the outlook that NLY will be within $0.54 above or below $18.
It is also likely that these puts were sold against some amount of NLY stock already held. Option sellers often hedge positions with underlying shares to make the trade more of a bet on volatility -- in this case, falling -- instead of the direction of the stock.
Disclosure: No positions