Computer Programs and Systems (NASDAQ:CPSI) is the leading provider of electronic health record (EHR) systems for hospitals. The company has over 30 years of experience in the community and rural hospital markets for healthcare IT and has a leading position in its market. The company focuses on EHRs, order processing, documentation, and picture archiving and communication systems (PACS).
Outlook
CPSI's business has benefited strongly from government action over the past few years. First, the American Recovery and Reinvestment Act of 2009 (ARRA) both increased compliance requirements for electronic healthcare records and provided funding subsidies to help healthcare organizations attain IT products and services. Hospitals are mandated to meet ARRA's compliance requirements and simultaneously incentivized to invest in health care IT to qualify for stimulus, totaling $831 million.
More recently, the Patient Protection and Affordable Care Act of 2010 (popularly called Obamacare) required digitization and electronic availability of patient records. As a leader in small/midsize markets, CPSI is in a strong position to benefit from these additional requirements put on health care providers.
The political outlook for Obamacare may still be debated, as some Republicans continue to talk about repeal, but the desirability of electronic health records is not a partisan lightning rod. There is widespread acceptance that modernizing healthcare and bringing it into the digital age is not just desirable, but imperative. While the EHR industry has done well from Washington's initiatives since 2009, it does not seem likely that a change of control in Congress or the White House would spell doom for the industry. The growth of EHR systems will continue long term.
CPSI is the industry leader in the small hospital space. It has been the top-ranked EHR vendor for hospitals of 100 beds or less for the past four years. Chief Financial Officer David Dye recently commented during the CPSI Q4 2013 earnings conference call that he saw no new entrants into the market. CPSI has seen five- and 10-year compounded annual growth rates in revenues of approximately 10.9% and 9.5%, respectively. The company has momentum and its strong leading position in a growth market points to sustainable growth going forward.
In the current economic landscape, hospitals are more targeted in their capital spending. CPSI's systems are an effective investment because of the efficiencies they create and the cash flows they can generate. The accounts receivable chart for CPSI below shows how solidly sales have held up through the economic downturn, with an uptick recently as medical centers gear up for Obamacare. Small hospitals need these systems more than ever and for some they may even be a matter of survival.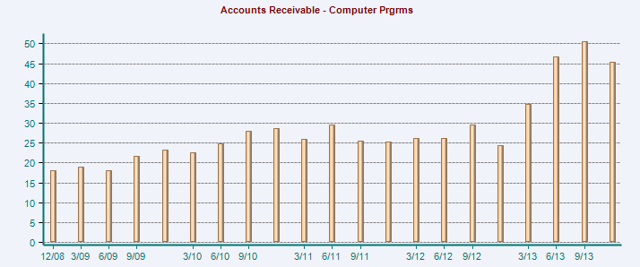 Source: Zacks Research System, Zacks Investment Research, Inc.

CPSI currently trades at $62, and at the low end of its historical P/E of 22. It has a low beta of 0.42 and zero debt. Margins continue to be strong on both a gross and net basis.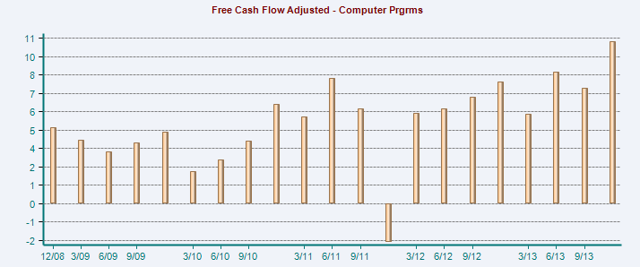 Source: Zacks Research System, Zacks Investment Research, Inc.

Free cash flow has been consistent and growing: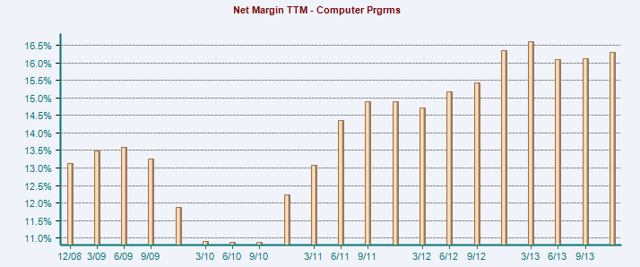 Source: Zacks Research System, Zacks Investment Research, Inc.
Over the last five years, dividend has been consistent: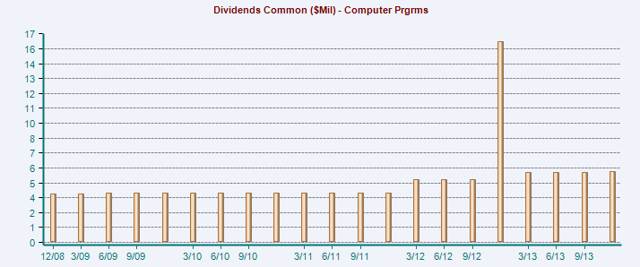 Source: Zacks Research System, Zacks Investment Research, Inc.
Risks
The Affordable Care Act and The Heath Care and Education Reconciliation Act pose noteworthy risks to the healthcare industry. The Medicaid and Medicare reimbursement cuts for hospitals may affect CPSI's revenues.
Secondary competitors like McKesson Corporation (NYSE:MCK), QuadraMed Corporation, Cerner Corporation (NASDAQ:CERN), Quality Systems, Inc. (NASDAQ:QSII) and Siemens Corporation (SI), who tailor their products and services to larger hospitals, may compete in CPSI's target market. This competition could result in CPSI dropping its prices to sustain sales, hurting its bottom line.
With a finite amount of target hospitals with 300 beds or less, the possibility of saturating the market is feasible and revenue growth may be stunted.
Summary
BHWM Asset Management holds a long position in CPSI in both its Small Cap and All Cap portfolios. We consider it a high-quality, sustainable growth stock in an industry which can only grow. There is also a steady dividend, equating currently to just over 3.5%. We also see the possibility of a future buyout. At a $726 million market cap, CPSI may be a big player in its niche but in the wider healthcare IT industry it is a digestible acquisition for larger players, and an attractive one in our view.
Disclosure: I am long CPSI. I wrote this article myself, and it expresses my own opinions. I am not receiving compensation for it. I have no business relationship with any company whose stock is mentioned in this article.
Disclaimer: Click here to read our full disclaimer.