In early trading on Friday, exchange traded funds are staying mostly flat as the markets wonder two things: can the Dow turn a three-day rally into a fourth and what kind of news will earnings season bring?
Earnings season officially kicks off on Monday, with perennial first-up earnings after the bell from aluminum maker Alcoa (AA). A JPMorgan analyst has lowered his estimate for Alcoa's earnings because of lower aluminum prices. Analysts overall seem to anticipate a strong earnings season, with profits of S&P 500 companies jumping 34% in 2010. Alcoa, however, will set the early tone.
(Click charts to enlarge)
iShares Dow Jones U.S. Basic Materials (NYSEARCA:IYM): Alcoa is 3%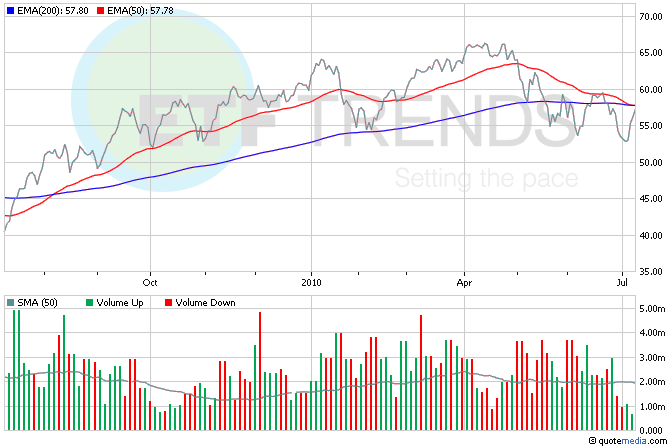 Talk about a mixed signal. Despite sales declining for the first time in more than a year, wholesale inventories rose 0.5%. The drop in sales is a discouraging development, since businesses may not increase their orders, which would ultimately mean lower factory production.
Consumer spending remains a real point of concern for the economy. It could also continue to negatively impact retail-focused ETFs, particularly those focused on consumer discretionary items, as shoppers scale back and buy necessities.
SPDR S&P Retail (NYSEARCA:XRT): down 5% in the last month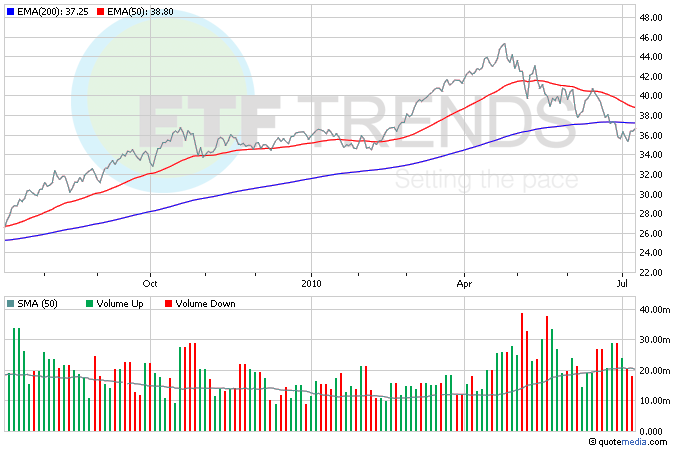 Gold miner ETFs received an early lift in the markets today – Market Vectors Gold Miners (NYSEARCA:GDX) is up more than 3%. This is partially on the strength of gold prices, which are back up above $1,200 an ounce, as well as analyst reports on some stocks in the sector. While a few were downgraded, several other companies were the beneficiaries of a positive outlook.