For long-term stockholders, one of the easiest ways to make money in the stock market is to buy quality companies at 52-week lows resulting from short-term weakness. Bed Bath and Beyond (NASDAQ:BBBY) fits this strategy perfectly. The company is near 52-week lows, at just under $64/share, and has dropped over 20% in 2014. This has created an excellent entry point for long-term investors looking to capitalize on short-term weakness.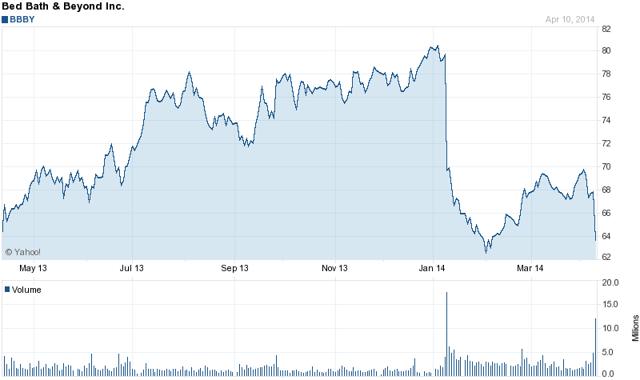 The company's steep decline started on January 9, 2014, after the company lowered guidance for the remainder of its fiscal year 2013 through March 1, 2014. Shares continued their decline after the company missed expectations again when they reported earnings on Wednesday April 9th. However, the company stated weather had a significant negative impact on the stores' net sales. The result of numerous store closings due to weather was an estimated 2-2.5% reduction in net sales and $0.06-$0.07 EPS in the fourth quarter. While fiscal year 2012 was also negatively affected by Hurricane Sandy, it did have a 53rd week included in yearly totals, which accounted for an additional $0.05 EPS increase for the year.
| | | | |
| --- | --- | --- | --- |
| | FY 2013 | FY 2012 | Y/Y % change |
| Net Sales | $ 11,503 | $ 10,914 | 5.4% |
| Cost of Sales | $ 6,938 | $ 6,525 | 6.3% |
| Gross Profit | $ 4,565 | $ 4,388 | 4.0% |
| Net Income | $ 1,022 | $ 1,037 | -1.4% |
| EPS (diluted) | $ 4.79 | $ 4.56 | 5.0% |
While no one would say a 5.4% increase in revenue and a 5% increase in EPS is impressive, it really isn't as bad when you take into account $0.06-$0.07 EPS lost due to weather-related store closings and the previous year having an extra week included. If you factor out weather-related damages and comparing to a 53-week fiscal year, the result would be an increase of over 7% in revenue and EPS. Again, this isn't impressive, but it doesn't warrant a 20% decline in share price and $3.5 billion lost in market cap.
Investors may be worried about increased competition from Amazon, but Bed Bath and Beyond is a firmly established company with regular customers and a growing business. Many investors don't realize Bed Bath and Beyond also owns World Market, buybuy BABY, Christmas Tree Shops and Harmon. During 2014, the company expects to open 30 new stores company-wide.
| | |
| --- | --- |
| Store | # Store Locations |
| Bed Bath and Beyond | 1014 |
| World Market | 265 |
| buybuy BABY | 90 |
| Christmas Tree Shops | 77 |
| Harmon | 50 |
| Total | 1496 |
Any way you look at it, the market has overreacted and oversold the company. Over the past 5 years, the stock price has moved pretty well in line with the 50-day moving average. The few times it did drift under, it quickly bounced back, usually with a sharp correction.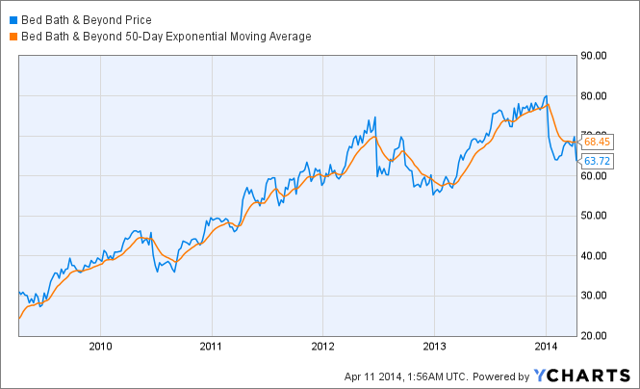 Looking at the 5-year PE ratio, you see the same thing. The company is vastly undervalued due to short-term weakness. With a PE near its 5-year low, investors are getting incredible value at current levels.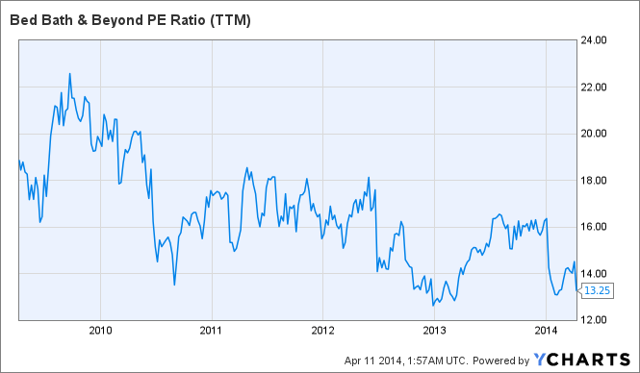 Conclusion
The market is currently pricing Bed Bath and Beyond as a deteriorating and failing company, which should be good news to potential investors. The company expects net sales to increase 4% in 2014, and EPS to increase mid-single digits. While this is not great guidance, it does show the company continues to grow and sets itself up to beat expectations throughout the year.
The easiest way to make money in the stock market is to look for quality established companies that miss expectations and a market overreaction occurs as a result. The company currently sits near its 52-week low, with a PE ratio near its 5-year low. As a result, there is little downside in the stock, and 10-20% upside as the sell-off slows down and the stock drifts back to its historic PE ratio around 16.
Disclosure: I have no positions in any stocks mentioned, but may initiate a long position in BBBY over the next 72 hours. I wrote this article myself, and it expresses my own opinions. I am not receiving compensation for it (other than from Seeking Alpha). I have no business relationship with any company whose stock is mentioned in this article.