The latest data shows that China is slowing tremendously and this will have severe implications on global markets. I expect a lot of downside in the stock market and I will give a thorough reasoning on why this prediction will come to fruition.
First off, China's import and export market has trended down since 2010 and lately we see a huge slowdown in China's imports/exports. The possible reason behind this is because China is now winding down its commodity financing deals. I have pointed this out here. Basically, Chinese imports and exports of commodities were artificially kept up by this hot money coming into China. When all of this unwinds, we will see industrial commodities plunge and we are seeing it right now.
The yuan (NYSEARCA:CYB) has plunged since 2014 and is proof that China is unwinding (See chart below from Yahoo Finance). Many structured products in yuan are now in a great deal of pressure and some are even defaulting.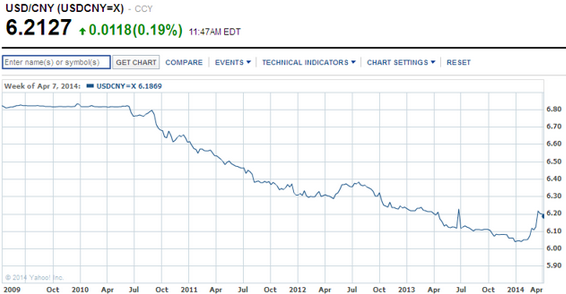 More evidence can be found in the declining Baltic Dry Index. The one year support line has been broken. A declining Baltic Dry Index (Bloomberg) points to a slowdown in the commodities trade.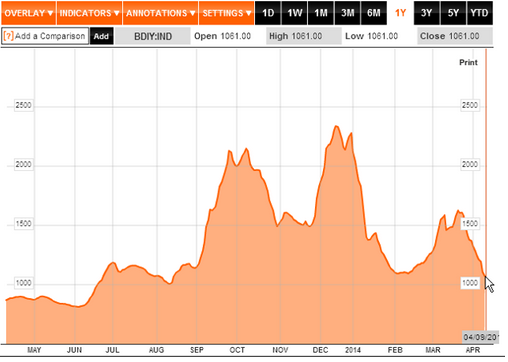 Further evidence can be found in the declining month over month Chinese power consumption (Chart below is created by Correlation Economics).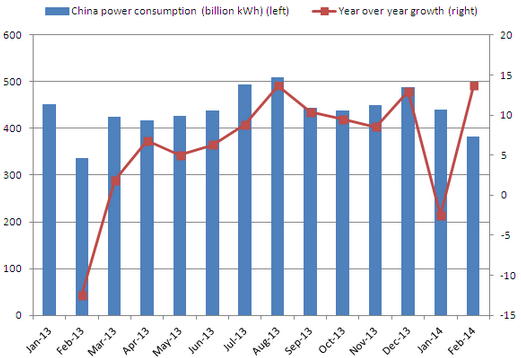 It is likely that industrial commodities will have a bad performance going forward. I believe copper will have the worst performance. If we look at the copper contango chart below, we can see that the trend has gone from backwardation to contango. These trends coincide with a rise in the LME stock level of copper. The consequence of this is a lower copper price in the near future. A lower copper price correlates to a weaker Asian economy and will also affect neighboring countries like Australia.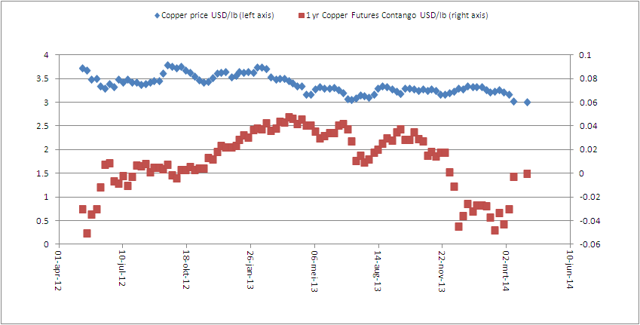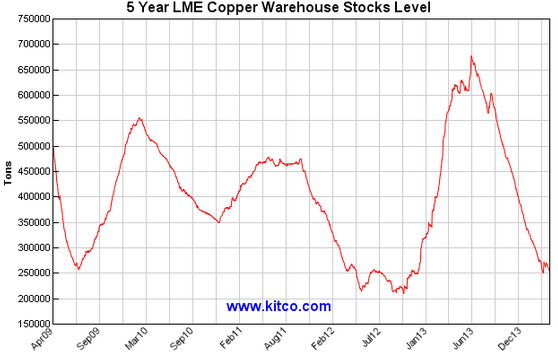 So all evidence is pointing to a slowdown in Asia and the emerging markets. I think this slowdown will also affect global markets and I expect a sell-off in the U.S. stock market (NYSEARCA:DIA).
First off, the total market capitalization of the entire U.S. stock market is in overbought territory compared to the U.S. GDP with a Total Market Capitalization to GDP ratio of 116%. The stock market is now valued higher than the top of 2008, where the stock market was in a bubble.
Second, the technicals are deteriorating as the exponential curve upwards on the NASDAQ has not had a follow-through (See chart of NASDAQ below). Many trend forecasters, under which one of my favorites Dr. Joern Berninger, are now expecting a "black swan" event. Under this scenario we could see a drop of 20% in a matter of days, which we call a falling knife. Other economists like Marc Faber are avoiding the U.S. stock market. If investors want to have exposure to stocks, Marc prefers to be in emerging markets like Vietnam because of the cheaper valuations. I recommended Vietnam a while ago and this investment has made a nice return since the recommendation.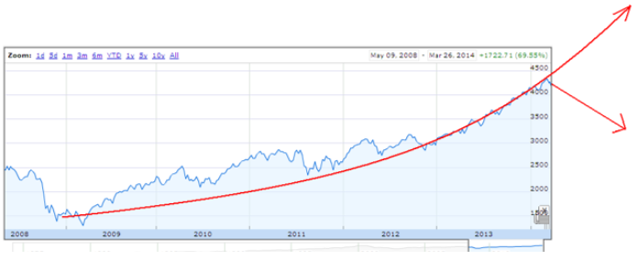 Third, from the release of the FOMC meeting minutes on 10 April, we note that the Federal Reserve is becoming more dovish. I especially emphasize the following comment, which could point to a slowdown of tapering by the Federal Reserve in the future:
Inflation continued to run below the Committee's 2 percent longer-run objective over the intermeeting period. A couple of participants expressed concern that inflation might not return to 2 percent in the next few years and suggested that a protracted period of inflation below 2 percent raised questions about whether the Committee was providing an appropriate degree of monetary accommodation.
The immediate reaction was a rise in gold, U.S. treasuries and a sell-off in the U.S. dollar.
However, there are opportunities in such "black swan" events. With the unwinding of the "China Commodity Financing Deals", China will not be able to suppress the paper price of gold (NYSEARCA:GLD) anymore to transfer physical bullion from the West to China at bottom prices in gold. This will put upward pressure on gold. We also note that the U.S. stock market is now inversely correlated to gold, which should strengthen the rise in gold even more if we see a sell-off in the U.S. stock market. A declining U.S. dollar due to the end of tapering later this year would add more fire to the rising gold price. Finally, we see that funds are buying physical gold again. Especially the GLD and the COMEX have registered an increase in their physical holdings, which exactly coincide with the bottom in gold in January 2014.
Disclosure: I have no positions in any stocks mentioned, and no plans to initiate any positions within the next 72 hours. I wrote this article myself, and it expresses my own opinions. I am not receiving compensation for it (other than from Seeking Alpha). I have no business relationship with any company whose stock is mentioned in this article.