One of the best growth stories in our market in recent years has definitely hit a speed bump. Intuitive Surgical (NASDAQ:ISRG), known best for the da Vinci surgical system, has issued another large revenue warning. The company known for handily beating analyst estimates has had a hard time meeting estimates in recent quarters. While the company is in transition to a new da Vinci system, key questions remain about this company's growth. Today, I'll detail why this stock may be headed lower as the company struggles in 2014.
Q1 warning:
Earlier this week, the company pre-announced some Q1 results, which essentially was a major warning. The company said that revenues of $465 million are expected, which would represent a 24% drop over the prior year period. That's horrible for a growth company. To be fair, the company did state that a $26 million deferral related with a customer trade-out program hurt results. Additionally, the company announced a $67 million pre-tax charge for "estimated costs of settling a number of product liability legal claims against the company." You may remember a lot of 2013's troubles for the stock were related to questions over an increase of injury and death reports.
Additionally, the company reported a few other numbers for the quarter. Q1 accessories revenue is expected to decline by 2%, system revenue is expected to plunge by 59%, and service revenue is expected to rise by 11%. The company shipped 87 da Vinci systems in Q1, compared to 164 in the year ago period. 45 systems were shipped in the US, compared to 115 in the year ago period. Obviously, some of these numbers are impacted by the new system that's coming out. However, this is a large miss, and I'll discuss the implications in the next section.
The pattern lately:
Intuitive Surgical used to be one of my favorite stocks. I used to cover the name more often on this site, but when the stock fell out of favor in 2013, I lost interest in the name as well. Today, I'm returning because of the recent warning, something that I find is more than just a one-time issue.
For those that have followed Intuitive's story over the past 5-10 years, this used to be the one name you could count on that would consistently beat analyst estimates at earnings time. In fact, the company used to blow out earnings time and time again. However, that trend stopped and has actually reversed a bit in the last year. Here are some examples:
July 2013 - Company pre-announced huge Q2 revenue miss, with sales expected to be nearly 9% below analyst estimates. Even though analysts took down estimates a bit, the company still missed estimates when it reported full results.
October 2013 - Another fall when Q3 revenues came in light, although EPS did beat. Company stated that the pressures from the first half of the year remained.
January 2014 - While results were okay, the stock declined as da Vinci shipments fell to 138 versus 175 in the prior year quarter, fueling a revenue decline.
So then this Q1 warning hit recently. I wouldn't have been too concerned, but there's an important point I must bring up. When 2014 started, analysts were looking for just under $560 million in revenues for Q1, and EPS of $4.01, versus 2013's Q1 which saw $611.4 million and $4.56, respectively. Again, the new system coming out was going to impact sales. However, estimates were down to around $538 million and $3.50 going into this week. Even if you include the deferral I mentioned above, that would have put Q1 revenues at just $491 million. As of Friday, analyst estimates still were calling for $510.58 million and $3.28. That means that estimates are going to come down further. As of Friday, analysts were looking for a roughly 1.2% decline in revenues this year. This is supposed to be a major growth company, and at this valuation, the current situation just doesn't work.
Lots of cash, but the buyback isn't everything:
The one positive I can't ignore is the company's balance sheet. Intuitive has always had a tremendous balance sheet, and the company produces a large amount of cash. As per the 10-K, the company finished 2013 with just over $2.75 billion in cash and investments. The company does not have any debt, and had just $449 million in total liabilities versus over $3.95 billion in total assets at the end of 2013. The current ratio was over 5.00.
This large cash position has allowed the company to buy back a bit of stock. The company bought back over $1.1 billion of stock in 2013, repurchasing roughly 2.6 million shares. Like most companies, part of the buyback offsets dilution from executive options and other dilutive securities, so the outstanding share count only declined by 2.0 million shares, about 5% of the end of 2012 total.
There are some issues going forward though. First, since the company can only use US funds for the buyback, the company's percentage of cash outside the US has risen a bit in the past two years from 15.1% to 24.3%. To use these foreign funds, Intuitive would have to repatriate and face a large tax bill, or borrow against them. That's the key issue we are seeing with Apple (NASDAQ:AAPL) right now. If Intuitive Surgical buys back another chunk of stock in 2014, the foreign cash percentage should rise further.
But here's the key problem. While a buyback is nice, it doesn't help with revenue growth, and it hides problems with earnings a bit. Intuitive saw a rise in EPS from $15.98 in 2012 to $16.73 during 2013, partially helped by a million share decline (more than 2%) in the yearly diluted share count. About 40 cents of the EPS rise was due to the lower share count. Net income rose at a much slower rate than EPS. Thanks to recent troubles, analyst estimates have been falling, as you can see in the table below, taken from the above linked analyst estimates page.

Remember, Intuitive had EPS of $16.73 in 2013. Now, estimates are calling for more than $2 less than that, and you figure estimates still have to come down a bit thanks to the warning. Additionally, 2014 EPS are going to be helped thanks to the buyback, so net income is going to fall further. Intuitive did not buy back any shares during Q4 of 2013 when shares were a bit lower than they are now.
Recent troubles have really destroyed the growth story here. In the chart below, you can see how EPS growth was slowing tremendously already, but now things are even worse. The chart shows actual EPS growth from 2009 to 2013, with analyst projections for 2014 and 2015 as of 3 months ago and Friday.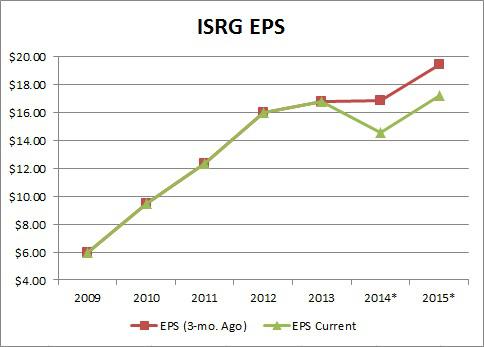 *Current analyst estimates at that time.
When the company was rolling along in 2011 and 2012, it was looking like Intuitive could pass $20 a year in EPS in 2014. Now, it might take until 2016 for that to happen, and that's not even guaranteed. The growth story has taken a hit.
Valuation still high for current growth picture:
When you think of medical equipment and devices, there are a couple of names to consider. Intuitive is a large name, along with Medtronic (NYSE:MDT). Johnson & Johnson (NYSE:JNJ) also has a medical device segment. Two other smaller names discussed often are Varian Medical Systems (NYSE:VAR) and Accuray (NASDAQ:ARAY). In this section, I'll look at some comparisons between these five names. In the first table below, I'll look at growth estimates for each name's current and next fiscal year. I understand that the fiscal years don't exactly match for all of these names, but this is how estimates are. Sometimes, you can't have a true year to year comparison.

*For respective current and next fiscal years. Medtronic's "2014" year above ends in April 2014, Accuray's ends in June 2014, and Varian's ends in September 2014. Intuitive and Johnson & Johnson use calendar years.
**Accuray expected to have $0.54 loss in current fiscal year after $1.12 loss in prior year. Loss in next fiscal year is expected to be $0.09. Thus, there is no true EPS growth rate or P/E.
Intuitive Surgical's growth slowed down in 2013, and as shown above, 2014 is supposed to be a down year. Remember, the numbers above are as of Friday, and are likely to continue lower in the next few weeks due to the Q1 warning. I understand that some see 2014 as being a bad year, with Intuitive's growth expected to improve again in 2015. However, this is still a company trading at a large premium to the rest of the names, as you'll see in the table below. Again, these numbers are for the respective fiscal years, so see the note above for explanation of what 2014 and 2015 is for each individual name.

One of the main points from the bear camp in recent years was valuation. Intuitive Surgical has traded at a high valuation over the past number of years, sometimes trading at 40 to 60 times earnings or more. I was a lot more comfortable with that valuation when the company was showing tremendous growth and consistently beating analyst estimates. However, the growth picture has stalled, and we've seen a number of warnings. At this point, I think Intuitive's valuation is very lofty, and especially in a tough year, it makes the short case very viable. Hypothetically, a 25 P/E at $15 in earnings this year, which may be optimistic based on current estimates, gives you a $375 stock, and that 25 value would still look rich compared to the other names above. Intuitive closed under $440 on Friday, so the bias seems to favor the downside.
Recent analyst comments:
As you would expect with most warnings, analysts have been mostly negative, but one firm came out to defend the stock. I won't go into every recent analyst note, since a number of analysts are just maintaining hold ratings. However, I want to focus on one particular note. This one comes from Northland Capital, which has a street low $275 price target on the stock. Here's what the firm said:
Suraj Kalia commented, "We ask a fundamental question....What is the da Vinci Xi really trying to solve other than be a "jazz" factor? From a purely engineering perspective, we do not see how the da Vinci Xi is radically different from the Si (we are specifically talking about cost and clinical effectiveness). While some of the features in terms of instrument set-ups and multiquadrant capability in the Xi is good, it does not address the fundamental issues hospitals are facing which is lack of cost-effectiveness. We believe we are entering a cycle wherein Intuitive will have to start offering discounts in order to maintain growth. Either top-line growth gets sacrificed or margins get squeezed ... Field checks on the Firefly continue to be poor, and we cannot figure out the emphasis from Intuitive on this imaging modality."
The second half of that statement is what worries me. Either Intuitive will have to sacrifice top line growth or margins will get squeezed. Neither scenario is very appetizing, especially when you have such a lofty valuation. Obviously, some investors might take this in stride since the firm has a $275 target on ISRG. I don't see Intuitive falling that much anytime soon, but it goes to the issue of the growth story. Intuitive is having a hard time with device sales, and the company has blamed insurance companies and the ACA in recent quarters. Add in some of the legal troubles, and you can see why the company's growth has stalled a bit.
Final thoughts / preferred trade:
Another warning from Intuitive Surgical sent shares lower. A recent spike in the stock has mostly been eliminated, despite a new da Vinci system coming online. This company has hit a rough patch in terms of its growth story, and at a premium valuation, the stock is just too expensive. Going forward, the company may need to sacrifice profits to resume revenue growth. Earnings per share will be helped a little by the buyback, but it won't be enough to offset a sharp decline.
For now, investors should consider Intuitive a short candidate until the growth picture clears up or the stock gets a bit cheaper. An outright short is not a bad idea, but I think hedging this position (via options) a little is the best way to go, just in case. At this point, the market has been beaten down the past few days. I would wait until the next bounce back to short Intuitive, as you might see a bounce to $450 or so at some point. For investors that want to be in right away, maybe short half now and short another half if shares pop.
In the end, Intuitive has had a rocky couple of weeks. A sharp rise has been followed by a fall, and that fall might continue as estimates trickle down. Intuitive is going to have some explaining to do on the call (April 22nd), and growth questions will be asked. As you can see from the chart below, Intuitive was below $420 before the recent run started, and that could be the next pullback level to watch if this name heads lower. Should these revenue and earnings issues continue into Q2 and further, you might see shares fall back into the $350 to $400 range or even lower. A company that trades at such a high valuation needs growth, and right now, Intuitive is severely lacking in that department.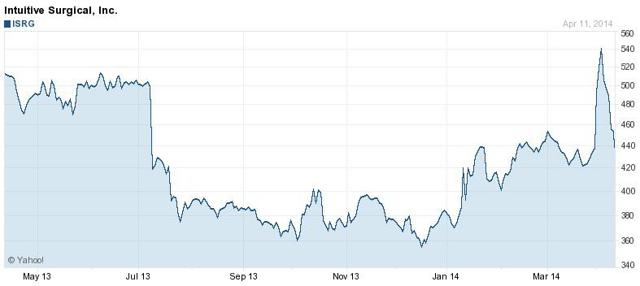 (Source: Yahoo! Finance)
Disclosure: I have no positions in any stocks mentioned, and no plans to initiate any positions within the next 72 hours. I wrote this article myself, and it expresses my own opinions. I am not receiving compensation for it (other than from Seeking Alpha). I have no business relationship with any company whose stock is mentioned in this article.
Additional disclosure: Investors are always reminded that before making any investment, you should do your own proper due diligence on any name directly or indirectly mentioned in this article. Investors should also consider seeking advice from a broker or financial adviser before making any investment decisions. Any material in this article should be considered general information, and not relied on as a formal investment recommendation.