J.C. Penney (NYSE:JCP) crashed almost 10% in yesterday's trading session reigniting fears about the sustainability of the most recent recovery in share price. Investors who follow my articles will know, that I am holding J.C. Penney shares as well as a small position in options. Generally, I welcome hefty and forceful declines in share prices as I am usually quite confident with the stocks I own and consolidations offer the chance to buy even more of what I already liked at a lower price.
Unfortunately, hefty price declines will open the door for new discussions about the economic prospects of J.C. Penney's business model. The market has shown clear signs of weakness over the last two trading days and I believe J.C. Penney got punished way too harshly yesterday. Many investors panic easily (this is, because they need the market) and often abandon their investment thesis abruptly if it doesn't pay off immediately. The large swings in stock market prices are largely attributable to that kind of short-term thinking.
As a long-term oriented special situations investor, I can only repeat what I have already said in so many other articles of mine: Volatility and uncertainty are your friend, not your enemy. The best investments I ever made faced massive opposition and limitless ridicule from a lot of investors.
Just before yesterday's sell-off, on April 10, Belus Capital Advisors caught up with reality upgrading J.C. Penney's stock from Sell to Hold. The investment house has a price target of $9 on the stock. As Yahoo Finance reported:
In the report, Belus Capital Advisors noted, "Where does this shift in stance stem from? Great question. Not so much takeaways from our discussion with JC Penney last week as we left concerned on the pace of quarter to date sales due to the missing arrival of spring across the country (and subsequent pick up in promotional intensity) and likely continued weak traffic in the reset home department.

"On the contrary, we think when weather has been cooperative throughout the U.S in the first quarter, JC Penney is sucking in a good bit of mall traffic via a combination of effective promotional messaging (we are seeing more consistent promotions in the store, not intra-quarter spikes in worrying "% off signs" as was evident during the holidays), better in stocks on name brand merchandise and basics, and stores that are finally cohesive in terms of layout (home department finagling has concluded).
The bottom line is, that sentiment with respect to the department store chain is changing. Many Bears remain skeptical with regard to J.C. Penney's liquidity situation and display the usual short-term obsession over y-o-y sales growth rates. I believe, as I have said before as well, that negative sentiment is the best contrarian indicator I know -- for investors who are in for the long term. Special situation investments like restructurings and recapitalizations often are extremely volatile (J.C. Penney anyone?). In the short term, both Bulls and Bears could be right on any given day. Serious turnaround investors, however, rarely sell after a 10% or 20% gain or loss, but ride the full recovery.
Technical picture
From a technical perspective, J.C. Penney is clearly oversold in the short term. The Relative Strength Index indicates a value of 37.37 which suggests that investors could expect at least a technical reaction to the upside.
J.C. Penney's stock chart also depicts a large gap between $6 and $7, which suggests that the ailing department store chain could have short-term downside potential to $6.
Chart patterns and indicators, however, are not key to my investment thesis which is largely driven by opposing mass psychology and herding behavior. Even though J.C. Penney stock might have more short-term downside potential, I still believe that fundamentals have the potential to improve a lot if J.C. Penney can sustain sales momentum in 2014. Turnarounds happen in people's heads first.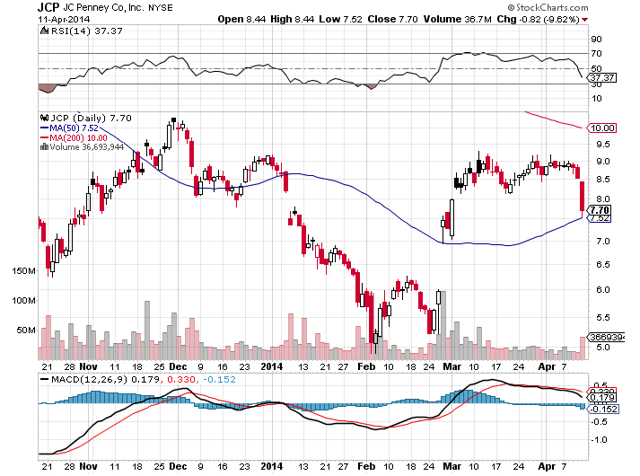 Click to enlarge
(Source: StockCharts.com)
Conclusion
I believe J.C. Penney turnaround investors are looking at substantially higher share prices in 2015 and beyond. I have previously said, that J.C. Penney's last quarterly results (comps rebound, strong margin- and liquidity guidance) have pretty much invalidated the bankruptcy case that Bears were pushing.
Restructuring investments like J.C. Penney will continue to be highly volatile in the short term with overshooting tendencies in both directions. High volatility is a fundamental characteristic of companies that go through change and work on redefining investor perceptions. While J.C. Penney still has a rocky trip ahead of it, investors should not get overly influenced by any day's volatility. Contrarian investors might actually find that pullbacks offer extraordinary buying opportunities. Long-term BUY.
Disclosure: I am long JCP. I wrote this article myself, and it expresses my own opinions. I am not receiving compensation for it (other than from Seeking Alpha). I have no business relationship with any company whose stock is mentioned in this article.