Illuminati or "enlightened" Seeking Alpha investors deserve another donation of good news for 3D Systems (NYSE:DDD). You don't need to send me PayPal donation to learn that DDD got a strong helping hand from Canon Marketing of Japan. This April 11 announcement from 3D Systems' official website might have been a contributing factor why DDD did not get hammered as hard as VJET yesterday.
I already explained that the big drop of DDD last April 10 was due to a universal market pullback. Momentum, biotech, and high-flying tickers like DDD suffered significant sell-off on April 10. It doesn't require you to be an aerospace engineer to understand the explanation above. Look at the Finviz charts again below, please. The Thursday Throwdown event continued to April 11.

Click to enlarge
Look at the chart below from Google Finance, notice how DDD defied the flow during the early trading hours yesterday. DDD even went up to $50 but it got pummeled down to $48.20.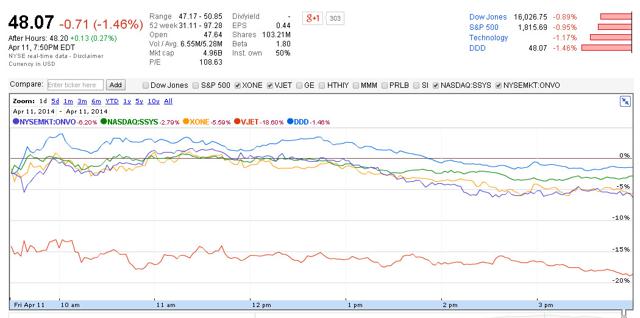 Click to enlarge
Retirees, newbie investors, feelings-only traders, retail investors, occasional investors, fund managers, should all be able to understand what those charts above are saying. My elementary math is good enough to comprehend those charts.
DDD suffered the least damage among its peers on April 11.
Canon Deal Cushioned DDD On April 11
The Canon deal announcement was likely a strong factor why the shorts failed to bring down DDD as much they did with VJET. The anti-DDD, some of them used to be pro-DDD last year, realized that Abraham and Chuck at 3D Systems also understand the power of propaganda. They released the news right on the day after bears and shorts brought down DDD (along with many other tickers). Perfect timing from two dudes I really admire.
The shorts tried but failed to bring down DDD. Canon, yes that mighty Japanese conglomerate, just gave 3D Systems a strong thumbs-up approval yesterday. I firmly believe that the executives of Canon Marketing are way smarter than the anti-DDD critics. I also believe that Abraham and Chuck are way smarter than all anti-3D Systems shorts.
The shorts got trumped by 3D Systems with the Canon Marketing deal. Do you really think that those fastidious Japanese executives will join forces with DDD if 3D Systems are just selling "imaginary" products? Here's a screenshot of 3D Systems banner announcement on every press release.

Click to enlarge
Source: 3D Systems
Follow The Leader
3D Systems puts that proclamation on every official communication because they have to remind investors (and wannabe competitors) that DDD is still the Leader in Additive Manufacturing. Not even Citron Research or the best aerospace engineer can deny this fact. The leader in additive manufacturing was founded by Chuck Hull, inventor of SLA.
ARC Group Worldwide, the world's biggest metal injection molding company, recently bought three Phenix Direct Metal AM machines from 3D Systems. 3D Systems is enjoying a overbooked demand for Phenix. Google also approached 3D Systems for help with their futuristic and modular Project Ara smartphone. Brin and Page are way smarter than all the shorts - they approached the leader in 3D printing, DDD.
Canon Marketing has been selling 3D Systems products since October 2013 but the new announcement says the two companies are upgrading the deal to more products. Canon Marketing wants to be the premier source for 3D printing requirements in Japan. 3D Systems will let Canon market Projet 3500 Series and other Projet printers in Japan. Canon will also distribute the CubeX printer.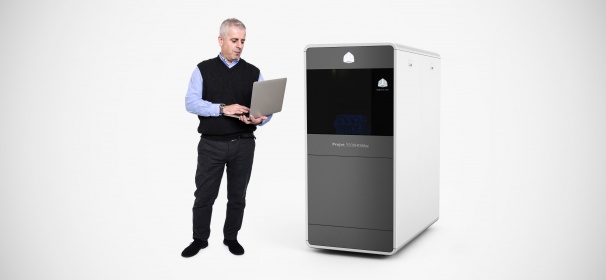 Source: 3D Systems.
The Projet 3500 series aren't for consumer sales like the MakerBot. These are high-ASP products and Canon can sell them to commercial enterprises. Japan's rich market base will help 3D Systems benefit from production grade printer and materials sales. Credit Suisse said 3D printing is set to grow to a $12 billion market by 2020.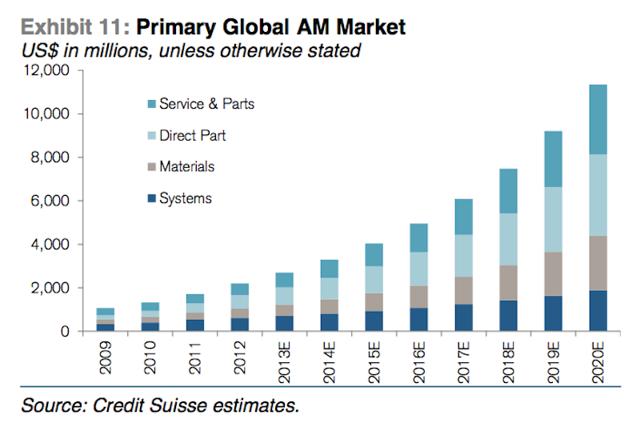 Click to enlarge
I hope that this distribution deal with Canon will expand to include non-Japan customers. Canon has a global distribution network for its printers and digital cameras. 3D Systems will greatly benefit if Canon Marketing extends its distribution service to other countries.
Conclusion
I'm following the leader, 3D Systems. I'm not an aerospace engineer. I'm not a jazz musician - I'm tone deaf. But I know mathematics. Shiv Kapoor can explain this to you better than I do - Alpha Omega Mathematica rates DDD a Hold using Growth Indicators. Growth/Industry Indicators gave DDD a Buy, confirming 3D Systems' leadership status in the disruptive additive manufacturing industry.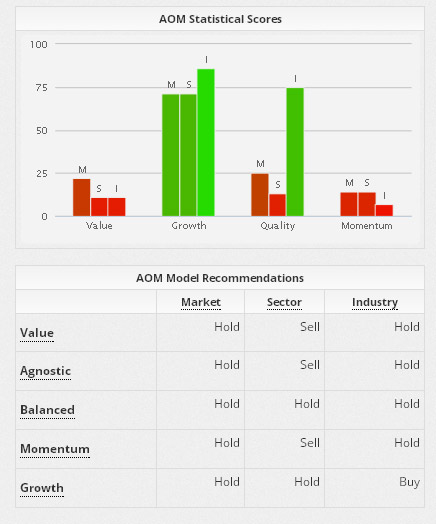 Source: getaom.com
I'm not as smart as Shiv but one look at the chart below and I immediately understood why Mathematica gives DDD a Hold rating based on Growth Potential. Last time I checked DDD has been growing sales by double digits.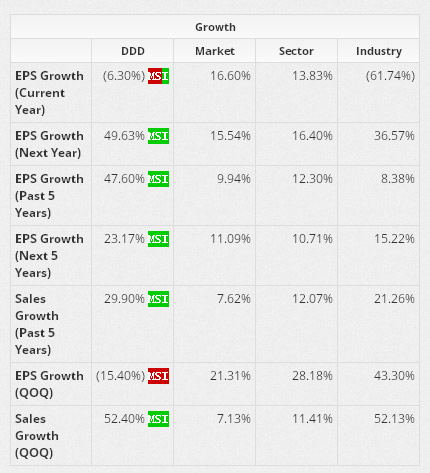 Source: getaom.com
I do not rely on feelings when it comes to investing. I study and analyze industry reports, balance sheets, income statements, and technical charts. I researched on DDD and its products. So far, I find this company a good long-term bet. The management has kept the company alive for more than three decades.
Canon and Google wants to make money with 3D Systems' technology, expertise, and products. The U.S. aerospace industry and military uses 3D Systems products. Abraham showed he knows how to use propaganda when he released the Canon deal press release yesterday. I admire him more today because of that.
I worked for advertising/marketing companies before so I understand the power of Seeking Alpha as a propaganda and counter-propaganda platform.
The thorny issue is what DDD's price should be. I leave it to you to decide when to buy or sell DDD. I'm holding on to my DDD. I will continue writing about 3D Systems and will do so more often.

These are DDD's revenue and profitability charts from Google Finance. No other additive manufacturing company has matched it. Follow and protect the leader.
Disclosure: I am long DDD. I wrote this article myself, and it expresses my own opinions. I am not receiving compensation for it (other than from Seeking Alpha). I have no business relationship with any company whose stock is mentioned in this article.