Cliffs Natural Resources (NYSE:CLF) has had a difficult last two years, and an incredibly eventful last few weeks. Though speculative, the company offers the potential to vastly outperform the broader market over the next several years as the company continues its turnaround plan. Further, recent activist action may be a harbinger of further activity and the potential acceleration of CLF's initiatives.
The Problems
In 2013, the iron miner was one of the worst performing members of the S&P 500. Actually, Cliffs was also one of the worst performing S&P 500 members in 2011 and 2012. This three-year decline followed impressive gains in 2009 and 2010, which also trailed an incredible decline that was the second half of a parabolic move in share price. See an 8-year chart of CLF: (click to enlarge) (Source: Finviz)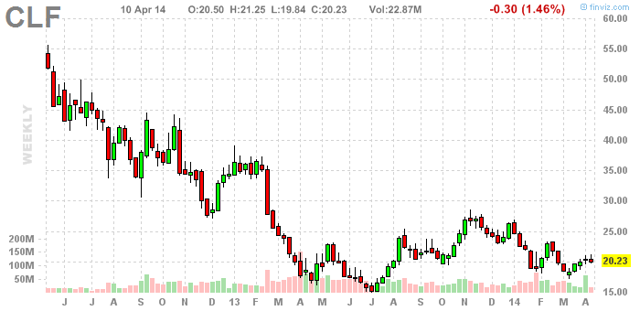 The most recent decline started with concerns over slowing development in China, and particularly the potential for a hard landing. This combined with declining iron prices, where iron ore peaked in the first quarter of 2011, at about $187 per metric ton, and then declined almost every subsequent quarter, until bottoming in the fall of 2012, with prices briefly falling below $100 per metric ton. In 2013, prices stabilized and spent most of the second half of 2013 in the $130s.
Cliffs' troubles were not solely related to Chinese economic cooling, but also to its own activities. In particular, the company ran into substantial difficulties running its Canadian assets. The company acquired Bloom Lake in 2011, at peak iron ore prices, paying $4.9 billion (where Cliffs now has a market cap of around $3.2 billion). Beyond this clearly terrible timing on the Bloom Lake purchase, Cliffs has subsequently endured unanticipated delays and ballooning costs associated with the bringing the site into productivity. Increased capital expenditures and decreasing iron ore pricing caused Cliffs to lose billions and also eventually slash its quarterly dividend by 76 percent, from 62.5 cents to 15 cents a share.
Recent Activity
Following the losses and dividend cut, Cliffs initiated some turnaround measures. In July, the company announced a CEO succession plan, where a transition was to occur by the end of the year. The company also appointed a new President and Chief Operating Officer, and the Board of Directors added multiple new directors in the second half of 2013. Cliffs also indefinitely suspended its chromite project in Northern Ontario.
All in all, it did appear as though Cliffs was addressing the severity of the situation, with dramatic executive changes and the apparent recognition that some projects and capital expenditures should not occur now. This is especially because of the weakness in iron ore process over the last couple of years and the potential for further declines to come if Chinese demand declines. Current pricing requires Cliffs to concentrate on reducing its costs in producing what it now can, rather than increasing capacity.
Then in 2014, Casablanca Capital, an investment fund with a 5.2% stake in Cliffs, proposed a split of the company, where the North American assets would be converted to a master limited partnership, and its international assets would exist as a standard corporation.
In particular, Casablanca wants Cliffs to spin off its Canadian assets, like Bloom Lake, which really should not yet be addressed due to the cost of the project, and the company's operating assets in the Asia Pacific region. The Asian assets are significant and largely servicing Chinese demand. The proximity to Chinese demand can be a good or bad thing depending on future demand.
Similarly, the company's domestic assets are more directly tied to benefit from domestic demand. Domestic demand has not been strong, but it is possible that domestic manufacturing will grow over the next decade due to the cheaper energy costs and particularly the lower cost of natural gas. Casablanca believes that the domestic business should be a master limited partnership, which means that they think the company should provide a significant yield and engage in less expansion from capital reinvestment. The domestic assets also include coal assets.
Cliffs did respond to Casablanca, including noting that it hired JPMorgan (NYSE:JPM) as its financial advisor and Wachtell, Lipton, Rosen & Katz as legal counsel. The company also noted that it expects a 50% cut in capital expenditures from 2013 to 2014. Also Cliffs is still considering what to do with Bloom Lake, but has decided to reduce 2014 capital expenditures at Bloom Lake while it considers strategic alternatives.
Cliffs does appear to be making sensible decisions and improving its condition. In the last year, the company installed a new management team, reduced its long-term and net debt, and reduced costs. See the below charts showing the reduction to expenses that occurred in 2013 and the expected continued reductions in 2014 (Source: Cliffs' BMO presentation) (click to enlarge):

It is also quite possible that Cliffs has been looking for a buyer of some of its assets, or considering some strategic merger and/or divestiture. It is also possible that Cliffs' international assets would be a better set to sell than to spin off. The Asian assets are likely to have some interested parties, but it is unclear at what price Cliffs would sell Bloom Lake, or what interest there might be in acquiring that apparent headache.
Given Cliffs' size, it is also quite possible that a large competitor would be interested in acquiring some or all of the company's assets. For example, ArcelorMittal (NYSE:MT) is about nine times the size of Cliffs, Rio Tinto (NYSE:RIO) is over 30 times the size and BHP Billiton (NYSE:BHP) is over fifty times larger. Such peers could easily afford acquiring the Asian assets or the Canadian assets, and even the whole company.
Cliffs also recently decided to delist on the Euronext Paris in order to reduce costs. Owners of Cliffs on Euronext Paris may tender their shares to a special sales facility from April 3 to April 16, with shares from the facility to be sold on the NYSE from April 25. While this will cut costs, it will also cause some shareholders to divest, and should keep demand and share-price weak throughout April, and possibly into May. If this appears to have caused a decline in pricing, it would likely be a good acquisition opportunity.
Another way to invest in Cliffs is through its preferred shares (CLV), which yield about 8.5 percent. The preferred shares convert to common stock on February 1, 2016. The conversion rate will depend upon the price of the common shares on that date. Though the preferred may not perform as well as the common, the immediate income is significant over the next two years, while still providing exposure to the potential success of the ongoing turnaround.
Disclosure: I am long CLF, CLV. I wrote this article myself, and it expresses my own opinions. I am not receiving compensation for it (other than from Seeking Alpha). I have no business relationship with any company whose stock is mentioned in this article.