Shares of Cayman Islands based Herbalife (NYSE:HLF) were absolutely shredded during trading to end the week this past Friday on news of a potential FBI and DOJ inquiry into the company's business practices. Shares of Herbalife reacted immediately to the news, sending shares down 13% and sending Quoth to happy hour an hour earlier than normal.
Financial Times originally broke the news:
The US Department of Justice and the Federal Bureau of Investigation are investigating Herbalife, the multi-level marketing company that hedge fund manager Bill Ackman has alleged is a pyramid scheme, according to people familiar with the matter.

The criminal investigation by the FBI and US attorney's office in Manhattan raises the stakes for Herbalife, which is already facing civil inquiries from multiple government agencies that are looking into the Los Angeles-based company and its associated network of independent distributors.
And here's how the stock responded in late trading on Friday: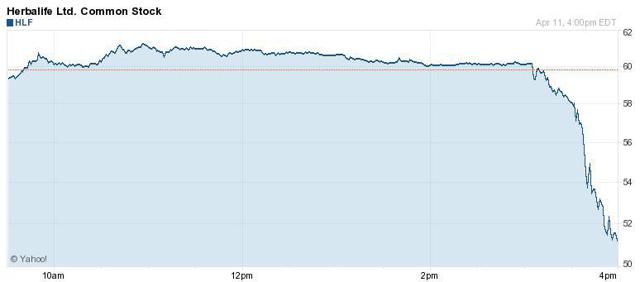 Looks like another patented "buying opportunity" for those longs over in the Herbalife camp. On the contrary, I'll likely sell off some puts, reload and rebalance my short first thing Monday morning.
The interesting thing about this news is that Herbalife came out twice during the day yesterday and made a statement that it didn't know anything about an FBI or DOJ inquiry. The only reason these companies could be conducting a "behind the scenes" investigation on a public company with disclosure requirements would be in the case of a potential raid - in my opinion.
Additionally, Charlie Gasparino broke the news that the company is bracing for a 20/20 expose, potential involving an Herbalife whistleblower. Dear God, this could get good.

He later went on to note that the company had been cooperating with 20/20 for the better part of 2 months. So, something seems to definitely be in the works.
To add to the storm, Bill Ackman released the bios of three more top level distributors, showing off their lead generation practices, which may very well be the items in question by regulators at the moment. Perhaps a bit of serendipitous timing on Mr. Ackman's part?
Ackman's site details two more lead generation pros, Michael "It's not important how you get to supervisor, as long as you get there as soon as you possibly can" Burton and Rick and Carla "Earn $1,000 a day working from home" Berg.
Burton filed for bankruptcy in 2013, stating $7.1 million in debt and $74,135 in assets.
Additionally, part of this article is to respectfully rebut an article penned this morning by George Kesarios. George is a well respected SA contributor - and for a reason. I've been reading George for the better part of a year and he really knows what he's talking about. Unfortunately, I think he's got the Herbalife story wrong.
Mr. Kesarios' second bullet point in his article states "Given that Carl Icahn knows the company much better than Bill Ackman, the benefit goes to Icahn." Anyone that thinks that Icahn knows this company better than Ackman clearly hasn't been following the ins and outs of this story - sorry, George. Icahn doesn't even know the ticker symbol, Ackman has given the company a due diligence enema.
George, who is good at financial analysis, then goes on to point out that Herbalife is trading at a trailing P/E of 10.5 and he cites that as a bullish argument. A prudent way to look at that would be by asking, "what intrinsic risk is so great that a company seemingly this amazing is trading at such a low multiple?"
As in with the PwC audit, the financials and audit are almost meaningless. This isn't an argument as to whether or not Herbalife's financials are good and/or whether or not they're abiding by GAAP, it's an argument about the underlying business model that churns out those numbers. You take down the business model and you're cutting the audit, the financials, and everything else down by the legs.
George concludes his story by claiming:
However, when the market hears key words like "FBI" and the "Department of Justice", it sells first and asks questions later. So unless Carl Icahn is very wrong about Herbalife, logic dictates (investment logic that is), that the Financial Times article that has exerted pressure on the stock on Friday is probably a buying opportunity.
He's right. The market does sell first and ask questions later when it hears things like DOJ - especially on a stock that is so extremely controversial, as Herbalife has been. The market reacts like this out of fear, of which there's tons of surrounding Herbalife - whether or not the longs admit it.
Michelle Celarier from the NY Post summed up the day's events in a nice, concise article that was published towards the end of the day yesterday. I missed it due to my "Herbalife put induced" whiskey coma I was in by the end of the day, but read it over this morning and she does well to sum things up. Interestingly enough, in her article and on Twitter she's been throwing around terms like "mail fraud" and "money laundering" when it comes to Herbalife's lead generation practices.
It's been a long road, Mr. Ackman, but you're getting there. For the last year and a half, those on Mr. Ackman's side have been subjected to hate mail, ad hominem attacks, ridiculous journalism and even death threats (has since been removed from original post). Mentally, it's been extremely exhausting - but, shorts that rely on the evidence and common sense have known from the get-go that they have this one right.
Herbalife's defying of both regulators and common sense in the public seems to be drawing to an unceremonious conclusion.
As momentum builds for the shorts and regulators continue to effectively do their job and (hopefully) deal swift justice to the Michael Johnson's and Des Walsh's of the world, I remain steadfastly bearish on Herbalife for the short term. I continue to contend that the company is a global confidence game that bilks honest people out of their money under the guise of them being able to become wealthy.
Keep up the good work Mr. Ackman, and cordial congratulations to you, Mr. Dinneen - I know you're out there - the war is almost won and Herbalife shorts will get the last laugh.
Disclosure: I am short HLF. I wrote this article myself, and it expresses my own opinions. I am not receiving compensation for it (other than from Seeking Alpha). I have no business relationship with any company whose stock is mentioned in this article.