Canada's first royalty trust. Enerplus Resources (NYSE:ERF).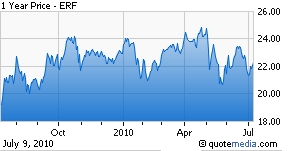 A very solid company with a very attractive dividend yield.
Let's have a quick look at the high level numbers and then add a few comments.
1) Cash flow vs Enterprise value:
2008 Cash flow from ops - $1.2bil
2009 Cash flow from ops - $775mil
Enterprise value is $4.6bil
2008 Operating cash flow yield $1.2bil/$4.6bil = 26%
2009 Operating cash flow yield $775mil / $4.6bil = 17%
Comment: 2008 had the peak of oil and natural gas prices. 2009 had the bottom. 2010 will likely be somewhere in the middle of these two numbers.
2) Production
2008 95,000 BOE per day
2009 92,000 BOE per day
2010 86,000 BOE per day is expected average production
Comment: Production had a slight decline in 2010 as the company intentionally throttled back on capex during the financial panic and commodity collapse. Capital spending in 2009 dropping to $299mil from $577mil.
3) Cash flow available for shareholders
Assume that a normal level of cash flow on this 90,000 BOE per day of production is roughly the mid-point of 2008 and 2009 which would be $1bil.
Assume that a normal year of capex would be the mid-point of 2008 and 2009 spending which would be $450mil.
That would mean that free cash flow available to shareholders would be $1bil - $450mil = $550mil.
The free cash flow yield on the current enterprise value is:
$550mil / $4.6bil = 11.95%
The current distribution to shareholders is $380mil so well within the $550mil of free cash flow that they have after maintenance capex.
That dividend yield by the way is
$2.16 per share
$23 share price
9.4% dividend yield
Comment: Enerplus converts from a royalty trust to a dividend paying corporation at the end of this year. They have $3 billion in tax pools available to shelter income from taxes and believe they can continue with the current payout until the 2013 to 2015 period.
4) Value on a reserve basis
The company PV10 value is about $30 per share. Here is how that is calculated in a company presentation (.pdf) (see page 24)
So at $23 per share Enerplus looks pretty fairly priced vs its pre-tax PV10 value.
However, much of Enerplus's contingent resource potential is not in that PV 10 calculation. Enerplus over the past couple of years has assembled some very nice growth opportunities. Here is basially what Enerplus owns:
1) Conventional reserves - Roughly 375 million BOE, PV10 value that basically equals the current share price
2) Kirby Oil Sands - 500 million barrels of contingent reserves, 50,000 BOE per day of potential production, not in the PV10 value or the current share price
3) Marcellus Shale - 2.4 Tcfe contingent reserves to Enerplus, not in the PV10 value or the current share price
4) Tight Oil Acreage - 170,000 acres of tight oil land in Saskatchewan and North Dakota, not in the PV10 value or the current share price
Comment: So it appears you are paying for the 375 million BOE of conventional resources that Enerplus has and not much of anything for 3 major growth areas in the Oil Sands, Marcellus Shale and the Bakken area.
Conclusion: At the very worst you are paying a fair price and receiving a very attractive yield on the conventional resources Enerplus has. I'll write again and try and quantify how much the other emerging growth plays might be worth.
Disclosure: Long Enerplus