Markets have taken a significant hit over the past couple of weeks and the downdraft seems to be accelerating. The high momentum names and sectors that were standout performers in 2013's over 30% rally have been crushed recently.
Names like Tesla Motors (NASDAQ:TSLA), Splunk (NASDAQ:SPLK) and Netflix (NASDAQ:NFLX) have suffered 15% to over 30% losses in the market over the past month. The S&P 500 has held up quite well until recently. One stock that has managed to actually post gains in the last month is Microsoft (NASDAQ:MSFT). This continues the shares' strong performance in 2014.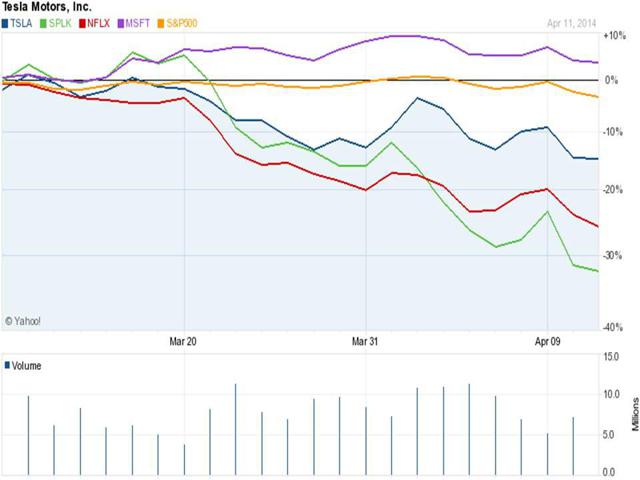 Click to enlarge
Flight To Safety Trade:
The fact that Microsoft has performed so well recently is not that surprising. One factor driving its performance is money seeking safety in an increasingly turbulent market. Microsoft's AAA credit rating and over $60B in net cash & marketable securities are obviously attractive features for investors seeking a way out of the carnage in other sectors of the market. This trend could last a while as the market could be in legitimate correction mode for the first time since the summer of 2011.
Valuation:
Subtracting the net cash from the equation and the shares go for ~11x forward earnings. This compares to an overall market multiple of around 16x forward earnings. The stock also pays 2.8% in dividends and there should be another dividend hike before the end of the year. Revenues should grow at a 6% to 9% annual range over the next two years. This compares to the 4% year-over-year revenue gains expected from the S&P 500 in 2014.
Emerging Positive Developments:
After 13 years under Steven Ballmer, Microsoft is under new management. The market has responded favorably to Satya Nadella's first announcement that Microsoft will make Office apps available for the iPad. Those apps were downloaded some 12mm times in the first week they were available. Word, Excel and PowerPoint were the most downloaded apps for iPad immediately upon release.
Investors will be looking to see what other announcements might be made during the company's earnings conference call on April 24th. Microsoft also has significantly beat bottom line earnings estimates in each of the last quarters.
I will be listening to hear how fast Microsoft's two "cloud" businesses (Azure and Office 365) are growing. Microsoft's emerging could plays doubled year-over-year sales during the last quarter. Both are better than billion-dollar revenue businesses. Access from the iPad should also accelerate Office 365 subscription growth.
Given Microsoft's valuation, fortress balance sheet and growth opportunities; it continues to be an excellent choice for investors seeking a safe port in the storm engulfing equities at the present moment. ACCUMULATE
Disclosure: I am long MSFT. I wrote this article myself, and it expresses my own opinions. I am not receiving compensation for it (other than from Seeking Alpha). I have no business relationship with any company whose stock is mentioned in this article.