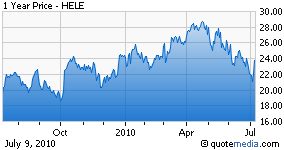 Helen of Troy Ltd.'s (NASDAQ:HELE) fiscal 2011 first quarter GAAP earnings recorded a growth of 26.7% to $18.4 million from $14.5 million in the year-ago period. Excluding special items, pro forma earnings came in at 60 cents, which topped the Zacks Consensus Estimate of 57 cents. The strong quarterly performance was primarily driven by higher sales and robust gross margin expansion.
Helen of Troy is a designer, producer and global marketer of a range of brand-name household and personal care products. The company's Housewares division include kitchen tools, cutlery, bar and wine accessories, household cleaning tools, storage and organization products, gardening tools, kitchen mitts and trivets and barbeque tools. The company's Personal care segment include hair dryers, straighteners, curling irons, shavers, brushes, hair accessories, home hair clippers, mirrors, body massagers, shampoos, deodorants and skin care products.
During the quarter, Helen of Troy's revenues posted a growth of 11.3% to $160.2 million from $143.9 million in the prior year quarter. The growth was driven by a 10.9% year-over-year growth in Personal care to $112.2 million coupled with a 12.3% growth in Housewares segment to $47.9 million.
Helen of Troy's gross profit grew 23.8% year over year to $72.4 million, while gross margin expanded 460 basis points (bps) to 45.2%. Selling, general and administrative expense rose 25.1% year-over-year to $49.2 million. However, increased sales and strong gross margin expansion more than offset higher overheads. Consequently, operating income recorded a growth of 18.5% year over year to $22.7 million, while operating margin increased 90 bps to 14.2%.
Looking ahead, Helen of Troy plans to expand its OXO product lines, further develop recently acquired Pert Plus and Sure brands, undertake initiatives to improve productivity and acquire complementary business lines. The Zacks Consensus Estimate on the company's earnings for the year ending February 2011 has edged up a penny to $2.57 per share in just the past week as 1 of 4 covering analysts raised expectation. For the next fiscal, the Zacks Consensus Estimate has moved down 5 cents over the past month to $2.84 per share as 1 of 4 covering analysts lowered projection.