The Alerian MLP index gained 0.61% for the week. In comparison the S&P 500 was down 2.64%. This was the second consecutive week with the AMZ up and SPX down. There were 17 new 52-week highs among the MLP and related companies followed on MLPData and no new lows. The overall markets were uncertain with negative news from China, however, Enable Midstream Partners, priced their IPO at the midpoint amongst strong demand for a small float issuance, moving units up 10% in an otherwise negative market. Vinson & Elkins and the WSJ both disclose that the IRS, which as recently as April 4th provided an opinion, are on pause for any further PLR guidance as they review criteria.
Unit Value Winners and Losers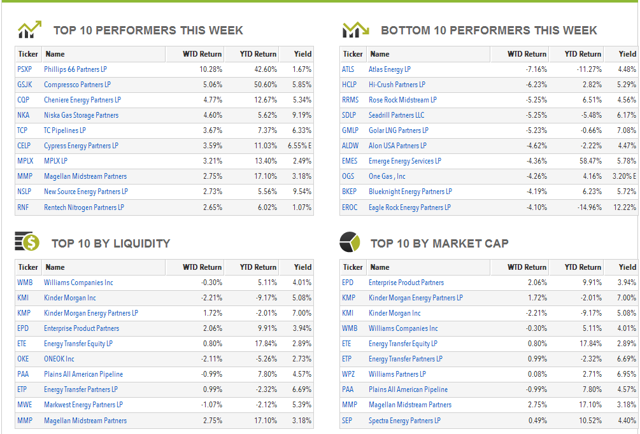 The week's top performer, Phillips 66 Partners LP (NYSE:PSXP) benefited from the Analyst Day indication that there are more significant assets available to drop down from its sponsor. PSXP will report Q1 results on April 30. Cheniere Energy Partners LP (NYSEMKT:CQP) continues to benefit from uncertainty concerning Russian natural gas exports to Ukraine and Western Europe and their relative advantage in DOE and FERC approvals.
On the loser side, Hi-Crush Partners LP (NYSE:HCLP) came to market with a secondary equity offering this week to finance the Augusta frac sand purchase, which we calculate to be highly accretive and in support of their growth targets.
Insider Trading

Share Issuance News
A significant IPO this week with the pricing of the $9 billion Enable Midstream Partners LP with a 25MM/$500MM share float. (NYSE:ENBL).
Other issuance in registration includes GasLog, Foresight Energy Partners and PBF Logistics LP.
Get the details of any offer of interest by clicking on the specific issue on the Issuance page of the MLPData Dashboard.
ETF, CEF and Mutual Fund Money Flows
Net Money Flow into MLP focused ETF and mutual funds dropped by 84% to $148 million, compared to the peak level of last week. Mutual funds picked up $96 million and ETFs $52 million. The four week average is $374 million.
Next Week's Earnings Calendar
Q1 earnings kick off next week with the three Kinder Morgan companies listed as the only MLPs for the week. In advance of their announcement, the below is a 2 year total return profile for (NYSE:KMP) which presumes current yield and the distribution estimates from prominent analysts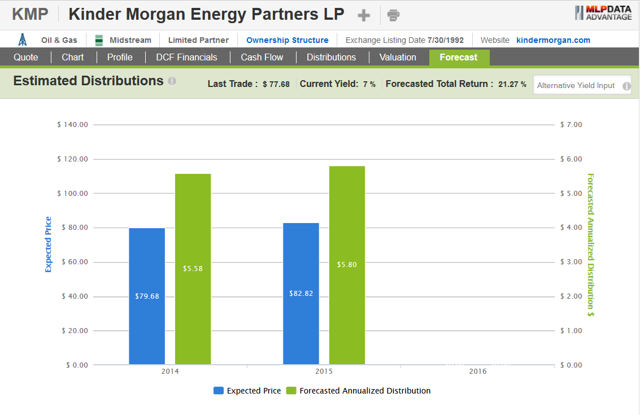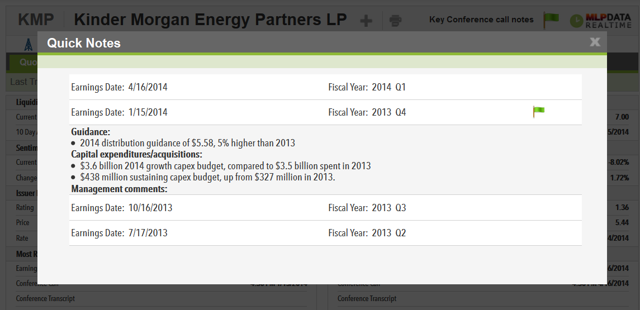 To make sure you get this round-up each week, make sure you are Following MLPData here on Seeking Alpha.
All charts and tables provided by MLPData.com
Disclosure: I have no positions in any stocks mentioned, and no plans to initiate any positions within the next 72 hours. I wrote this article myself, and it expresses my own opinions. I am not receiving compensation for it (other than from Seeking Alpha). I have no business relationship with any company whose stock is mentioned in this article.