Sirius XM Holdings Inc. (NASDAQ:SIRI) shareholders haven't had it easy over the last six months. While the company itself posted strong free cash flow and adjusted EBITDA growth, investors seem to take a cautious stance - particularly after Liberty Media's (NASDAQ:LMCA) takeover bid collapsed in March 2014.
One of the reasons I really like Sirius XM Holdings is the company's free cash flow strength. In addition, the company has presented investors over and over with impressive subscriber growth. Strong free cash flow- and earnings prospects stemming from an increase in SiriusXM-enabled vehicles also add to the appeal of the stock.
Intrinsic value estimate
The table below summarizes Sirius XM Holdings' historical operating-, investing- and debt cash flows (Source: Sirius XM Holdings latest 10-K filing with the SEC) and reconciles them to the free cash flow to equity. The investing cash flow in 2013 includes $525 million of cash outflows related to business acquisitions. The table also contains my estimates for Sirius XM Holdings' operating-, investing- and debt cash flows for fiscal year 2014.
I expect Sirius XM Holdings to continue to grow subscribers, revenues and operating cash flows strongly in 2014. Consequently, I estimate that Sirius XM Holdings, with the necessary support from the debt side, could generate a 2014 free cash flow to equity of $1,598 million which would reflect an improvement of approximately 15% compared to 2013.
As a result, I project that Sirius XM Holdings could achieve a free cash flow to equity of $0.25 per share which translates into an initial free cash flow yield of over 8% and a forward P/FCFE ratio of 12.40.
Given Sirius XM's superior historical free cash flow growth record, I believe a multiple of 12x free cash flow materially undervalues the company.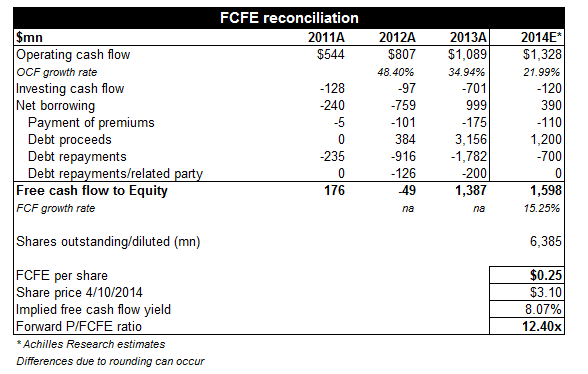 (Source: Achilles Research, most recent SEC 10-K filing)
Applying a discounted free cash flow model (growth rates slowly trickling down to a long-term sustainable growth rate of 4%, equity capital costs of 10%), Sirius XM Holdings has an intrinsic value of $4.48. Or put differently: Given the current share price of $3.10, Sirius XM Holdings has about 45% upside potential.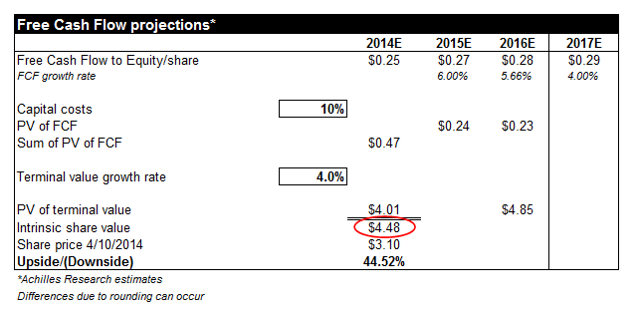 (Source: Achilles Research)
Technical picture
After John Malone's Liberty Media dropped its bid to buy the remaining shares of Sirius XM Holdings, shares of the satellite radio company have been trading weakly. Even though Sirius XM Holdings announced the resumption of its suspended share repurchase program, which would support the share price in the short term, investors didn't take the bait.
Yesterday's market sell-off only added to the weak trading pattern of Sirius XM Holdings' stock. The chart below depicts that the satellite radio company has taken a serious hit to its valuation in the last couple of trading days. Moreover, Sirius XM Holdings has corrected approximately 26% since it marked its latest 52-week High at $4.18 in October of last year. Sirius XM is also down 11% year-to-date.
Like many other companies in the stock market, Sirius XM Holdings now appears to be oversold in the short term with the Relative Strength Index indicating a value of 35.62.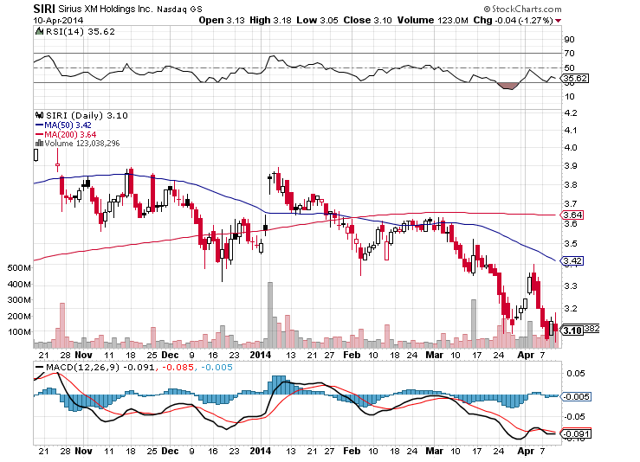 Conclusion
I believe Sirius XM Holdings has consolidated way too much and it is now time to rectify the apparent mis-pricing. The free cash flow valuation model from above suggests that the satellite radio company has an intrinsic value of $4.48 per share - materially higher than its current share price of $3.10. Should Sirius XM indeed follow through with its share repurchase program, a reduced share count would give the free cash flow per share an additional boost. Long-term BUY.
Disclosure: I am long SIRI. I wrote this article myself, and it expresses my own opinions. I am not receiving compensation for it (other than from Seeking Alpha). I have no business relationship with any company whose stock is mentioned in this article.