Caterpillar (NYSE:CAT) has a long history of producing tractors and other heavy machinery both in the United States and globally. It was instrumental in the Los Angeles Aqueduct Project in 1908-1913 and started exporting to Europe during World War I. It even exported to the Soviet Grain Trust and Australia in the interwar period. This Dow component certainly has a long history of global operations.
Such a long history of global competitiveness, even in the face of hard competition from Japanese new entrants in the 1970's and 1980's, is testament to this company's enduring ability to keep up with competition and serving its customers well.
The Fundamentals
Caterpillar is the world's leading manufacturer of construction and mining equipment, diesel and natural gas engines, industrial gas turbines and diesel-electric locomotives.
This sounds like a company that operates in a fairly cyclical industry to me. All the more important, then, to take a look at its historical ability to mitigate the economic downturns of the past in terms of revenue and profit development.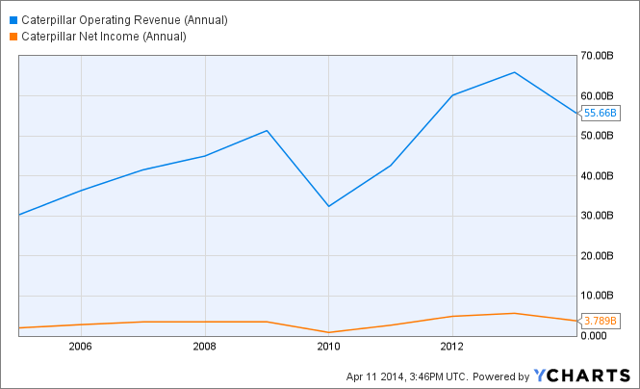 CAT Operating Revenue (Annual) data by YCharts
The company certainly has had some challenges in the past in recessionary environments. The most notable period in the last ten years is of course the financial crisis. The long term trend, however, is clearly upward.
Since 2009 the development has been more than acceptable. Revenue in 2009 was $32.396 billion -- in 2013 it had increased almost 72% to $55.66 billion. The corresponding figures for net income were $0.895 billion and $3.789 billion.
The balance sheet of Caterpillar is also the strongest it's been in a long time with an equity ratio in 2013 of 24.5% compared to 14.6% in 2009. Shareholders' equity increased by 138% over the same period. Substantial profits every year and a strong balance sheet means the company should be in a solid position to invest in new products, ensuring that they stay ahead of the competition.
The company's strategy for the future has three main parts:
Best Team -- Attract and develop the best talent
Superior Results -- Deliver superior returns through the cycles
Global Leader -- Take pride in helping its customers succeed
It sees this as a triangle between employees, shareholders and customers, all of which must be satisfied in order for results to be achieved. It seems clear to me that management has the right focus in order to win in the increasingly competitive global environment.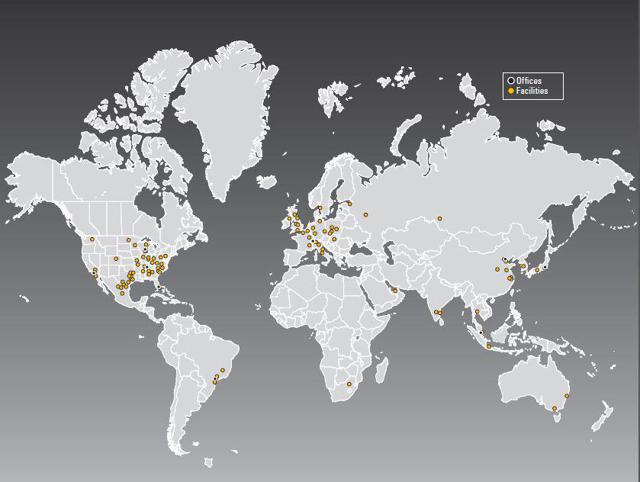 Source: Company presentation 2013 Year In Review
If it succeeds in its strategy, I think there will be vast opportunities for growth in several markets where it is as of yet not fully present. A glance of its map of facilities and offices above reveals that South America, China, Russia and Africa are all underserved.
Risk Factors
Macroeconomic risk is perhaps the greatest risk for Caterpillar. It sells capital-intensive equipment for construction projects and the mining industry. Such industries are usually quite sensitive to economic conditions and are likely to cut back substantially on investments in equipment in a recessionary environment. Currency is also a risk but manageable as currency movements tend to even out over time. Another risk is the ever-present global competition from other U.S. producers as well as Japanese competitors. It would not surprise me if Chinese firms also become tough competitors for Caterpillar in the future.
Valuation
Caterpillar is a global leader in its field. Even so, the market might already have priced that in. In order to evaluate that, we should have a look at some key multiples for Caterpillar compared to a few of its competitors.
The two most directly comparable companies I found were Deer & Co (NYSE:DE) from the U.S. and Komatsu (OTCPK:KMTUY) from Japan.
| | | | |
| --- | --- | --- | --- |
|   | Caterpillar | Deere & Co | Komatsu |
| Price/Sales | 1.2x | 0.9x | 1.1x |
| Price/Earnings | 17.8x | 10.0x | 13.5x |
| Yield | 2.3% | 2.2% | N/A |
Source: Morningstar
Caterpillar is priced above both Deere and Komatsu on all multiples but the dividend yield where Deere is only slightly more expensive. Even though Caterpillar is priced above its competitors it is priced below the S&P 500 which trades at 18.0x earnings so I wouldn't consider it expensive at this level.
The Dividend
This company has increased dividends for 20 years in a row, which makes it a dividend contender. Over the last ten years the dividend has increased from $0.185 per share to $0.6 per share for a compound annual growth rate of 12.5%. Its payout ratio stands at 41.7% based on the annualized dividend and the earnings per share for fiscal year 2013. The low payout ratio means there is room for dividend increases even in periods of sluggish EPS growth.
And EPS growth will likely not be sluggish if we are to believe the analyst community. The average analyst expects Caterpillar to grow its EPS by 13.45% annually over the next five years.
If we assume that the earnings multiple stays the same five years from now as today, take the dividend yield of 2.3% and add in the expected EPS growth, we get a total expected shareholder return over the next five years of 15.75%. If the analysts are only half right, shareholders can expect a very good return from a big, established Dow component which is also a global leader in its segment. I bet few other of the Dow components has such high expected growth rates.
Conclusion
Although it operates in a cyclical industry with tough competition, Caterpillar has proved throughout its history that it can handle such competition and give shareholders a nice return to boot. I expect the company to stay competitive and grab a nice share of the growing global market for its equipment. The decent dividend yield coupled with a high projected EPS growth rate are likely to make shareholders in this global leader happy over the coming years.
Disclosure: I have no positions in any stocks mentioned, and no plans to initiate any positions within the next 72 hours. I wrote this article myself, and it expresses my own opinions. I am not receiving compensation for it (other than from Seeking Alpha). I have no business relationship with any company whose stock is mentioned in this article.