Since peaking at $25.68, Micron Technology (NASDAQ:MU) is down by nearly one-fifth from its high. Investors sold off shares following forecast uncertainties in its earnings report on April 3, 2014, along with a general increase in bearishness in the markets. There are two overriding questions investors need to ask. First, were record results in Micron's fiscal second quarter a peak? Second, does Micron's transition towards newer products and technologies bear unacceptable risks for investors? The quick answer is no to both. The longer question becomes: what is Micron worth?
Micron shares sell off
Micron is down more than the Nasdaq composite index, but investors should expect this underperformance. The company rose 120 percent in the past year, compared to a 20 percent increase in the index: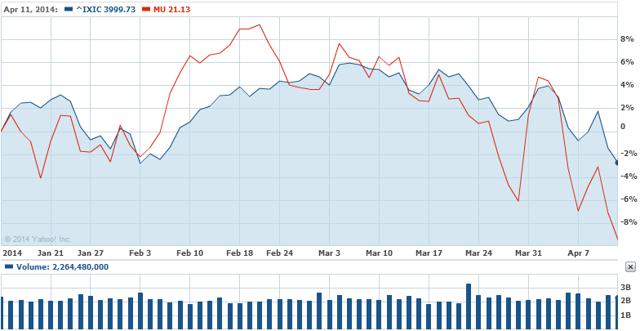 Source: Yahoo Finance
Despite the decline, there are four takeaways from Micron's quarterly report.
1) Record quarter
Micron generated a record $4.11 billion in revenue, 98% higher than last year. Elpida, which cost Micron $2.5 billion, helped account for this increase. The acquisition strains Micron's balance sheet by raising debt:
| | | | | |
| --- | --- | --- | --- | --- |
|   | 8/31/2010 | 8/31/2011 | 8/31/2012 | 8/31/2013 |
| Long Term Debt | 1,648 | 1,861 | 3,038 | 4,452 |
(in millions $)
Source: Kapitall
These debt levels are manageable. Micron will continue to improve on gross margin improvements. Free cash flow was also positive at $85 million, while operating cash flow was $1.39 billion. Non-cash amortization of debt and other costs related to Elpida was $44 million. Micron also sustained capital expenditure to $565 million in Q2. It expects CapEx will range of $2.6 billion and $3.2 billion.
2) DRAM supply
Micron expects DRAM demand will be as high as 30 percent ("CAGR") over the next five-years. Supply is not expected to grow more than 20 percent in 2014. This implies that gross margins in DRAM should continue to improve this year. In Q2, gross margin was 34 percent.
 

2nd Qtr.

1st Qtr.

2nd Qtr.

Six Months Ended

 

Feb. 27,

Nov. 28,

Feb. 28,

Feb. 27,

Feb. 28,

 

2014

2013

2013

2014

2013

Gross margin

1,403

1,281

366

2,684

583
(in millions) Source: Micron Technology
3) NAND growth uncertain
Micron worried investors by forecasting lower supply growth for NAND after 2015. This is due to Micron moving towards 3D NAND. 3D NAND involves stacking cells so that more could fit in a smaller area. Micron needs this technological advancement, to boost performance and lower costs. Micron further disappointed the markets by not yet providing samples of the chip to customers. This indicates that the industry will push out adoption for 3D NAND towards the second half of fiscal 2015.
Gross margin for NAND dropped to the high 20 percent range in Q2. On its conference call, Micron blamed seasonality and higher sales in the channel for incremental production for the decline:
NAND gross margins in the second quarter were in the high 20% range, down approximately 5 percentage points quarter-over-quarter. Selling prices came under pressure during the second quarter partially due to seasonality and partially due to increased sales in the channel for our incremental production.
Investors should expect a subdued growth outlook for NAND. SSDs (solid state drives) have longer manufacturing cycle times. As Micron increases output volume in the quarter, it will face less predictable demand.
4) Healthy balance sheet
Micron has $4.5 billion in cash as at the end of Q2, although this includes the $2 billion from Elpida. The company plans to move towards straight debt to take advantage of competitive rates. In Q3, Micron will cut its debt by $700 million. The net effect for 2014 will be a reduction in cash levels by $1.3 billion.
Risks
Micron reported a 68% growth in its server business and high capacity yields in networking in Q2. If public cloud growth slows, performance from these units, along with DRAM bit demand, could weaken. Mobile markets also contribute to Micron's growth. News that Samsung reported lower profits suggest that even as unit demand for mobile phones increase, margins could be squeezed.
Valuation
Micron earned $0.85 per share non-GAAP, and $0.61 per share GAAP.
| | | |
| --- | --- | --- |
|   | 2nd Qtr. | 1st Qtr. |
|   | Feb. 28, | Nov. 29, |
|   | 2014 | 2013 |
| Diluted earnings per share: |   |   |
| GAAP | $ 0.61 | $ 0.30 |
| Effects of above | 0.24 | 0.47 |
| Non-GAAP | $ 0.85 | $ 0.77 |
Despite phenomenal earnings growth, the company trades at a forward P/E of just 7. SanDisk (SNDK) and Intel (NASDAQ:INTC) are both valued at 14. Analysts on average estimate Micron will earn $3.02 per share this year. Though it would not make sense to value Micron at multiples comparable to SanDisk or Rambus (NASDAQ:RMBS), applying a forward P/E of around 10 would imply Micron's market value of $30.20.
If smart phone demand peaks this year and Micron encounters development delays for 3D NAND and DDR4, Micron's P/E could drop to 5. This implies a downside stock price of around $15.
Bottom Line
There are few reasons to believe demand for memory chips will drop this year. Demand for servers, cloud solutions, mobile devices, computers, and computer graphics cards remain strong. This suggests that Micron is more likely to trade towards the upper end of its implied market value. Any drop towards the teens would be an opportunity for investors to build a position in the company.
Disclosure: I have no positions in any stocks mentioned, but may initiate a long position in MU over the next 72 hours. I wrote this article myself, and it expresses my own opinions. I am not receiving compensation for it (other than from Seeking Alpha). I have no business relationship with any company whose stock is mentioned in this article.