Company Profile: Chevron Corporation operates as an integrated energy company worldwide. The company's petroleum operations include the exploration, development, production, and marketing of crude oil and natural gas; refining, marketing, and transportation operations comprise refining crude oil and converting natural gas into finished petroleum products; marketing crude oil and products derived from petroleum; and transporting crude oil, natural gas, and petroleum products by pipeline, marine vessel, motor equipment, and rail car. Its chemical operations include manufacture and marketing of commodity petrochemicals, plastics for industrial uses, and fuel and lubricant oil additives.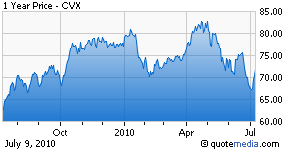 Prognosis
: The stock is at the lower end of its six month range and about 15% off from where it stood when stocks peaked this year in April. Consensus earnings estimates have been raised for both this fiscal year and the next in this timeframe. It has a double AA rated balance sheet.
Valuation: CVX is selling for approximately 8 times this year's consensus earnings and 7 times next year's projected earnings. It also sports a solid dividend yield and throws off an immense cash flow
Catalysts: There are several factors that we believe should provide support for a higher stock price in the near and medium term:
1.
The overhang on integrated oil stocks should subside a bit once the leak in the Gulf is stopped, hopefully by August
2.
Their refining business should improve with the economy and we do not believe a "Carbon" tax will pass in this session of Congress
3.
This consistent dividend raiser should continue to gain appeal in this turbulent and yield starved market
4.
The probability that company will reinstitute stock buybacks in next 12 months is high
Recommendation(s):
We believe the stock should be trading at a more reasonable rate of approximately 9-10 times next year's projected earnings of around $10. Given the growth in revenues and earnings expected to take place over the next 12 to 18 months; our target Price is $90-$100, up from the current price of $70.41.
Disclosure: Long CVX