Vaalco Energy, Inc. (NYSE:EGY)
Vaalco Energy, Inc was incorporated in 1985 and is headquartered in Houston, Texas USA. The company has 111 full-time employees (59 in Gabon).
From the 10K 2013: "As of February 28, 2014, there were outstanding 56,850,341 shares of common stock, $0.10 par value per share, of the registrant."
EGY is an independent crude oil and natural gas mid-tier company. The company's main business is located in both onshore and offshore West Africa, and to a lesser degree in the USA:
1 - Offshore Angola.
The company owns 40% working interest in Block 5 offshore with approximately 1.4 million acres.
From the conference call:
"Currently, our opportunities for longer-term growth lie in the exploration prospect in Equatorial Guinea Block E and Angola Block 5, where we have made significant progress over the last several months. We believe this represents an outstanding opportunity for significant value creation for our shareholders."

"Equatorial Guinea and Angola. In particular, we expect to drill four exploration wells by the end of 2015."
2 - Offshore Gabon.
The company owns:
30.35% interest in the exploration offshore acreage within the Etame Marin block (main field for the company

).

28.1% interest in the development areas in and surrounding the Etame, Avouma, South Tchibala, and Ebouri fields
From the last conference call:
"As most of you are already aware, VAALCO's Etame Marine block blocking in Gabon is the backbone of the company's operations and continues to generate strong, reliable cash flow, which provide the currency necessary to fund our growth opportunities."
3 - Onshore Gabon.
The company owns 50% working interest in Mutamba Iroru block with an exploration area of approximately 270,000 acres located onshore near the coast in central Gabon.
4 - USA (non-conventional and shale plays).
Onshore Texas: 640 and 480 acre leases in the Hefley field (Granite Wash formation) in North Texas (May 2011

).

Onshore Montana: 70% working interest in approximately 5,200 acres in Sheridan County, Montana (September 2011

).

Onshore Montana: 65% working interest in approximately 22,000 gross acres in Roosevelt County, Montana (December 2012

).

Onshore South Dakota: 100% working interest in approximately 10,000 acres in Harding County, South Dakota (September 2012

).
5 - The company is also present in West Africa as a non-operator in Offshore Equatorial Guinea.
EGY owns 31% working interest in Block P located offshore Equatorial Guinea.
From the 10K filing:
"In July 2012, the Company signed a definitive agreement with PETRONAS CARIGALI OVERSEAS SDN BHD for the purchase of a 31% working interest in Block P, located offshore Equatorial Guinea at a cost of $10.0 million. The acquisition was completed on November 1, 2012. "

"This block is operated by GEPetrol, which is the national company which has a 58.4% interest and there are two other partners with about 5% each. The block contains a 2005 Devon discovery known as the Venus field, which encountered [crude oil] column in channel sand sequence. The discovery lies in an area of the water depth is about 800 feet."
Financial snapshot
The company has released recently its earnings for Q4 2013 and also its year-end 2013:
Recent Filing SEC 10K (Year 2013).
Conference call transcript for Q4 2013 earnings. March 14, 2014.
Note: Steve Guidry has been appointed CEO about 4 months ago.
Stock price (EGY/HNR), Year-to-date Chart:
Balance sheet (Table)
Earnings $/shares
Revenue $ million
Shares million
Production in Gabon in *GBOD for Q4
Cash and cash equivalent in $ million

Capex for 2014

$ million

Oil revenue in $ million

(1)

2011
0.59
40.6
57.12
-
138.45
-
210.44
2012
0.01
0.6
57.91
15,800
132.06
-
195.29
2013
0.74
*43.07
56.86
*18,000
142.90
117
169.28
* "Increase year over year primarily due to significantly lower income taxes payable paid in Gabon and lower exploration expenses recorded in 2013. However, production in Gabon decreased by $25 million in revenue, year over year. EGY paid $48 million less in Gabonese income taxes in 2013 compared to 2012. Then exploration expense were $17 million less in 2013 compared to 2012."
* GBOD= Gross Barrels of Oil per Day
* The company's target is 20,000 GBOD by the end of first half 2015.
(1) Most of the revenues are from Gabon:
| | | | |
| --- | --- | --- | --- |
| | Gabon $ million | USA $ million | Total $ million |
| 2013 | 167.386 | 1.891 | 169.277 |
| 2012 | 192.489 | 2.798 | 195.287 |
| 2011 | 208.780 | 1.655 | 210.435 |
New $65 million revolving credit facility in Gabon.
The new CEO, Steve Guidry, announced recently that the company signed a loan agreement reserve based facility secured by the assets of the company's Gabon subsidiary. This is an important financial tool that will help any future strategic acquisition(s) in the Gabon offshore sector.
In the last EGY conference call, CEO Steve Guidry said:
"We recognize that in order to fund our drilling program, while maintaining our traditional balance sheet flexibility, we needed to take on leverage, so in February of this year, VAALCO announced that we executed a loan agreement with the International Finance Corporation for a $65 million reserve base loan facility, secured by the assets of the company's Gabon subsidiary. We intend to use these proceeds of the loan facility to support our Gabon development program. This in turn frees up the cash generated from the block for use on opportunities outside of Etame field and the Etame block."
Presentation: The Dussafu block in Gabon, West Africa.
The Dussafu block in Gabon is an offshore deep-water drilling exploration (about -130m water-deep). The first high-quality 3D seismic images are expected during the second quarter of 2014.
Here is the map of Harvest web site.
EGY's Etame is clearly visible on the map above. EGY owns interests in the Etame, Avouma, Tchibala and Ebouri fields, which are between roughly 25 miles to 35 miles, North-West of Tortue and Ruche discoveries.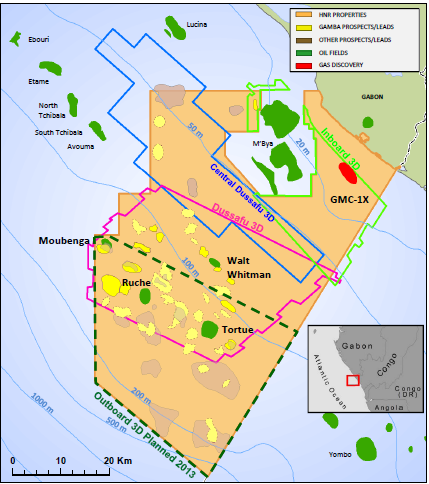 Recent accomplishments for Dussafu block include:
Discovered hydrocarbons, including 42 feet of oil pay within the Gamba formation and 123 feet of oil pay in stacked reservoirs within the Dentale Formation.

Sidetracked the Dussafu Tortue Marin-1 well in Gabon to discover an additional 65 feet of oil pay in the primary Dentale reservoir.
Harvest Natural Resources, Inc. (NYSE:HNR) owns 66.667% of the block and Panoro Energy (OTC:PESAF) owns the remaining 33.333%.
The block has identified several oil bearing structures: Total of five pre-salt discoveries (4 oil, 1 gas) with upside/appraisal potential, 2C contingent resources totaling 49MMboe (gross).
Also, 1,130km2 outboard 3-D acquired in Q4 2013:
Key to de-risking substantial outboard leads.
Preliminary seismic products expected in Q2, final products expected in H2.
The field is in a process of being declared commercial. HNR commissioned an independent study from Gaffney Cline, known to be "a competent person," to be released soon, to confirm the quality of the block and its potential future commerciality.
Why the Dussafu block is a unique opportunity for EGY.
Reason 1: The Dussafu block is for sale since mid-2013.
Harvest Natural and Panoro Energy have both expressed their intention to farm-out their Gabon interest.
1 - Harvest Natural Resources.
Since mid-2013, HNR has indicated that because of the non-payment of the dividend owed by Petrodelta in Venezuela since 2010, which is its only source of revenue, the company intended to sell all its assets, including Venezuela and Gabon interests. Here is what CEO James Edminston said on the Q3 2013 conference call:
"...the company's direction absent some unforeseen development will be to sell the asset base in whole or in part and return the cash to the shareholders. Our primary focus is to maximize the cash value of the company to our shareholders in the shortest possible timeframe...Our block in Gabon posses an extraordinary suite of exploration plays in addition to the current discoveries as evidenced by the recent deepwater bid round activity in Gabon. So we believe we will find buyers for the company and its assets where they reach to announce transactions received pursued or not."
HNR put its Gabon assets for sale and announced, in September 2013, that it signed an exclusive negotiation with Vitol SA to sell 66.667% it owns in the Dussafu block, for a total of $137 million. However, on November 19, 2013, HNR announced that the negotiations with Vitol SA ended without any more explanation.
"Harvest also announced today that negotiations toward definitive agreements with Vitol S.A. for the sale of the Company's 66.667% interest in the Dussafu Marine Permit PSC, offshore Gabon, as announced September 30, 2013, have terminated as the parties failed to reach definitive agreements."
In the last HNR conference call March 17, 2014: James Edminston CEO said:
"We continue to have discussions on the block with numerous counterparties hearing their ideas, and we're open to those possibilities as well."
2 - Panoro Energy.
Panoro Energy ASA is an international independent Oil & Gas Company with offices in Oslo, London and Rio de Janeiro. The company holds a balanced portfolio of production, development and exploration assets in Brazil and West Africa. The completion of the merger with Pan Petroleum created a strong South Atlantic oil & gas independent with a reserve and resource base in the order of 175 MMBOE.
On 15 May 2013, the company announced that its wholly owned subsidiary Panoro Energy Do Brasil Ltda ("Panoro Brasil") had entered into a share purchase agreement with GeoPark.
Panoro is not the main player in Dussafu block. The company owns 33.333% and was waiting for the HNR-Vitol SA sale completion before deciding what to do. However, after the deal between HNR and Vitol SA was abruptly terminated, Panoro Energy decided to put its Dussafu interest for sale in its Q4 2013 earnings presentation.
Reason 2: The two blocks present the same geological characteristics (Dentale and Gamba formations).
The producing fields in the Etame cluster operated by EGY are located just 30 miles to the north of HNR/Panoro operation's area, and are direct analogs to HNR's Ruche and Tortue discoveries. Other structures have been identified as well by HNR on the seismic 3-D survey within the Dussafu block (with stacked Dentale and Gamba potential reservoirs confirmed by the Diaman nearby prospect owned by Total, Marathon and Cobalt).
Two similar prospects are almost mutual to both blocks (Kala and Moubenga).
The Dussafu block has already two discoveries called the "Tortue" and the "Ruche." Soon the field should be declared commercial as explained earlier. Other potential prospects in the Dussafu block are called Moubenga prospect and Walt Whitman prospect (which is related to Tortue discovery).
The "Ruche" discovery has 14 MMBO of mean contingent resources 2C, was made in 2011; and the "Tortue" discovery has 28 MMBO of mean contingent resources 2C, was made in 2013.
On August 12, 2013, HNR released a detailed presentation of the field here (page 8 to 14).
Reason 3: Significant increase in reserves 2P future potential.
Because the Dussafu block is at an early stage of development, HNR cannot indicate any proven and probable reserves classified as 1P, 2P or 3P. However, the company can still declare, "contingent resources" or "mean contingent resources," which will be confirmed by an independent expert later.
"A more sophisticated system of evaluating petroleum accumulations was adopted in 2007 by the Society of Petroleum Engineers, World Petroleum Council, American Association of Petroleum Geologists, and Society of Petroleum Evaluation Engineers. It incorporates the 1997 definitions for reserves, but adds categories for contingent resources and prospective resources."

"Contingent resources are those quantities of petroleum estimated, as of a given date, to be potentially recoverable from known accumulations, but the applied project(s) are not yet considered mature enough for commercial development due to one or more contingencies."
Oil reserves Classification (from screenhunter):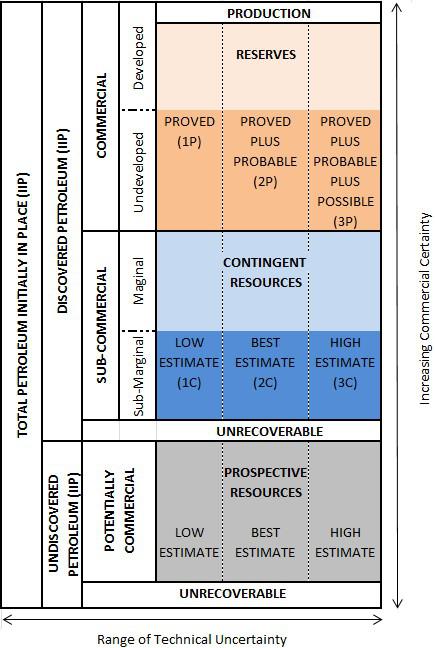 To be able to give a value of the Dussafu block, in terms of proven reserves and to demonstrate the productivity potential of the field, the company must go through a long commerciality process. It means that, first, an independent firm will re-assess all the data and will deliver an evaluation of the field. If this evaluation is positive and confirms the company's findings, then HNR can start the claim process for commerciality with Gabon. Last step, will be drilling, production wells.
Reason 4: EGY needs to expand in West Africa soon.
EGY has clearly indicated in its last conference call that it wanted to expand its West African assets. Gabon production in 2013 was lower compared to 2012 in terms of revenue. The goal is to reach a total production of 20k GBOD by 2015. However, it is obvious that EGY's oil production is at its peak now, and soon will start to decrease along with its reserves.
When asked about a new acquisition in West Africa, Steve Guidry new CEO said:
"We see several opportunities and down the coast. Some better fit than others obviously, but you know we continue to work through that. We have engaged with our board, we have talked about some of the options that are out there. It's tough for me to comment on whether or not we think something will actually happen in the near-term. It going to be a function of the quality of the opportunity and sort of our appetite for it, but we certainly continue to look. I would say is it gets going us a lot of attention by the management team here, and certainly our technical team, but at the end of the day we won't be able to say for sure until we work through all the details."
The next question asked to the CEO was related to the size of the potential acquisition:
"It's a fairly broad range. For us, anything from in the $50 million to $75 million acquisition range and development cost in $100 million to $200 million range is what would be our sweet spot. We said we can do - positioned to do smaller acquisitions and we can something larger, but that would be what I would describe as our sweet spot."
Dussafu block is "in the money" for a potential acquisition, and will greatly increase future reserves for the company in 2015/2016. It will also increase GBOP production as soon as 2016. This is what the company needs the most now.
Production from Gabon has decreased by $25 million from 2012 to 2013. The Dussafu block presents resources at 49 MMBOE (million barrels of oil equivalent gross) declared as "mean contingent resources 2C." The company will have to drill several wells to find out what production can be obtained in the field, and how to bring the oil to the market. EGY has already set up a cap-ex for Gabon around $75 million for 2014 (out of a total cap-ex of $117 million) that will allow at least two production-wells for Dussafu.
Reason 5: This deal presents an evident synergy, and an accelerated production potential.
By combining the two adjacent blocks Etame and Dussafu into a common production development strategy, EGY will be able to get much greater results by minimizing significantly the cost and have an oil production ready sooner compared to any other distant fields. This synergistic effect is unique to Etame/Dussafu complex, and will probably reduce the cost of developing Dussafu by using in part the infrastructures in place for Etame field and other fields in the block.
Reason 6: The estimated value of the deal is well within what EGY is willing to invest.
Based on Vitol S.A's recently terminated deal, we can assume that a total value for the Dussafu block is roughly between $190 million to $220 million. This deal is an excellent comparison element to find what is the fair value of the field, and to evaluate what price-range a sale can be possibly agreed between EGY and HNR?
EGY, for example, could acquire Panoro Energy 33.333% in cash. Separately, EGY can acquire another 17.667% of Harvest Natural Resources in cash or in a share swap. The combined two purchases will represent a total of 51% of the Dussafu block. Then, HNR will let EGY becoming the new operator of the field, which will allow the company to elaborate a new global development strategy, including its Etame field requirements.
A quick value estimate for the 51% will be roughly $110 million. The deal can be all in cash or in a share's swap.
Reason 7: Vaalco and Harvest will be able to develop the field financially without involving any new debt.
HNR is about to sell its Venezuela assets to Pluspetrol (who already acquired 29% of HNR Venezuela assets - tranche 1). Both companies now are waiting for the Venezuela's approval to conclude and ratify the second tranche, for a net cash of approximately $200 million for HNR.
HNR is now debt-free after paying-off $80 million note due 2014, from the proceeds of the tranche 1 sale with Pluspetrol. Thus, the new partnership between EGY and HNR will have together the cash required to fund the cap-ex for the field based on an interest sharing partnership.
A minimum amount of $300 million in three years will be needed probably, which will be $150 million for each company.
Again, it is important to add that EGY entered into a loan agreement for an amount of $65 million in February 2014. This cash buffer will facilitate the completion of this potential interesting acquisition.
EGY will have to compete with other big names in the area: Marathon, Total and Cobalt are also close by and may be potential buyers. The race is on!
Disclosure: I am long EGY. I wrote this article myself, and it expresses my own opinions. I am not receiving compensation for it (other than from Seeking Alpha). I have no business relationship with any company whose stock is mentioned in this article.
Additional disclosure: I recently started again another position in HNR at 3.75 with a target between $5 to $5.25. I have been trading HNR for many years but do not recommend a long position there.
Editor's Note: This article covers a stock trading at less than $1 per share and/or with less than a $100 million market cap. Please be aware of the risks associated with these stocks.
Editor's Note: This article covers one or more stocks trading at less than $1 per share and/or with less than a $100 million market cap. Please be aware of the risks associated with these stocks.