PACCAR's (NASDAQ:PCAR) Peterbilt unit has made headlines recently for its new truck prototype with partner Wal-Mart (NYSE:WMT). The truck, referred to as WAVE (Walmart Advanced Vehicle Experience), "is a tractor-trailer combination that features leading edge aerodynamics, an advanced turbine-powered range extending series hybrid powertrain, electrified auxiliary components, and sophisticated control systems all in one package, developed in support of the company's industry-leading sustainability program."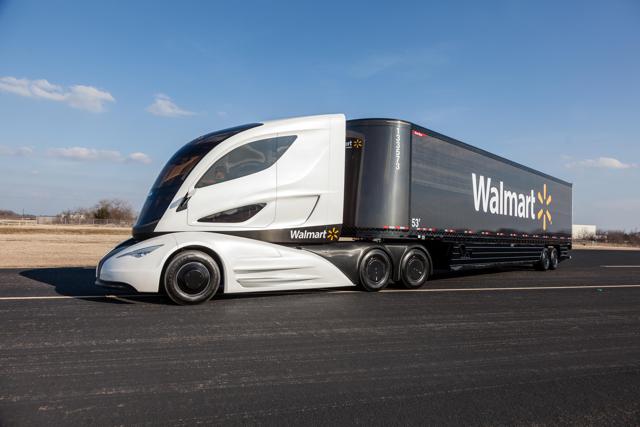 Wal-Mart, the world's largest retailer, continues to set new standards in efficiency. Back in 2005, Wal-Mart made the goal to double its fleet efficiency by 2015. As of last year, the company had achieved an 84% increase from its 2005 baseline. Since 2007, Wal-Mart has delivered 658 million more cases while driving 298 million fewer miles.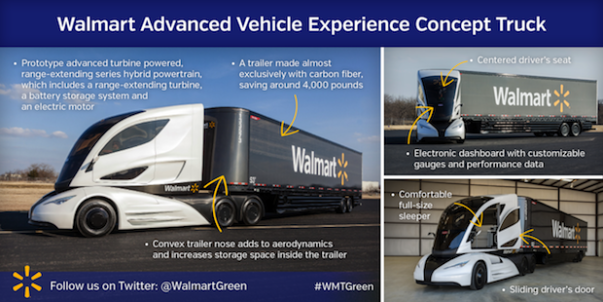 Many of the features on the new truck would help Wal-Mart increase its already strong energy savings. The new truck has a 20% reduction in aerodynamic drag over other models. The trailer made out of carbon fiber saves 4,000 lbs, which can be used for additional hauled products.
The new prototype truck runs on diesel, but the turbine is fuel neutral, meaning the truck can also run on compressed natural gas, liquid natural gas, or other biofuels. The other company to watch here is Capstone Turbines (NASDAQ:CPST), the makers of the microturbine and hybrid drivetrain solution found in the truck. Capstone said, "We look forward to the day when these energy-saving features are standard offers for the market." With a market capitalization of under $700 million and annual sales below $200 million, a rollout by Wal-Mart of the new truck could greatly impact Capstone shares going forward.
A rollout of the truck would be huge for PACCAR and Capstone and their related shares. There are over 6,000 Wal-Mart trucks currently in the United States. Replacing the fleet would be costly for Wal-Mart, but with efficiency and good press from its green efforts, it could be worth it for the retailer.
In Canada, Wal-Mart is also working on a more efficient truck. The Supercube truck is in its second pilot phase. This truck has already made over 100 deliveries to Wal-Mart stores. The truck's design allows it to fit 40% more merchandise than a normal 53 foot trailer. The Supercube truck measures 60 foot 6 inches long.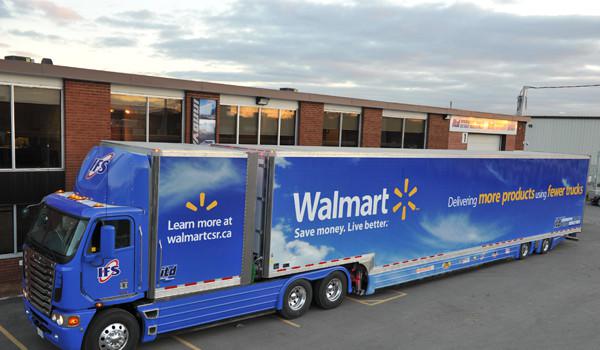 There is a chance the Wal-Mart truck may never hit the fleet for the retailer. For Peterbilt, it shows off the capabilities the company has to increase efficiency in the trucking industry. Peterbilt's CEO had this to say, "Our combined efforts help build a business case for these technologies in the future, as well as support one of our best customers."
Aside from the Wal-Mart prototype, Peterbilt also has another new truck in design that could boost sales of new tractor trailers going forward. Peterbilt partnered with Cummins (NYSE:CMI) on a supertruck. A typical truck gets 5.5 to 6.0 miles per gallon while hauling 80,000 lbs of merchandise. In 11 tests over 300 miles, the supertruck did better than those normal numbers with an average of 9.9 miles per gallon.
From this article on Green Car Reports, one truck with better miles per gallon traveling 120,000 miles annually could save $25,000 in diesel. President Barack Obama is drafting new sets of rules for trucks that would require semis to have higher miles per gallon and better efficiency. The new rules take effect in 2019 and will run through 2025.
The rival to the two Peterbilt trucks is Airflow's BulletTruck. This prototype saw a hugely impressive 13.4 miles per gallon while traveling from Connecticut to California with 65,000 lbs of cargo. A fleet of Airflow trucks could save 7.5 billion gallons of fuel. More importantly to industry regulators, the switch to new efficient trucks would eliminate 21 million tons of toxic exhaust emissions annually.
PACCAR is the owner of key brands like Peterbilt, Kenworth, DAF Trucks, and Leyland Trucks. The company saw record annual revenue in fiscal 2013. For the last 75 years, the company has posted a profit. Since 1941, the company has also paid dividends.
Another key for PACCAR is its international expansion. The company started production on a PAF truck assembly plant in Brazil during the fourth quarter. The company's long term goal is 20% market share in Brazil. The market in Brazil was 119,000 trucks in the last year. While this isn't a huge number, it does offer a great opportunity for PACCAR. Currently, PACCAR's brands have a 1 to 2% market share in the country, so its lofty goal would represent an increase of over 20,000 trucks annually.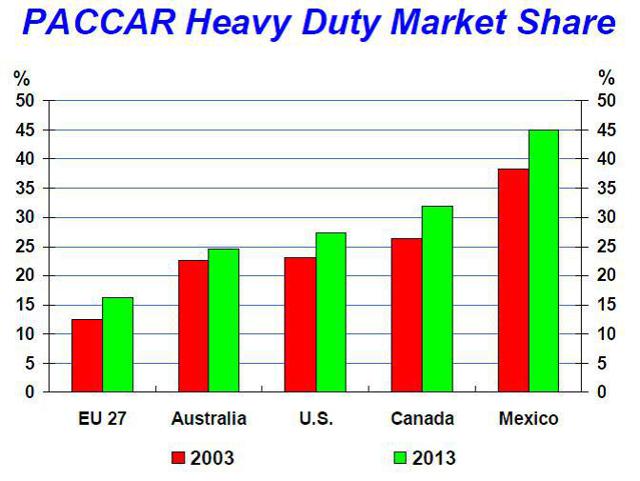 Source: Investor Presentation
Market share is important to PACCAR and it continues to be dominant in North America and other countries. In the fourth quarter, Peterbilt and Kenworth had a 28% market share in Canada and the United States. In the fiscal year, DAF hit a record market share of 16.2% in Europe. In the fourth quarter earnings report, PACCAR also mentioned strength in Taiwan and Mexico. In 2013, 48% of the company's revenue came from the United States, with the remaining 52% coming from international markets made up of Europe (29%) and Rest of World (23%).
PACCAR is also being helped by strong financial and leasing arms. The financial division helped finance 161,000 vehicles in the fourth quarter. PACCAR now has 606 leasing locations around the world, representing over 35,000 available vehicles.
In the fourth quarter, PACCAR delivered 36,400 trucks, an increase of 3% from the third quarter. PACCAR expects to deliver 5% more trucks in the first quarter from the previous year. Analysts on Yahoo Finance see fiscal 2014 revenue growing 7.4% to $17.13 billion. Revenue is expected to also rise 7.7% in fiscal 2015 to $18.45 billion. I think these numbers could be slightly conservative if one of the new trucks makes its way on the road or Brazil comes in ahead of plan. High single digit gains in revenue should not be out of the question. Earnings per share are expected to be $3.64 and $4.08 for the next two respective fiscal years.
There are over 2 million registered tractor trailers in the United States. New regulations are coming to the industry for better gas mileage. Peterbilt has shown through its relationships with Wal-Mart and Cummins that it could be one of the biggest beneficiaries of this coming backlog of new truck purchases. Consider that new efficiency and regulations for airplanes, cars, and railcars, has created bull markets in their sectors. I see the same effect coming to PACCAR and its rivals. With its Cummins and Wal-Mart relationships, PACCAR is ready to lead the way in new trucks.
Disclosure: I have no positions in any stocks mentioned, but may initiate a long position in PCAR, CPST over the next 72 hours. I wrote this article myself, and it expresses my own opinions. I am not receiving compensation for it (other than from Seeking Alpha). I have no business relationship with any company whose stock is mentioned in this article.