General Motors (NYSE:GM) is being put under the microscope for its internal processes to manage quality control after the much publicized 11 year old issue with ignition switches in GM's entry level vehicles emerged and GM CEO Mary Barra made a command appearance on Capitol Hill to explain GM's side of the story.
As I pointed out in my March 27, 2014 article suggesting investors short GM in the $34.50 range, a close look at GM shows a lot to dislike.
Despite Mary Barra's public assertions that she heard nothing about the quality issues with the ignition switches in Chevrolet Cobalt's and Saturn Ion's, at least some evidence has surfaced that as head of product development Ms. Barra did receive information related to other quality problems. An email surfaced indicating that she apparently received information relating to a steering component quality issue. GM assured the world in a Twitter tweet that these were completely separate issues. So what if they were?
It seems quite likely that the head of product development would be on the list of recipients of information related to all quality issues on a product under development. Or is Quality Job 1 only at Ford?
In 1926, GM advised its customers to "Always consider what you get for the price you pay" with the tag line "Quality at Low Cost." As the years went by GM's emphasis on low cost appears to have survived but the quality part of its tag line may have been dropped.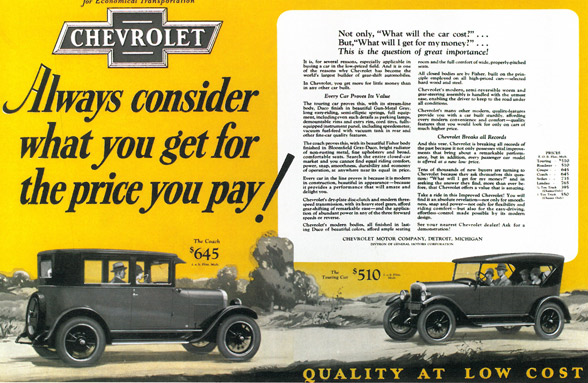 Source: Ad Age
When Mary Barra was tapped for the CEO spot, GM made sure that the public knew just how well qualified she was. This paragraph from CTV News is an example of the coverage.
"The 51-year-old executive has been in charge of design, engineering and quality for all GM vehicles and has shepherded most of the company's recent new vehicle introductions. Under her command, GM rolled out brawny new full-size pickup trucks, the Chevrolet Silverado and GMC Sierra, and the Chevrolet Impala full-size car, which earned the highest score for a sedan in testing by Consumer Reports magazine.": [emphasis added]
The talk shows are having a field day with Ms. Barra's testimony before Congress and if the issues were not so serious they would be really funny. But injuries and fatalities are not funny. The evidence that GM was aware of the ignition issue but chose not to repair it owing to cost concerns speaks volumes to the company's moral fabric. While Ms. Barra now says GM's actions on the issue were "unacceptable" we are left wondering why they were apparently acceptable while she was in charge of design, engineering and quality for all GM vehicles. Does it take 11 years and a few deaths before GM is willing to spend $5 a vehicle to correct a safety issue?
It is incongruous that Ms. Barra is fine accepting the public accolades over the positive Consumer Reports' reviews of the Impala but had "no knowledge" of the ignition issue in the Cobalt and Ion.
GM stock has fallen about 10% since my last article. I expect it will fall further. I am reminded of a saying my late father used to use now and then when faced with a nasty surprise - "there is never just one cockroach."
Honesty and integrity are not occasional virtues. You are either honest or you are not. You either have integrity or you do not. Corporate cultures evolve by taking their cues from their leaders. If leaders criticize subordinates for surfacing issues, the issues stay submerged. Body language counts.
GM's bankruptcy a few years ago was not a failure of design competence, faulty engineering or an inability to make a good car. It was the culmination of years of puerile management in a culture that "took no prisoners" in the way it dealt with customers, suppliers and employees.
That culture will not change on its own nor will it change under the leadership of a CEO who has its past rooted in her DNA. In my view, it took an outsider in Alan Mulally to change the culture in Ford, reinforcing its many strong qualities and discouraging bad practice. I have never seen Mr. Mulally look anything but relaxed, confident and open. Ford's success without government handouts was as much a success of leadership as one of financial management. As CEO of a former Ford supplier, I know first-hand Ford takes quality seriously and that seemingly insignificant quality issues have visibility all the way to the top. Sadly, Ms. Barra's testimony suggests that in GM they don't even make it to the desk of the person in charge of vehicle quality.
Investors interested in the auto industry will enjoy more success if they are long Ford and short GM, at least as I see it.
Disclosure: I have no positions in any stocks mentioned, but may initiate a short position in GM over the next 72 hours. I wrote this article myself, and it expresses my own opinions. I am not receiving compensation for it (other than from Seeking Alpha). I have no business relationship with any company whose stock is mentioned in this article.