The market (NYSEARCA:DIA)(NYSEARCA:SPY) was knocked around yet again in trading on Friday to end the week close to the 16,000 level. Believe it or not, with some funds clearing over the next couple of weeks, I actually was hoping the market would sell off to end the week, both to accommodate my short positions, and to give me some dirt cheap prices to load up on in the coming weeks.

The market seems to have lost all confidence in BlackBerry (NASDAQ:BBRY) since the company's last earnings call, despite the progress that we saw with CEO John Chen stopping the bleeding.
My post-earnings sentiment on the company was as follows:
The facts are that this company continues to have a monster cash position to sit on ($2.7 billion) which will offer Chen all the time he needs in order to right this ship. The company's fundamentals and balance sheet show that it's still trading at an extremely low price/book ratio and fundamentally has two strong legs to stand on.

Simply put, I'm pleased with the direction that BlackBerry is heading in and once the market starts to realize that this is a "big picture" move happening here - and that sometimes change isn't all sunshine and rainbows - the market is likely to reward BlackBerry.
I continue to believe in the job that John Chen is doing and trust that he is an asset to the company. I recently penned an article about why John Chen is such an asset to BlackBerry versus someone like a Thorsten Heins; Chen is pragmatic, swift in his decisions, and is deeply-rooted in common sense. You can read my earlier piece on Mr. Chen here.
The technical picture shows a head and shoulders top and several bearish indications. As a matter of fact, BlackBerry's chart is downright ugly for the last couple of months, having shed 30% of its value since broaching its highs as we passed from 2013 into 2014.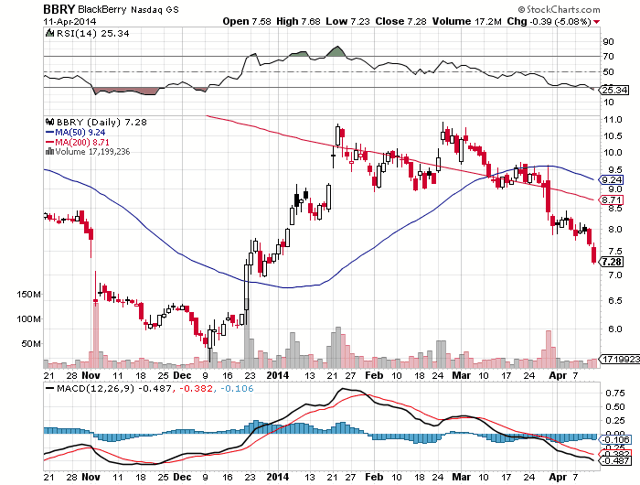 The chart here shows that BlackBerry has entered into oversold territory and is likely to find support at $7 should the market continue to tank. The lower BBRY goes, the better it looks as a buy to me. Clarity will come when Chen announces that the bleeding has finally stopped altogether - from that point, he can once again slowly and steadily build the company up in the image of his vision for the business plan.
Those critical of QTR are quick to point out that I've been buying BBRY since its fall after earnings and taking losses. To those individuals I say: "Yes, you're right, and I will continue to do so."
With every dollar that BlackBerry drops, its price-to-book value continues to sink and its prospects as a speculative turnaround stock get exponentially better for bulls.
BlackBerry is now trading around the same levels as it was before it took off. Basically, the market is giving BlackBerry no credit for what's transpired since the middle of December, 2013. The facts are that BlackBerry is a materially better company than it was then and that the stock price doesn't reflect that. I will continue to buy BlackBerry on any and all dips as I continue to build up my position in the company once again.
Best of luck to all investors.
Disclosure: I am long BBRY. I wrote this article myself, and it expresses my own opinions. I am not receiving compensation for it (other than from Seeking Alpha). I have no business relationship with any company whose stock is mentioned in this article.