ARM Holdings (NASDAQ:ARMH) is a relatively new player in the enterprise networking market and its market share is merely 5% in enterprise networking. ARM is also growing beyond mobile markets. Around 2 billion ARM based chips are being used in electronic devices such as smart TVs, laptops, cameras and wearable devices. Around 3.5 billion ARM chips are being used in enterprise networking and embedded computing. The enterprise networking and server market is likely to become a $20 billion opportunity by the end of 2018 from its current worth of $13 billion. Up until now ARM's penetration has been going well as the company successfully shipped 70 million enterprise networking chips in 2013. Recently 9 major enterprise networking chip vendors have announced they will be utilizing ARM-based chips. ARM's new product offering and increasing adoption by major vendors will be a gateway to penetrating the lucrative enterprise networking market.
A Look at ARM's Strong Performance
In the fourth quarter ARM continued its tremendous top and bottom line growth and ended up having a successful fiscal year 2013. ARM generated $302.9 million in revenues reflecting an increase of 15% from $262.8 million in the fourth quarter of 2012. In the fourth quarter, processor licensing revenues increased by 26% as the company signed 26 processor licenses for a broad range of applications from smartphones and mobile computers to medical devices, wearable devices and internet-enabled devices. ARM outperformed the industry's revenue growth as its processor royalty revenues of $130.4 million increased by 7% compared to the 2-3% increase in industry revenues.
ARM's processor technology continued to grow as the company shipped 2.9 billion chips reflecting a year-over-year increase of 16%. The faster growth came from low-cost chips in entry-level mobile devices, microcontrollers and smart sensors.
The following graph shows the quarterly revenue and earnings growth trend.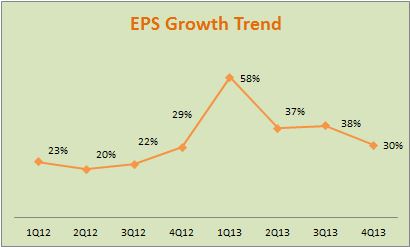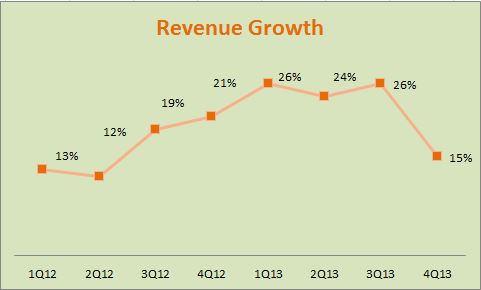 Source: Quarterly Earnings
For the fourth quarter, ARM's operating margins received a healthy jump of 2.2% while its operating margin improved from 46.6% to 48.8% in the fourth quarter of 2012. With the help of significant top-line growth and improved margins ARM successfully added a tremendous growth of 30% to its earnings per share for the quarter.
ARM ended fiscal year 2013 with $1,117.7 million in revenues reflecting an increase of 22% from fiscal year 2012. The operating margins improved throughout the year and the operating margins increased from 45.6% to 49.1%. Due to ARM's excellent performance its full year earnings per share grew by 40% in 2013 compared to 18% in 2012. The processor licensing revenues increased by 33% and processor royalty revenues increased by 19%. Both of these contributed to the overall growth.
Aggressive Dividend Increase over the Last Seven Years
In 2013, revenue, earnings and dividends increased. ARM's commitment toward shareholders is reflected by its aggressive dividend growth since 2007. For the full year ARM increased the dividend by 27% which is in-line with the company's earnings growth. In 2012 the dividend increase was 29%. Going forward it is reasonable to expect similar levels of dividend increases backed by ARM's strong earnings growth in the coming years.
The following graph shows ARM's dividend growth.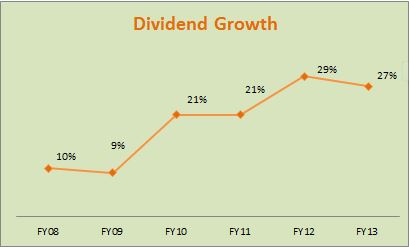 Source: Annual Report
ARM to Target 2015 with its ARM Cortex-A17
Emerging markets will offer a lot more demand for entry-level and mid-range smartphones. The demand for entry-level smartphones will grow at a CAGR of 17% between 2013 and 2018 whereas the demand for mid-range smartphones will grow at a CAGR of 14%. Demand for premium smartphones will grow at a CAGR of 4% over the same period. To maintain its royalty percentage growth, the company scheduled its ARM Cortex-A17 for mid-range smartphones. ARM expects that by 2015 a majority of the mid-range smartphones will be powered by Cortex-A17 chips. The new chip will extend the Cortex-A12′s performance to reach current high-end 32-bit ARM CPU levels with added support for big.LITTLE which the current Cortex-A12 implementation lacks. This will be quite enough support for ARM to carry on its growth despite the competition.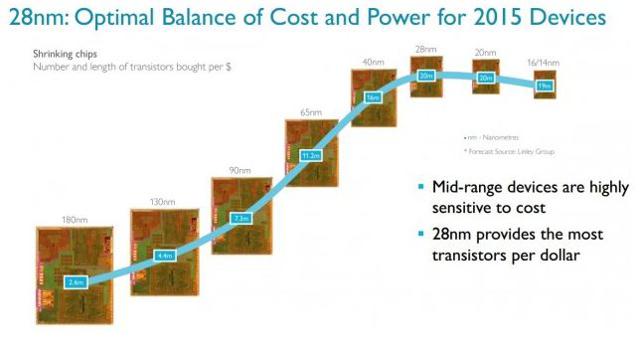 Source: extremetech
The Smartphone and Tablet Industry Has A Lot More to Offer
Recently ARM achieved a milestone of 50 billion ARM processors shipped. In 2013, the company shipped 10 billion processors. From 1990-2008 ARM had shipped one billion processors. The remaining shipments throughout the years that followed was the result of outstanding growth and now around two billion ARM-powered smartphones are in use. The introduction of smartphones, tablets and convertibles initiated an era of revolution and now the world of communication and technology is increasingly becoming mobile.
According to a recent report by Gartner, 2014 will be another banner year for mobile. In 2013 the number of shipments crossed one billion. Going forward into 2014 the worldwide combined shipment is projected to reach 2.5 billion units reflecting a 7.6% increase from 2013. The number of smartphone shipments will reach 1.9 billion reflecting an increase of 5% from 2013. While industry prospects still offer a lot of potential, ARM expects another successful year on the back of 2013. ARM entered 2014 with a strong opening order backlog and a healthy pipeline of licensing opportunities. Although in the second half of 2013 the slower sales of high-end smartphones impacted ARM to an extent for full year 2014 the company has licenses signed for its ARMv8-A, Mali graphics processors and physical IP technology so ARM will enjoy similar growth backed by processor royalty revenues.
Conclusion
Recently 26 processor licenses were signed with 22 companies. The technology licensed includes ARM's latest Cortex‐A, Cortex‐M and Mali processors and they will be used in a broad range of end applications including mobile computers, servers and "smart" applications. ARM will benefit from new long-term agreements as it also includes ARMv8‐A architecture and two licenses with partners for ARM's Cortex-A50 series processors.
ARM expects an EPS growth of 16% in 2014 and 25% in 2015. Over the last four years average EPS growth remained at an impressive level of 40%. These numbers are much higher than ARM's competitors and this reason is good enough to believe in the strong growth prospects of the company. For dividend investors, ARM has increased dividends aggressively over seven years and this trend is likely to continue for the next few years as its robust earnings growth are expected to continue. ARM is still a very attractive stock and should be included in one's investment portfolio.
Disclosure: I have no positions in any stocks mentioned, and no plans to initiate any positions within the next 72 hours.
Business relationship disclosure: The article has been written by a Gemstone Equity Research research analyst. Gemstone Equity Research is not receiving compensation for it (other than from Seeking Alpha). Gemstone Equity Research has no business relationship with any company whose stock is mentioned in this article.