Micron Technology Inc. (NASDAQ:MU) manufactures and markets semiconductor solutions worldwide. The company started fiscal year 2014 on a strong note and anticipates the growth momentum will continue for the rest of the year as well. On April 3rd Micron posted its earnings for the second fiscal quarter in which the company beat analysts' expectations. Many analysts were of the opinion right before the earnings release that it was the time for the stock to be sold. However, I don't agree with them. The focal point of this article will be to evaluate the company's latest quarter performance from various perspectives in order to reach a conclusion regarding its stock.
Top and Bottom Line Growth
Micron managed to double its revenues year-over-year to $4.11 billion which translated to a non-GAAP EPS of 85 cents. On the other hand, analysts were expecting $4.02 billion in revenues and an EPS of 76 cents. However the company did not see any "bit growth" for DRAM but 35% growth in bits consumed for "trade NAND" drove these positive results. However, the company had forecasted NAND bit growth of just 17% while the actual growth has surpassed the forecasted amount. Note that trade NAND excludes the company's NAND supply to Intel Corporation (NASDAQ:INTC) at costs determined by a long-term contract between the parties.
This quarter also includes results from Elpida Memory Inc. (Elpida) that Micron had acquired back in 2013. Elpida was a Japanese DRAM maker and was acquired while it was on the verge of bankruptcy. This acquisition has proved fruitful for Micron since its sales have doubled in a period of 18 months. More synergies are yet to come from this acquisition as Elpida is the primary chip supplier to Apple Inc. (NASDAQ:AAPL). It is anticipated that the complementary product portfolios of Micron and Elpida will make Micron well positioned in the memory market allowing it to provide a wide variety of high=quality product solutions to its customers.
Margin Expansion
Since its first fiscal quarter Micron has improved massively and this is visible on the margins front as well. Micron's gross profit margin has slightly increased from 32% in the first fiscal quarter to 34% in the second fiscal quarter. However, the operating margin and net margins have improved impressively by 7% and 9%, respectively. Improving the margins was made possible by favorable pricing in the NAND/DRAM markets as well as lowering the costs of manufacturing.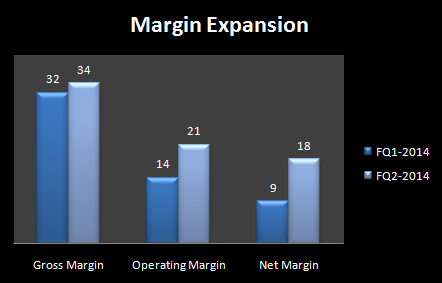 Source: Company Presentation
DuPont Analysis
Micron is generating a return on equity of 21.85 that is more than 4 times the ROE of the industry that stands at 5.14. To check whether this level of return earned by the company is sustainable or not I will be using the DuPont analysis. The DuPont analysis is an analytical tool that gives us insight into a company's income statement and balance sheet. I will be comparing the ROE of the company to one of its competitors, SanDisk Corporation (SNDK), and the industry.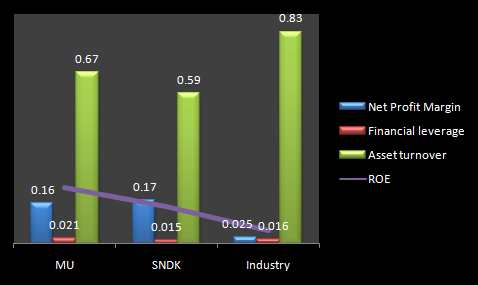 Source: Reuters
The graph above portrays the ROE breakdown for Micron, its competitor SanDisk Corporation, and the industry. It seems obvious from the chart above that the asset turnover is the main driver of the ROE across the industry. However Micron is generating a lower than industry asset turnover that reflects the fact that there is still room left for operational efficiency in the company. Micron is more efficient than its competitor in terms of asset turnover but in terms of profit margin Micron lags behind by a nominal 1%. However, it is good to see the company is generating a sustainable return mainly derived by its asset turnover and net profit margin while leverage contributes the least. Hence we can anticipate that if the company generates enough profits and runs its operations efficiently, shareholders can expect these levels of enviable returns on a continuous basis in the future.
The Road Ahead
According to the company's guidance it is anticipated that NAND bit growth will see a decline of high single digits while the average selling price will decline by 3%-4% and costs will remain flat. The negative bit growth is probably due to the company's strategy to use in-house NAND in SSDs. This way the company will not have to sell out all of its NAND and instead utilize its in-house manufactured NAND in its SSD. SSD (solid state drives) will get a raw material at a low cost making it a high margin product and it will be easier for the company to maintain the high quality of their end product. The company has forecasted capital expenditures for the fiscal year will fall in the range of $2.6 - $3.2 billion. Micron had cash and marketable investments of $5.06 billion at the end of the second fiscal quarter while during the quarter it generated cash flow from its operations of $1.39 billion. This leads us to believe that the company is able to generate enough cash flows to support its capital expenditures and research and development activities.
Micron is betting on NAND technology and aims to move away from DRAM chips. The company anticipates the memory chip industry to remain favorable and therefore it aims to switch its production lines to make NAND chips from DRAM chips. Note that NAND chips are used in smartphones and tablets while DRAM chips are used for personal computers. The strategy makes sense as the population has moved toward mobile technology for on-the-go usage. The outlook for the memory industry seems positive. The strong expansion of DRAM and NAND flash memory markets in 2013 (rising 35% and 28% respectively) is expected to occur in 2014 as well. As long as Micron produces successful and innovative products and is able to sell them at reasonable prices there is no way its growth can be hindered.
Final Take
Micron has successfully managed to utilize synergies from its Elpida acquisition in a very short time period. Moreover the company is making the right moves by betting on NAND technology and using NAND in high margin SSD products. The company has enough resources in the form of cash flows in order to bring its development plans to fruition. With a quarterly EPS of 85 cents the annual EPS for fiscal year 2014 will be $3.40. According to estimates polled by Reuters the EPS for 2015 is expected to be 5.27, implying a massive 55% growth. Currently Micron's stock is trading at a steep price multiple with a P/E ratio of 9.38 in an industry with a benchmark P/E ratio of 35.92. Keeping all this in mind, Micron appears to be a good investment at this point in time.
Disclosure: I have no positions in any stocks mentioned, and no plans to initiate any positions within the next 72 hours.
Business relationship disclosure: The article has been written by a Gemstone Equity Research research analyst. Gemstone Equity Research is not receiving compensation for it (other than from Seeking Alpha). Gemstone Equity Research has no business relationship with any company whose stock is mentioned in this article.