GoDaddy Group Inc. announced it is filing with the SEC for an initial public offering.
Founded in 1997 by Bob Parsons (now with Blake Irving as CEO), GoDaddy sells website building services to businesses and individuals. The company, which maintains headquarters in Scottsdale, Ariz., offers website hosting services and domain name registration to over 12 million customers worldwide.
IPO Details Still TBD
Famous for its controversial and sassy commercials, GoDaddy has chosen Morgan Stanley and J.P. Morgan Chase to lead the IPO, which could take place late this year or early next. GoDaddy has not yet announced how much equity the IPO will raise or how much privately held stock will be included in the sale.
Currently, major shareholders include investment firms Kohlberg Kravis Roberts and Silver Lake. These two private investment houses paired up with Technology Crossover Ventures to buy GoDaddy for $2.25 billion almost two years ago.
GoDaddy Goes Big
After the leveraged buyout, GoDaddy tempered its raucous image in edgy advertisements that included models in skimpy outfits. One Super Bowl commercial had a woman use a puppet to tell her boss she was quitting. Another ad had bodybuilders racing in the streets and taking over a spray-tanning salon.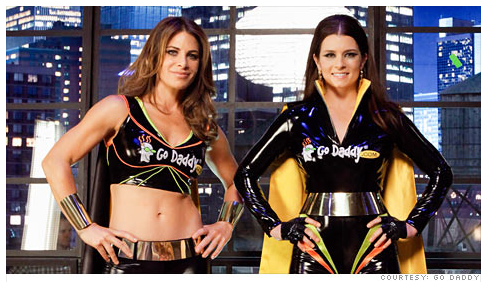 (Source: money.cnn.com, courtesy of Go Daddy).
In addition, the firm brought in Blake Irving, previously a Yahoo executive, as the chief executive two years ago; as a result, GoDaddy has worked on expanding its market share with businesses.
The Next In A High-Profile Series
An IPO for the company would represent the latest in a group of sales with stock indexes coming close to record highs and investors seeking ownership in newly listed firms.
Within the first two months of this year, more IPOs came to market than any time since 2007. Several high-profile IPOs are set to sell or have sold recently, including King Digital Entertainment PLC (BATS:KING), which makes Candy Crush Saga, and Moelis Co.
Endurance International Group Holdings (NASDAQ:EIGI), a direct competitor of GoDaddy in the web hosting market, IPO-ed last October, and its shares have seen an 18% increase since then.
Expected Revenue Growth
GoDaddy expects revenue to grow in the high-single-digit percentages this year, according to a report in January by Standard & Poor's Ratings Services. S&P indicated that it predicts that cash profits will grow by a slightly lower rate, due to increasing costs as GoDaddy invests in its growth.
GoDaddy has added a lineup of new products and has focused on expansion overseas. At the same time, the company has opened a new technology center and offices in the U.S. Currently, GoDaddy manages more than 56 million domain names.
What Investors Should Watch For
Given these potential positive catalysts for GoDaddy, along with its continued high-profile, flashy advertisements, it is likely that GoDaddy could warrant significant attention come-IPO.
Like KING, however, GoDaddy's flair could backfire. KING had a first day return of approximately -15% and is currently trading below its IPO price.
As with any high-profile IPO, investors should pay close attention to the company's fundamentals. If GoDaddy continues posting strong revenues and keeps growth on track, investors should consider buying in.
Disclosure: I have no positions in any stocks mentioned, and no plans to initiate any positions within the next 72 hours. I wrote this article myself, and it expresses my own opinions. I am not receiving compensation for it (other than from Seeking Alpha). I have no business relationship with any company whose stock is mentioned in this article.