Google (GOOG, GOOGL) will report 1Q14 results on April 16th after market close. Earnings call will be held at 4:30pm on the same day. Investors can access the live webcast here.
The Street expects:
Revenue:US$15.53b
EBITDA: US$6.2b
EPS: US$6.4/share
I am expecting another solid quarter, in which investors can focus on Google's core business post the sale of the loss-making Motorola division. In addition, I expect strong numbers from Google Play, hardware and digital media sales, which grew 34% q/q last quarter. Finally, in view of the recent news by The Information on Google's discussion with Verizon (NYSE:VZ) and T-Mobile (NASDAQ:TMUS) on a potential entry into wireless services, I will be looking for hints on whether such projects will materialize this year. If Google were to enter the wireless services business, incumbent US carriers such as AT&T (NYSE:T) and Sprint (NYSE:S) will face increased competition and downward ARPU pressure.
While topline growth is likely to be strong, margins are likely to deteriorate due to Google's structural shift toward lower margin business and continued investment in R&D and sales & marketing.
Focusing on the core: Goodbye Moto
Google's acquisition of Motorola at first made sense as it allowed Google to fully control a hardware brand. In this way, Google could integrate the Android software and Motorola's hardware to deliver a superior mobile computing experience comparable to Apple's (NASDAQ:AAPL). But the integration led to consecutive quarters of operating losses as Motorola's smartphones were unable to compete against Apple and Samsung's (OTC:SSNLF) mainstream models.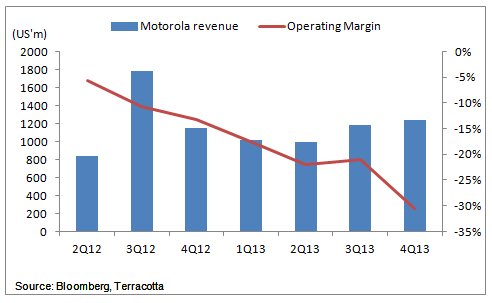 After selling Motorola to Lenovo (OTCPK:LNVGY), Google can focus on its core business. I think Google is a major beneficiary of the connected device evolution. Google is competitively positioned in mobile OS, hence it has been able to grow its revenue in the high teens amid the rapid consumer adoption of mobile connected devices, particularly the low-cost Android smartphones, tablets and Chromebooks.
In my view, the search advertising market is not mature yet and Google is well positioned to expand its global market share. Moreover, I expect online display ad to become a meaningful revenue driver in the coming year. Mobile video ads on Youtube as well as the convergence between mobile and desktop pricing will create near-term catalysts for the stock.
I see ample growth opportunity for Google Play and hardware. In 4Q13, Google Play and hardware revenue were up 99% y/y and 34% q/q. Media content such as books, magazines, movies and music drop increase with Google Play adoption. The introduction of Google news stand generated tremendous user stickiness as it offers over 2,000 free and paid news from reputable sources like NY Times, Wall Street Journal and Financial Times (Link to the 4Q13 transcript). Hardware such as Chromecast also drew much fanfare given the utility value of supporting apps like Hulu plus, HBO Go and Pandora (NYSE:P). Going forward, I expect growth driven by home automation (i.e., Nest thermostat) and automotive technology. According to management, Google is working with Audi, GM (NYSE:GM), Honda (NYSE:HMC) and Hyundai (OTC:HYMPY) on the possibility of Open Automotive Alliance (Link to the 4Q13 transcript). In-dash automotive OS and driverless cars are on the horizon, in my view.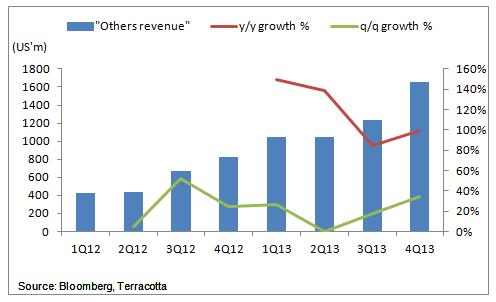 Going into wireless: Can you hear me now?
In view of the recent news by The Information that Google is in discussion with Verizon and T-Mobile on setting up a wireless network on a MVNO basis (mobile virtual network operator), I will look for hints in the earnings call on whether such partnership will materialize this year.
I expect increased competition to put downside pressure on ARPU for the incumbent telecom carriers such as AT&T and Sprint, if Google were to strike a deal with either Verizon or T-Mobile. I expect Google to sell its voice and data plans at cost to attract users to its network, and to drive mobile ads and Google Play revenue, just as it has sold the Nexus and Chromebook devices at cost to drive content sales.
Although Google's current presence in the US is small, a nationwide build-up of its Wi-Fi network, coupled with expansion of its MVNO presence, may hurt the profitability of traditional carriers.
Keeping margins in check
While Google will most likely deliver another solid quarter, investment in low-margin businesses (i.e., Cloud, Nexus) will continue to put pressure on overall margin. Although management has indicated that incremental operating profit is the key focus, I believe that margin is equally important.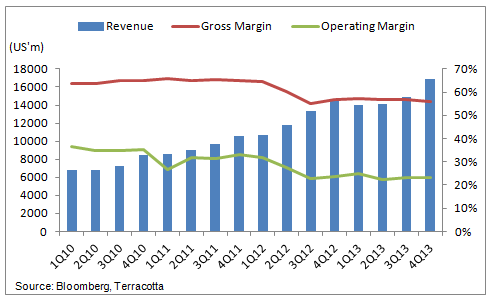 Disclosure: I have no positions in any stocks mentioned, and no plans to initiate any positions within the next 72 hours. I wrote this article myself, and it expresses my own opinions. I am not receiving compensation for it (other than from Seeking Alpha). I have no business relationship with any company whose stock is mentioned in this article.