Earnings season is about to really pick up, especially in the technology sector. On Tuesday afternoon, chip giant Intel (NASDAQ:INTC) will report its fiscal first quarter results. The chipmaker has struggled in recent years, and many are expecting 2014 to be a turnaround year. Initially, the bull case for 2014 was based on Intel's huge tablet push. However, Intel's tablet plan may be the back seat to a much larger and more important story. Today, I'll preview Intel's quarter.
Improving PC sales:
The main reason why Intel investors have been so optimistic lately is that PC sales appear to be doing better than expected. While PC sales are still on the decline, the decreases are less than expected. IDC estimated a 4.4% year over year decline for Q1, versus a 5.3% forecast, while Gartner thinks shipments only declined 1.7%.
The end of support for Windows XP seems to be providing a decent boost. IDC believes a mix shift towards developed markets will benefit Intel and Microsoft (NASDAQ:MSFT). IDC was calling for a 6% decline in PCs during 2014, so that forecast may need to be changed if recent trends continue.
Obviously, PC sales coming in better than expected would certainly help Intel. The chip giant believed that its PC Client Group would see revenues down 5% in 2014, along with flat operating profits. The PC Client Group has been the heart of Intel for many years. In 2013, more than $33 billion in revenues came from this segment, and Intel as a whole had $52.7 billion. Intel had $12.29 billion in operating profits last year, with the PC Client Group having more than $11.8 billion. It would be very positive if this group comes in at a low single digit revenue decline, instead of the 5% forecast. There is one slight caveat here, which I'll get to in the next section.
There is one slight negative issue here for the Intel bull camp. In IDC's detailed report on PC sales, the research firm noted slowing demand for tablets. Intel is looking to have 40 million tablet CPU shipments in 2014, up from just 10 million a year ago. With PC sales declining, the Intel bull case had been predicated on this mobile revolution, with Intel making a strong push into tablets and smartphones. It will be interesting to see if Intel management speaks about the 40 million plan on the call. The good news is that even if Intel falls short in tablets, it probably will be alright if the main reason is stronger than expected PC sales.
Looking at Q1 and current estimates:
I had originally planned on doing an in-depth discussion of Intel's segments and what they had done in Q1 2013. However, Intel made an announcement recently to change its financial reporting structure. This is the caveat I mentioned above. With Intel changing what's included in certain segments, it might make comparison results a little choppy for a few quarters. A reporting change is not unusual, as we've seen Microsoft and Apple (NASDAQ:AAPL) change some of their reporting methods in recent years as well.
That being said, here was Intel's guidance for Q1, delivered at the lackluster Q4 report:
Revenue: $12.8 billion, plus or minus $500 million.
Gross margin percentage: 59 percent, plus or minus a couple of percentage points.
R&D plus MG&A spending: approximately $4.8 billion.
Restructuring and asset impairment charges: approximately $200 million.
Amortization of acquisition-related intangibles: approximately $70 million.
Impact of equity investments and interest and other: approximately $25 million.
Depreciation: approximately $1.7 billion.
With PC sales not declining as much as expected, the prevailing thought is that Intel will beat, and some believe quite handily. With still a day or two until the report, I haven't heard the official "whisper" number yet, but for revenues it could be north of $13.0 billion. As of Sunday, analyst estimates called for $12.81 billion in revenues. That's just barely ahead of Intel's midpoint, so I would not be surprised if Intel beats.
When it comes to the bottom line, analysts are currently calling for $0.37 per share. When I originally ran the numbers at the Q4 report, I got roughly $0.36 per share for Q1. Should Intel beat on the revenue side, holding all else equal, it would be good for the bottom line. However, items like the tax rate and diluted share count could negatively impact EPS if they are too high. Remember, Intel's buyback has slowed down tremendously in the past year, and Intel's diluted share count in Q4 2013 was actually higher than the prior year period. In terms of recent history, Intel has missed by one penny in three of the past four quarters.
Full year forecast:
Also at the Q4 report, Intel provided the following forecast for 2014:
Revenue: approximately flat.
Gross margin percentage: 60 percent, plus or minus a few percentage points.
R&D plus MG&A spending: approximately $18.6 billion.
Amortization of acquisition-related intangibles: approximately $300 million.
Depreciation: approximately $7.4 billion.
Tax rate: approximately 27 percent.
Full-year capital spending: $11.0 billion, plus or minus $500 million.
Obviously, it all starts at the top. With PC sales improving, there is a growing expectation that Intel could raise its yearly revenue forecast. The new forecast would probably be something along the lines of "low single digit growth" in that case. It is important to note, however, that in the past two years, Intel has waited until the Q2 report to change its revenue forecast. In those years, they were forecast cuts, as Intel's original guidance proved to be too high.
There are two large pieces of news that I think could have an impact on the full year forecast:
Intel's large restructuring - Intel announced in January that it would be cutting approximately 5% of its workforce in 2014. In three years, Intel's workforce had gone from 82.5 thousand to 107.6 thousand. Recently, Intel announced it would be laying off 1500 workers in Costa Rica and shutting down its facility there.
New plant - Also in January, the company announced it would be stalling the opening of a new plant in Arizona. This was supposed to be for Intel's most advanced chips, but the decline in PC sales changed the company's mind.
There are some things to think about with what's happened in Q1. First, does Intel decide to change its capex forecast for the year? Should Intel cut its capex forecast, it could increase the chance of a dividend raise. At the same time, does Intel believe its restructuring will be larger or smaller than it did three months ago? Intel could lower its R&D plus MG&A spending forecast. However, any "gains" from a reduction in operating expenses could be offset by added restructuring charges, which I'll discuss next.
Other key numbers to watch / Q2 guidance:
I'll first start with those restructuring expenses. Intel provided guidance for restructuring expenses in Q1, but did not give full year guidance. Thus, I believe the company will go quarter to quarter with these expenses, only detailing them (if applicable) for the upcoming quarter. It's possible that Intel's R&D plus MG&A expenses forecast comes down going forward, but those expenses shift to the restructuring line. These restructuring expenses could have a major impact on Intel's EPS in 2014, since there was no yearly guidance given on them originally.
The next "group of numbers" to watch is in regards to the balance sheet and cash flow, and includes the following:
Shares bought back; is a buyback increase announced?
Operating cash flow compared to year ago period.
Acquisitions / Investments - Basis and Cloudera.
The balance sheet and cash flow numbers are really interesting in regards to Intel's dividend. The company has not increased its dividend in nearly two years, which has frustrated investors a bit. My original prediction was for Intel to not raise its dividend in 2014. That is based on the notion that Intel needs about $1.1 billion in additional free cash flow this year to get its dividend payouts roughly in line with its 40% target. In that situation, Intel would only raise the dividend if the company decides to boost its payout target. Based on the improvement in PC sales, I'm getting a little more positive on Intel's dividend, but I'm not ready to call for an increase just yet. I need to see items like the buyback, capex forecast, and other cash flow data first. I will re-evaluate my stance on the dividend over the next couple of weeks.
When it comes to Q2, analysts are looking for $12.96 billion in revenues and $0.43 in EPS. While the sequential revenue increase is small, the EPS rise is great. Analysts are expecting gross margins to be a bit better in Q2 than they were in Q1, and perhaps some other expenses to be a little less. Intel had EPS of $0.39 in Q2 2013.
Stock running again:
Until the past few days when the market sold off, Intel shares had been off to the races again. $27 again proved to be a level of resistance, and Intel backed off of it. You can see this in the chart below. This is a repeat of what we saw going into the Q4 report, and we know what happened then.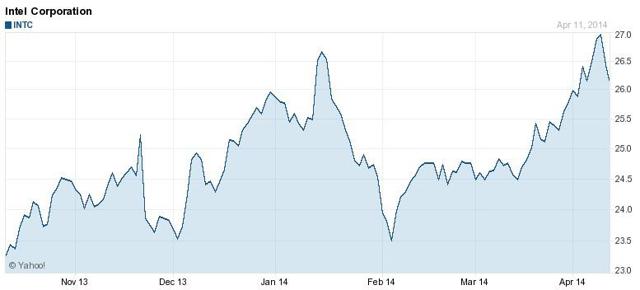 (Source: Yahoo! Finance)
At the Q4 report, I thought Intel was set up for a post-earnings fall, and that did happen. I just was not convinced that Intel would change its 2014 forecast, and the company didn't. However, with the recent data on PC sales, I'm not as bearish on Intel going into this report. I'm not 100% convinced that Intel will raise its yearly report just yet, but I think there is the potential for a decent Q1 report and Q2 guidance.
For those that think I'm out to get Intel, I'm really not. The company just hasn't performed as well as expected in recent years. Revenues have declined, and earnings have plunged. There have been multiple yearly forecast cuts. I'm sure that most expect me to recommend a short position through earnings, and I will but only on a conditional basis. I would only short Intel through earnings if the stock hit $28 going into the report. At that point, I think there is some room for disappointment if Intel doesn't raise the forecast. With the recent market selloff, I don't think Intel will get that high before the report. So for those invested in Intel, just hold steady. If the stock jumps, you'll be rewarded. If the stock falls, you can add more at a lower price and higher dividend yield. As you saw in the chart above, Intel seems to bottom out below $24.
Final thoughts:
Intel is set to report earnings, and the prevailing thought is that Q1 will be good. PC sales don't seem to be declining as much as expected, which sets up well for Intel overall. Intel's tablet plan could suffer a little, but that might be shrugged off. Intel's stock has run a bit lately, as investors are expecting a good report, and potentially a guidance raise for the year. Today, I provided some key numbers to watch, and I'll be back after Intel's report to analyze what the company says.
Disclosure: I have no positions in any stocks mentioned, and no plans to initiate any positions within the next 72 hours. I wrote this article myself, and it expresses my own opinions. I am not receiving compensation for it (other than from Seeking Alpha). I have no business relationship with any company whose stock is mentioned in this article.
Additional disclosure: Investors are always reminded that before making any investment, you should do your own proper due diligence on any name directly or indirectly mentioned in this article. Investors should also consider seeking advice from a broker or financial adviser before making any investment decisions. Any material in this article should be considered general information, and not relied on as a formal investment recommendation.