We are now more than a week removed from Google's split into two trading classes, Google Class C (NASDAQ:GOOG) and Google Class A (NASDAQ:GOOGL). So far, the post trading activity of these two share classes has been pretty much what I expected. Today, I'll provide my initial thoughts on the post trading activity of shares, preview the upcoming earnings report, and detail what investors should do now.
Early trading statistics:
Last Friday was the seventh trading day since Google started trading as two share classes. In the table below, I've complied closing price data and daily trading volume for the two classes.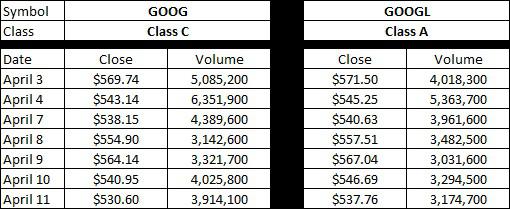 Let me first start with the volume statistics. As most were expecting, the Class C shares have seen higher daily volume, except for one day. I think that one day was an anomaly, and I don't expect Class A to be more active that often. There are two reasons why this should be the case. First, Google Class C has the GOOG ticker, which is the ticker that most investors know for Google. I think a fair amount of people are still learning the GOOGL ticker, and some may initially not realize which class is which ticker. So they will stay with what they know, and that is GOOG. The second reason Class C should be more active is that most expect this Class to have more shares outstanding going forward. The whole point of this split was to protect the voting rights of Google's co-founders, and Class C has no voting rights. It seems logical that Google will use Class C shares for acquisitions and potentially some share-based compensation.
However, the more important item to discuss here is the closing prices of these classes, because in the end, investors care about where their stock is. In the chart below, I've tracked the premium at which Class A shares closed at.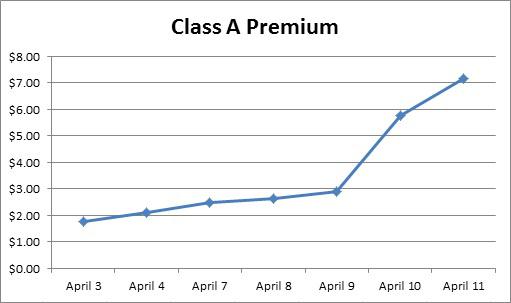 The spread between the two has risen every single day since the split occurred. After day 1, the spread was $1.76, and after five trading days it was up to $2.90. However, in the past two trading days, the spread has really jumped, reaching $7.16 at Friday's close. It was even higher at points during Friday. This is very important for Google going forward, because if this spread continues, Google will be forced to compensate Class C shareholders for the discount that class trades at. That compensation could end up being several billion dollars. Google can pay it out in cash or additional stock. This spread is something that I think is crucial for shareholders, and I'll discuss my preferred trade at the end of this article.
Earnings this week:
Google will report Q1 results this Wednesday, the 16th, after the bell. It will be interesting to see how the results are presented. While the first trading day of the new share class was April 3rd, the record date of the distribution (dividend) was actually March 27th. So it will be interesting to see how Google presents its results, and if there are any questions on the post split trading on the call. But that aside, it comes down to results. As I detailed after Google's Q4 earnings report, Google has missed either revenue or earnings estimates in 8 of the past 9 reports. Google has been able to shake off a number of misses, and shares did last time around, eventually racing to new highs.
One of the reasons why investors were able to shake off a decent sized earnings miss is that Google announced it was selling Motorola's phone operations. The Motorola segment has been losing Google money, so investors felt that earnings would improve. Between the split and the Motorola sale, this might lead to a bit of confusion when Google reports this week. Why do I say that? Well, here's what the analyst estimate page looked like on Yahoo! Finance the day after Google reported Q4 results.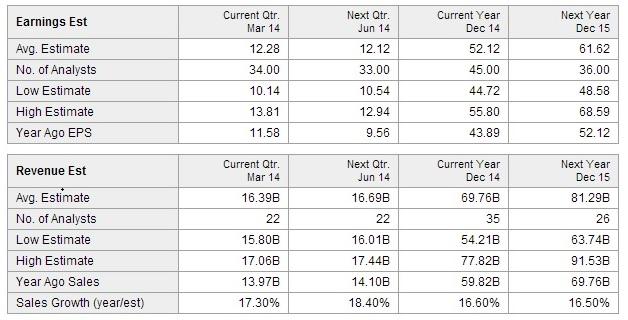 As a reminder, Google revenue estimates are GAAP and include traffic acquisition costs ("TACs"). On the flip side, EPS estimates are non-GAAP, as Google takes out certain expenses. This is a fairly common practice with growth technology companies. However, the sizable difference between GAAP and non-GAAP earnings has made Google look a little better than it really is in the past. I brought up the confusion part about earnings, because here is what the analyst estimate page shows as of Sunday.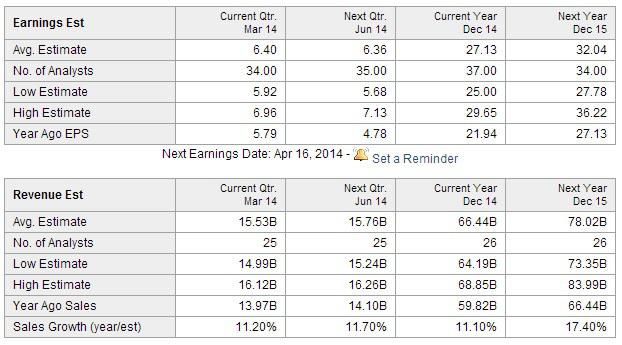 First, due to the split, earnings estimates have come down from more than $12 to more than $6. That's perfectly reasonable, but like I said, Google's presentation will be interesting. If there is a different diluted share count number for Class A and Class C, Google will need to provide different earnings numbers for each Class. The second item of confusion is the revenue estimate, which is down by almost a billion dollars since after the Q4 report. I'm guessing that analysts are pulling out the Motorola segment. When looking at Google's report, investors will probably need to look for "results from continuing operations" or something like that. Google has been one of the most confusing names in terms of financial reporting in recent years, and that process looks like it will continue again here. There will be a lot of different numbers to dissect. I probably won't report on Google earnings until next Monday, as it will take me a while to analyze all of the different numbers.
Final thoughts:
As I figured, Google's Class C shares are starting to trade at a growing discount to Class A shares. Investors seem to like the voting rights Class A shares come with, and those shares are trading at a premium. Earnings are coming up this week, and increased volatility in Google shares could widen the spread even further. That being said, I think an interesting trade here is to short Class C and go long Class A if you believe the spread will widen. In this case, if the spread continues to widen, investors should be able to profit no matter which way Google shares go. Google will eventually have to compensate investors for the difference, but until then, investors believing the spread will widen have an interesting opportunity.
Disclosure: I have no positions in any stocks mentioned, and no plans to initiate any positions within the next 72 hours. I wrote this article myself, and it expresses my own opinions. I am not receiving compensation for it (other than from Seeking Alpha). I have no business relationship with any company whose stock is mentioned in this article.
Additional disclosure: Investors are always reminded that before making any investment, you should do your own proper due diligence on any name directly or indirectly mentioned in this article. Investors should also consider seeking advice from a broker or financial adviser before making any investment decisions. Any material in this article should be considered general information, and not relied on as a formal investment recommendation.