During ConocoPhillips' (NYSE:COP) recent 2014 Analyst Meeting presentation, Chairman and CEO Ryan Lance reported the company sees "significant upside" in the resource potential of the company's unconventional assets. In particular, Lance said COP is adding 700 million boe of additional resource just in the Eagle Ford alone: from 1.8 billion boe to 2.5 billion boe (+39%). Despite the rosy outlook unveiled at the Analyst Day meeting, the market seems unimpressed. While COP is arguably the best-positioned independent E&P company on the planet, the stock is trading at one-third the P/E of Continental Resources (NYSE:CLR) and less than half the P/E of EOG Resources (NYSE:EOG). This provides a great opportunity for investors. As COP works through the year and hits its production and margin growth targets, expect the market to revalue COP upward. As a result, I reiterate my prognosis of a 20% total return for COP in 2014. Investors should also consider ConocoPhillips as a vehicle for long-term dividend growth.
Note: You can replay the Analyst Day webcast here.
Huge Upside Announced For The Eagle Ford
The following slide summarizes COP's position in the Eagle Ford shale: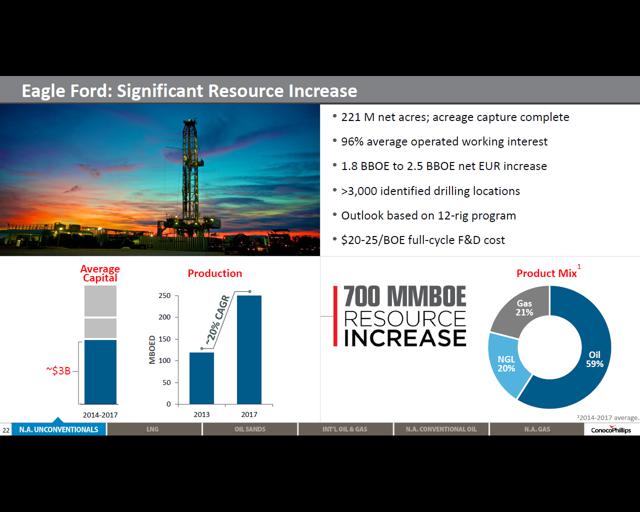 Click to enlarge
In addition to Lance's impressive announcements about the Eagle Ford was a comment by Matt Fox, Executive VP of E&P. Fox said the company has booked only 20% of the unconventional reserves it ultimately expects to recover from the Eagle Ford and the Bakken. Consider that for a moment: if current Eagle Ford reserves is 2.5 billion boe, and that may be ~20% of total expected recovery, this means the Eagle Ford could eventually be a 10 billion+ boe asset. That is stunning.
In addition to the big reserves upgrade, COP said in the Analyst Day press release that it expects to increase Eagle Ford production to 250,000 boe/d by 2017.
Just last year, COP said it expected to produce 150,000 boe/d by 2017 - so the new guidance is 66% higher than just last year's forecast. In fact, the company said it has already exceeded last year's 2017 goal, with current production of ~160,000 boe/d in the Eagle Ford.
The updated 2.5 billion boe estimate for the Eagle Ford equates to roughly 28% of the company's 2013 year-end proved reserves of 8.9 billion boe. The 700 million boe resource increase for the Eagle Ford amounts to about an 8% growth in total year-end 2013 reserves. This is big news, yet the market yawned. But those in the know realize these outstanding upgrades to its Eagle Ford resource are because COP was an early mover in the play and established itself in the sweet spot: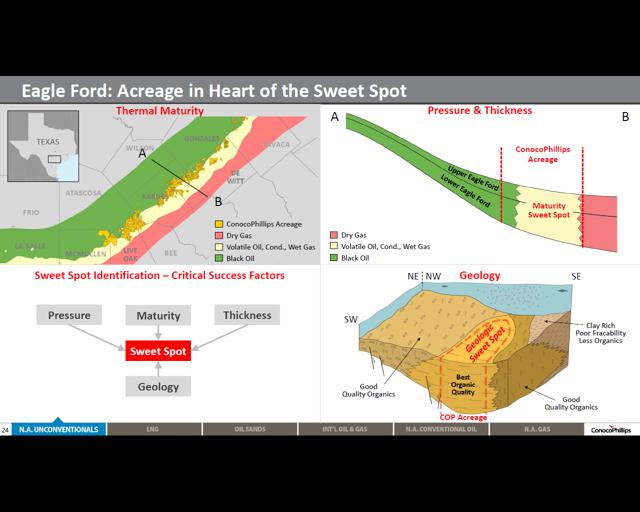 Click to enlarge
It is also because the company was not in a rush to develop the resource - much to the dismay of some short-term oriented analysts. The reason COP did not rush in is because COP had the size and financial strength to:
Take its time through the cost learning curve.
Research and identify the benefits of technology.
Focus on infrastructure efficiencies.
Of course, the end goal was to maximize the ultimate resource recovery per acre. With the announcement of the increase in both Eagle Ford reserves and production, shareholders today were the beneficiaries of ConocoPhillips' disciplined development strategy.
Eagle Ford Drilling Technology
In addition to the downspacing efforts in the Lower Eagle Ford (see below), which led to the resource upgrade, COP is also conducting Upper Eagle Ford pilot tests in 2014, and is evaluating the Austin Chalk formation as well: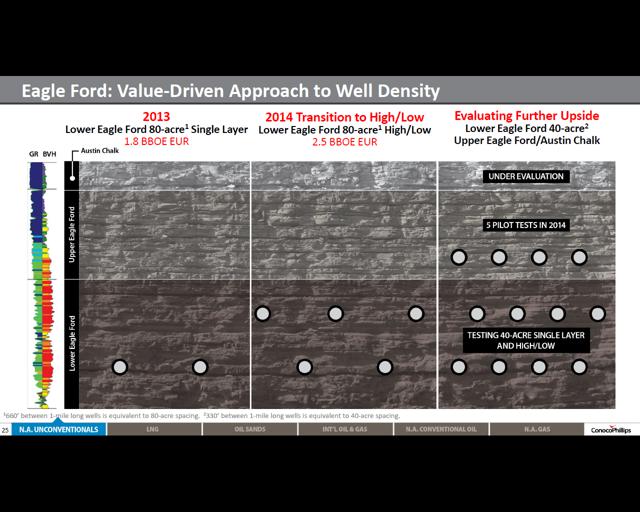 Click to enlarge
On the completion technology front, COP's current cluster spacing is much more dense. In addition, the company has achieved a 30% increase in EURs due to increased use and optimization of proppant. As a result, COP has effectively doubled its per well production as compared to its original completions design: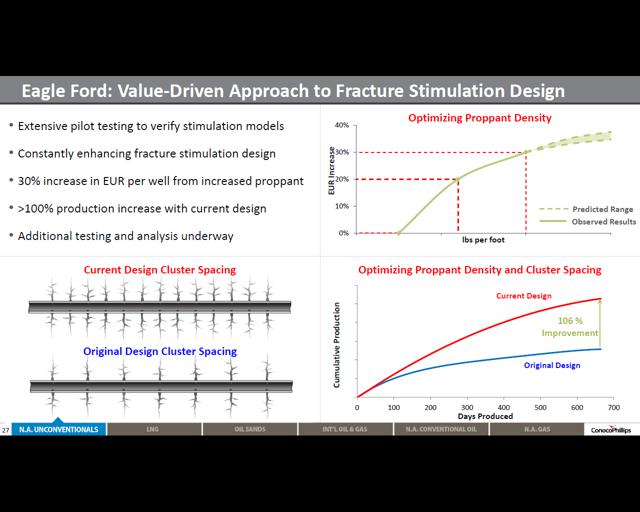 Click to enlarge
COP is also doing a lot of scientific work in the play. Vertical wells were drilled adjacent to development wells to monitor pressure changes. COP also used instrumented wells, and drilled pre- and post- stimulation pilot wells for logging and coring purposes.
From an efficiency standpoint, consider COP has made the following improvements in the Eagle Ford:
40% reduction in drilling days.
40% reduction in completion cost per unit of proppant.
75% of 2014 wells will be from multi-well pad drilling.
To sum it up, the company learned as much as possible about drilling in the Eagle Ford before jumping in with both feet.
Results
The results speak for themselves (see graphic below). According to the Texas Railroad Commission (i.e. actual production data), COP has the highest oil rate per well, with a gross operated production of about 220 bpd. Meantime, Wood Mackenzie reports that COP has the industry-leading value (NPV10) per acre in the Eagle Ford, and by quite a large margin.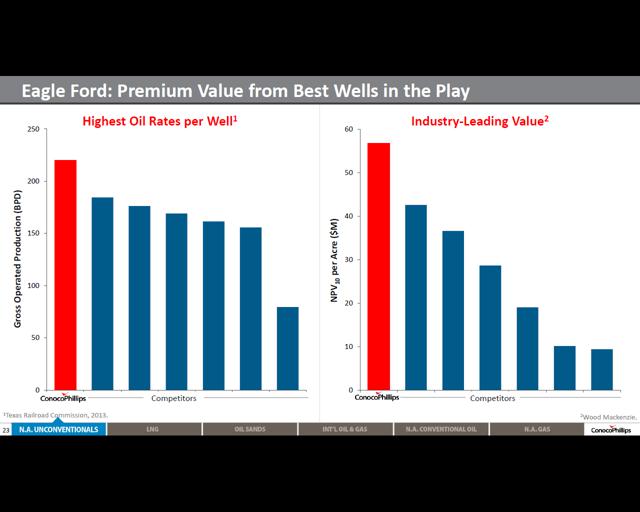 Click to enlarge
After the Analyst Day announcement of increased reserves and production, it is clear the company now feels it has climbed the learning and technology curves and is very confident about full-scale exploitation of the Eagle Ford.
COP's disciplined approach to development has also led to some very impressive reserve replacement ratios ("RRR"). Over the past three years, COP has posted over 150% organic RRR, with a finding and development ("F&D") cost of less than $20/boe.
Summary & Conclusion
I have written many articles over the years about why ConocoPhillips is a great long-term investment. While I understood early on how important the Eagle Ford shale was to the company, the significant ~40% increase in proved reserves to 2.5 billion boe caught me by surprise. The company's increase in 2017 Eagle Ford production guidance to 250,000 boe/d from 150,000 boe/d just last year, well, that blew me away. Yet, the market seemed unimpressed. But this is exactly why COP presents an excellent opportunity to investors. I suppose many investors looking for growth may think ConocoPhillips may be too big to grow fast. Big mistake. COP's 22.6% total return in 2013 beat the average independent E&P peer group by 9%. It also outpaced the 21.3% return of the S&P500. So while EOG and CLR may capture most of the media's shale headlines (and receive much higher P/E valuations), COP's 3.9% dividend yield and the company's superior, diverse, and worldwide asset base certainly has my attention. With a P/E under 10, it should have your attention too. Bottom line: COP is going to have another 20%+ year of total returns. The recently announced Eagle Ford upgrades are just another reason I rate COP a STRONG BUY and long-term HOLD.
| | |
| --- | --- |
| Market Cap: | 86.89B |
| P/E ("TTM"): | 9.60 |
| EPS : | 7.38 |
| Div & Yield: | 2.76 (3.90% |
click to enlarge)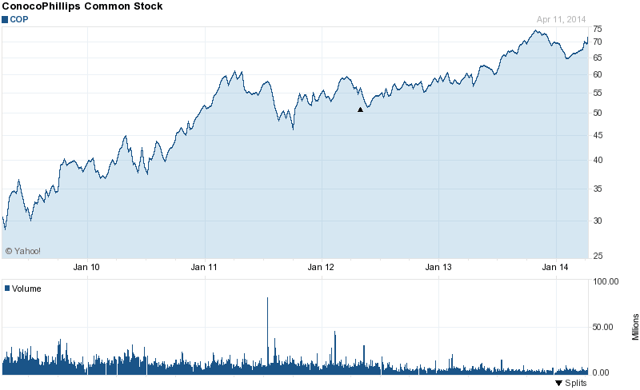 Click to enlarge
Disclosure: I am long COP. I wrote this article myself, and it expresses my own opinions. I am not receiving compensation for it (other than from Seeking Alpha). I have no business relationship with any company whose stock is mentioned in this article.
Additional disclosure: I am an engineer, not a CFA. The information and data presented in this article was obtained from company documents and/or sources believed to be reliable, but has not been independently verified. Therefore, the author cannot guarantee its accuracy. Please do your own research and contact a qualified investment advisor. I am not responsible for investment decisions you make. Thanks for reading and good luck!