The last time I wrote about Veeva Systems Inc. (NYSE:VEEV) I stated, "Due to the bearish technicals, expensive valuation based on earnings, and expensive valuation with respect to earnings growth I will not be pulling the trigger right now because I believe I can get it at a lower price." Since the time the article was published, the stock dropped a whopping 33.58% versus the 2.77% drop the S&P 500 (NYSEARCA:SPY) posted. Veeva delivers industry specific cloud based solutions including data, software, and services to the global life sciences industry.
On March 4, 2014, the company reported fourth quarter earnings of $0.07 per share, which beat the consensus analysts' estimates by $0.01. The company IPO'd back on 17Oct13 and is down 41.07% and is losing to the S&P 500, which has gained 5.46% in the same time frame. With all this in mind, I'd like to take a moment to evaluate the stock on a fundamental, financial and technical basis to see if right now is a good time to purchase more of the stock for my portfolio.
Fundamentals
The company currently trades at a trailing 12-month P/E ratio of 128.82, which is expensively priced, but I mainly like to purchase a stock based on where the company is going in the future as opposed to what it has done in the past. On that note, the 1-year forward-looking P/E ratio of 66.77 is currently expensively priced for the future in terms of the right here, right now. The 1-year PEG ratio (3.99), which measures the ratio of the price you're currently paying for the trailing 12-month earnings on the stock while dividing it by the earnings growth of the company for a specified amount of time (I like looking at a 1-year horizon), tells me that the company is expensively priced based on a 1-year EPS growth rate of 32.26%. The company has great near-term future earnings growth potential with a projected EPS growth rate of 32.26%. In addition, the company has great long-term future earnings growth potential with a projected EPS growth rate of 27.73%. Below is a comparison table of the fundamentals metrics for the company for when I wrote all articles pertaining to it.
| | | | | | | | |
| --- | --- | --- | --- | --- | --- | --- | --- |
| Article Date | Price ($) | TTM P/E | Fwd P/E | EPS Next YR ($) | Target Price ($) | PEG | EPS next YR (%) |
| 12Mar14 | 32.97 | 299.73 | 100.83 | 0.33 | 4.90 | 8.27 | 36.25 |
| 12Apr14 | 21.90 | 128.82 | 66.77 | 0.33 | 4.90 | 3.99 | 32.26 |
Financials
On a financial basis, the things I look for in general are the dividend payouts, return on assets, equity and investment. The company does not sport a dividend to speak of but is sporting return on assets, equity and investment values of 4.8%, 7.1% and 8.7%, respectively, which are all respectable values. In this particular instance, I will forgo the dividend aspect of the financials because the stock is in my growth portfolio; and in the growth portfolio a stock does not have to have a dividend. Below is a comparison table of the financial metrics for when I wrote all articles pertaining to the company.
| | | | | | |
| --- | --- | --- | --- | --- | --- |
| Article Date | Yield (%) | Payout TTM (%) | ROA (%) | ROE (%) | ROI (%) |
| 12Mar14 | 0 | 0 | 5.0 | 7.4 | 8.7 |
| 12Apr14 | 0 | 0 | 4.8 | 7.1 | 8.7 |
Technicals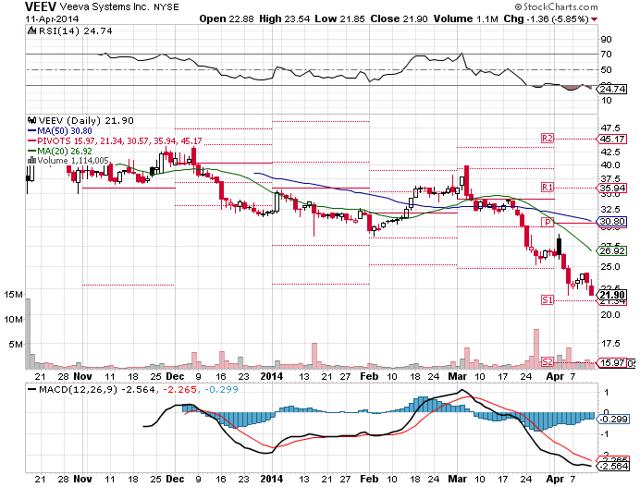 Looking first at the relative strength index chart [RSI] at the top, I see the stock muddling around oversold territory with a current value of 24.74. I will look at the moving average convergence-divergence [MACD] chart next. I see that the black line is below the red line with the divergence bars increasing in height, indicating bullish momentum is starting to mount. As for the stock price itself ($21.90), I'm looking at the 20-day simple moving average (currently $26.92) to act as resistance and $15.97 to act as support for a risk/reward ratio which plays out to be -27.08% to 22.92%.
Recent News
The company was upgraded at Morgan Stanley (NYSE:MS) to "Overweight".
On 24Mar14 the company has come out with a secondary offering of 12 million shares at $26.35. But if you take a look at the prospectus it states "The principal purposes of this offering are to increase our financial flexibility, obtain additional capital, facilitate an orderly distribution of shares for the selling stockholders, increase our public float and increase our visibility in the marketplace. We intend to use the net proceeds to us from this offering for working capital and other general corporate purposes. However, we do not currently have specific planned uses of the proceeds." The company has plenty of cash on hand already (and is raising any additional $316 million with this offering) and doesn't really need any more unless there is a purpose for it, which leads me to believe there is a buyout of someone coming soon.
Conclusion
This is one of those stocks which is just getting hammered profusely in the past couple of weeks. Analysts obviously have very high hopes for this company which is why it is overpriced on a valuation basis, but it is expected to almost double earnings next year with respect to the trailing twelve months. Revenues have grown 244% in the past three years. I don't know that these are signs of a company that is doing badly, but the shorts are definitely piling into the name with an alarming 31.91% of shares short. Fundamentally, this company is indeed overvalued on next year's earnings and pretty inexpensive on earnings growth potential while short and long-term earnings growth expectations are excellent. Financially, the company doesn't pay a dividend but the financial ratios are solid. Technically, the stock is extremely oversold and can go down some more due to the market volatility. Due to the high earnings growth rate expectations, oversold technicals, and excellent balance sheet I will take a chance here and add an additional small batch to my position regardless of the secondary offering.
Disclaimer: This article is meant to serve as a journal for myself as to the rationale of why I bought/sold this stock when I look back on it in the future. These are only my personal opinions and you should do your own homework. Only you are responsible for what you trade and happy investing!
Disclosure: I am long VEEV, SPY. I wrote this article myself, and it expresses my own opinions. I am not receiving compensation for it (other than from Seeking Alpha). I have no business relationship with any company whose stock is mentioned in this article.