I can't deny that it is practical to have exposure to both developed world and developing world stock assets. Nevertheless, here are 5 solid reasons to consider Chile before considering more exposure to the U.S.:
1. Creditor Vs. Debtor. Chile was once an impoverished debtor nation. Today, it's a creditor country through sensible management of its commodity wealth; that is, the government created a rainy day fund that helped them weather the 08-09 global recession.
The U.S. is a debtor nation with 1/4 of all U.S. treasury debt owned by China. California alone has a junk bond rating not unlike Greece. And were it not for the tacit understanding that California is too big too fail for the U.S. federal government, California would surely default on its obligations.
2. High Growth, Low Inflation Vs. Uncertain Growth. According to the Economist, Chile is forecasted to grow at 5% in 2010 and 4.7% in 2011. On top of excellent GDP growth projections, Chile has the lowest projection of inflation in South America… 2.1% in 2010.
The same Economist Intelligence Unit polling puts U.S. growth at 3.3% in 2010 and 3.0% in 2011… with inflation at 1.9%. On the surface, the recovery may seem on track. However, with higher unemployment in the U.S. than in Chile, and a more battered real estate situation in the U.S., there's less room for the U.S. economy to "wiggle."
3. Upbeat Political Environment Versus Anti-Incumbent Politics. Chile only allows for a single 4-year term, but the recently departed Ms. Bachelet had a 75% approval rating. Chileans recently voted in a high-profile businessman to take the reins, the first pro-business conservative to hold the position in 50 years.
President Obama is experiencing personal lows at 45% approval and most believe his policies are anti-business in nature; the U.S. Congress gets somewhere between 15%-18% approval. Few U.S. citizens believe the country is heading in the right direction.
4. Medium Equity Risk Versus Medium-High Equity Risk. The financial web site, Risk Grades.com, offers standardized risk measurements for exchange-traded funds. It rates iShares MSCI Chile (NYSEARCA:ECH) at 101, which is roughly viewed as 20% less volatile than the S&P 500 SPDR Trust (NYSEARCA:SPY) at 119.
5. Technical Uptrend Vs. Technical Downtrend. The iShares Chile Fund (ECH) bounced off its 200-day moving average during the global equity sell-off of May-June. In contrast, the S&P 500 fell below its 200-Day average, stayed below it and hit a series of "lower lows."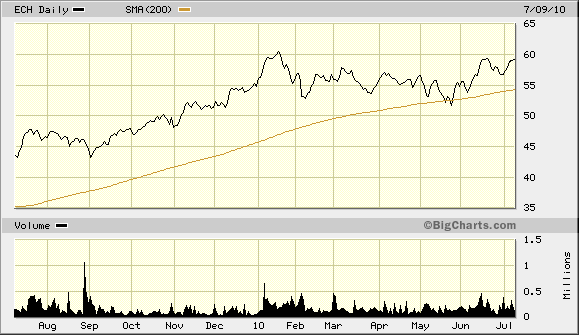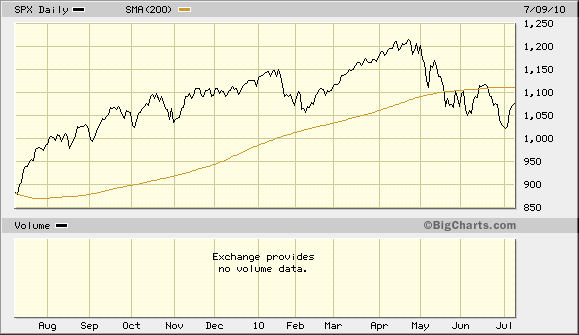 Disclosure Statement: Gary Gordon, MS, CFP is the president of Pacific Park Financial, Inc., a Registered Investment Adviser with the SEC. The company and/or its clients may hold positions in the ETFs, mutual funds and/or index funds mentioned above. The company receives advertising compensation at the ETF Expert web site from Invesco PowerShares Capital Management, LLC. The commentary does not constitute individualized investment advice. The opinions offered herein are not personalized recommendations to buy, sell or hold securities.