Note: Due to vacation schedules, CEFs Weekly Review will not be published the following week of July 16th. Publishing of the CEF Weekly Review will resume July 23rd.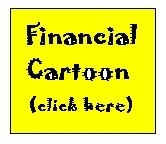 Outlook: New taxes, excessive deficits, trade protectionism, greater social spending, increased government regulations and anti-business rhetoric. The similarities between today and 1937 are eerily similar—particularly with respect to the comparative course of the stock market (see graph below). (Link to "financial cartoon" here.)
Déjà Vu All Over Again: The similarity was the topic of an interesting "op editorial" piece in the WSJ (7/9/10), written by the chief investment officer, Donald L. Luskin, of Trend Macrolytics, LLC, entitled: "Why This Isn't Like 1938—At Least Not Yet".
In this "op-ed", Mr. Luskin lays out a case that while we have so far "dodged the bullet" we have ample opportunity to "screw up"—potentially plunging the economy into a deeper recession.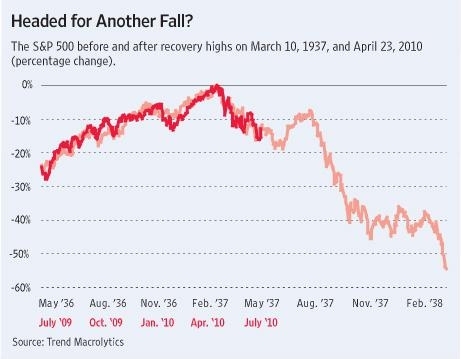 What's Different Today? Clearly, the Federal Reserve has taken the preemptive steps of lowering interest rates to zero and flooded the financial markets with liquidity. This has been accompanied by an $862 billion stimulus program. Together these joint emergency actions have either prevented or forestalled a global economic meltdown.
The Future is Now: However, both reactionary monetary and fiscal actions have been stop-gap measures. It is the economic policies that the Obama Administration adopts now at this very fragile point in the recovery that will determine whether we avoid the fate of the late '30's and early '40's.
Pro-Growth: Mr. Luskin suggests, "Pro-growth tax and regulatory policies that encourage business confidence and job creation can keep our fragile recovery alive." The task is to overcome the perception of pro-growth being another pro-business bail-out—particularly in an interim election year in a fragile political environment.
One Bullet: To paraphrase Winston Churchill's remarks regarding America: "Americans will do the right thing after exhausting all other possibilities." Unfortunately, we may not have this luxury. The current Administration may need to get it right the first time.
CEF Weekly Review: The 13 closed-end fund (CEF) types on average posted a 1.8% increase for the week ending 7/9/10. The high-low spread was +4.3% vs. +5.2% the previous week with respective highs of 4.6% vs. 0.8%. On an aggregate, unweighted basis the weekly average price change for the 500 plus CEFs was up 1.7%.
The PowerShares CEF Income Composite (NYSEARCA:PCEF), an ETF that invests in taxable income CEFs, increased 2.8% for the week. The S&P 500 advanced 5.4% for the week and cut its loss to 3.3% YTD.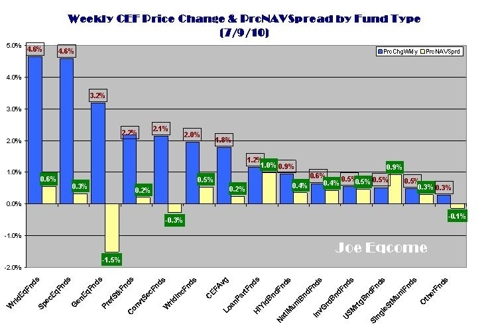 (Click here for YTD CEF Performance. The table is based on a smaller CEF sample size as all the data fields are not available for the CEF universe.)
The Eqcome CEF Fear Index eased for the week. The average price increase was 1.7% versus a 1.4% increase in the NAV. The CBOE Volatility Index (VIX), which typically moves inversely with the stock market—but is mostly a measurement of volatility based on stock options' premiums—plunged 17.1% after advancing 5.6% the previous week. The VIX responded to market advances earlier in the week that "held". This favorable environment was based on constructive domestic and international news as well as optimism regarding 2nd quarter earnings that are expected to begin pouring in next week.
Despite the significant advance in the S&P 500 during the holiday shortened week, average daily trading volume was off 13.4% to 4.4 billion shares. Friday's advance was fueled on 3.5 billion shares—the lowest of the year.
CEF Weekly Fund Type Performance: Part relief rally, part hope for stronger corporate revenue growth and earnings outlook, equity-oriented funds recorded significant gains. Both WrldEqFnds and SpecEqFnds surged 4.6%. All 13 fund types experienced advancing share prices.
The PrcNAVSprds [*] typically move in the direction of stock prices. Despite a strong gain in GenEqFnds of 3.2%, relative NAV advanced at an even a greater pace generating a negative PrcNAVSprd of 1.5%.
Weekly CEF Winners and Losers: One of the CEFs with the greatest positive spread was First Trust Active Dividend (NYSE:FAV). FAV share price advanced 11.6% while its NAV advanced 5.4% generating a positive PrcNAVSprd of 6.2%.
FAV is classified in the WrldEqFnds category and invests in global multi-cap dividend paying stocks. Earlier in the year, FAV reduced its quarterly distribution by 30.4%. At its current reduced distribution rate, the distribution yield is 11.6%. It is currently trading at a 13.0% premium. With a portfolio of only $75 million, this stock is at best a trade.
The CEF having one of the greatest negative PrcNAVSprd for the week was John Hancock Investors Trust (NYSE:JHI). JHI price declined 11.7% while its NAV advanced 1% generating a 12.7% negative spread. JHI invests in high yield government and corporate bonds. Over the past four quarters it has sequentially increased its distribution. JHI is currently yielding 11.3% (from net investment income) and is trading at a modest premium of 3.5%.
JHI experienced elevated volume during the week with a volume spike of 192,000 shares on Thursday the 8th. Average daily volume has been of 24,030 shares for the past 3 months. There has been no significant news since April of this year. SIT Investment Associates had a 5% position in the stock and had sold stock earlier in the year. I'd expect JHI to likely gain back some lost ground next week.
Economic & Earnings Outlook: (Click here for next week's economic calendar; click here for earnings' announcements and estimates.)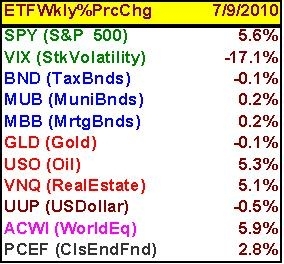 ETFs: For a more detailed EFT performance by sectors, click here.
Insider Trading: CEF insider transactions' roster was notable for the second consecutive weekly absence of the Horejsi Group. Horejsi has been a consistent buyer of any number of CEFs which it controls.
This week was dominated by insiders buying of muni orientated CEFs. Rodney F. Dammeyer, a director of several Invesco's CEFs, purchased a total of $1 million in securities of four municipal funds (VKQ, VKI, VCV and VIM).
Jerold B. Harris, a director of several of the Blackrock CEF muni funds (BZM and BLE) added to these positions with an aggregate capital outlay of $65,000. Mr. Harris has been a fairly consistent buyer of these two CEFs over the past couple of months.
(Click here for a hyperlink to the Joe Eqcome's CEF Weekly Insider Report.)
CEF Distribution Announcements This Week: The following is a link to a table of CEF distribution announcements this week as well as the previous week's with yet expired ex-dividend dates. The list is not intended to be inclusive. (Click here for Joe Eqcome's Weekly CEF Distribution Announcements)
Significant CEF Corporate Events: Allianz Global Investors Fund Management LLC ("AGIFM"), investment manager to Nicholas-Applegate Convertible & Income Fund (NCV), announced that it received a demand letter from a law firm representing certain shareholders alleging that AGIFM and certain officers and Trustees NCV breached fiduciary duties with the redemption at par of a portion of the Fund's auction rate preferred shares ("ARPS"). The letter demands that the Board of Trustees take certain action to remedy those alleged breaches. This is essentially a nuisance suit for lawyers' fees.
CEF Focus Stock for the Week: The focus stock of the week is the Morgan Stanley India Investment Fund (NYSE:IIF). A comparison of the current premiums/discounts of 584 CEFs ("prem/disc") with that of their respective average 3 year premium/discount weighted by their prem/disc volatility suggests IIF appears at present to be undervalued in the range of 4% to 7.5%. (See: Morgan Stanley India Investment Fund (IIF) Appears Undervalued (7/7/10)[2])
Based upon a comparison of IIF to the average of the 5 lowest Z-scores for the other CEFs, the share price valuation discount is approximately 4%. When IIF is compared directly with an ETF that invests in India equities, PowerShares Exchange-Traded Fund (NYSEARCA:PIN), its valuation discount is approximately 7.5%.
Profile: IIF has net assets of $563 million, no leverage, trades at a 9.2% discount and its average daily trading volume is approximately 119,000 shares. IIF does not pay a distribution (dividend).
Caveats: While there is a tendency for "gravitation to the mean" for discount to converge on the long-term historical average, it is only one metric for evaluating CEFs relative attractiveness. The Non-US/Other-Asia Equity CEF sector has experienced a disproportionate number of CEFs trading at a meaningful spread to their historical discount. This may reflect a longer-term secular gravitation towards greater discounts in the future. The performance of IIF may be impacted by a different investment strategy than that of other funds investing in India referenced in this article.

[*] All things being equal, price and NAV should move in tandem. A price movement greater than the NAV generates a positive PrcNAVSprd and may be interpreted as negative on a near-term basis and indicate that the stock is overvalued relative to its NAV which in theory is the stock's intrinsic value. The opposite would be true for a negative PrcNAVSprd.
Disclosure: Author owns a diversified portfolio of CEFs that include BIF, PCEF as well as IIF