My last article on GM (NYSE:GM) came just days ago, where my main thesis was that "GM Had Shaky Knees And Could Collapse Soon." Then, as the market beefed it to end the week last week, General Motors stock continued to get hit.
As Mary Barra's testimony on Capitol Hill continued throughout the week, negative headlines and sentiment with regards to GM continued to gestate and grow. My friend and respected SA contributor Michael Blair penned a scathingly bearish piece on General Motors this morning, as well.
As I stated in my last article about GM, recalls have been the theme of the year for the auto maker, and General Motors is becoming the butt of plenty of jokes. The company has traded off over 20% year to date and has been in a bit of a freefall since the beginning of the recall controversy.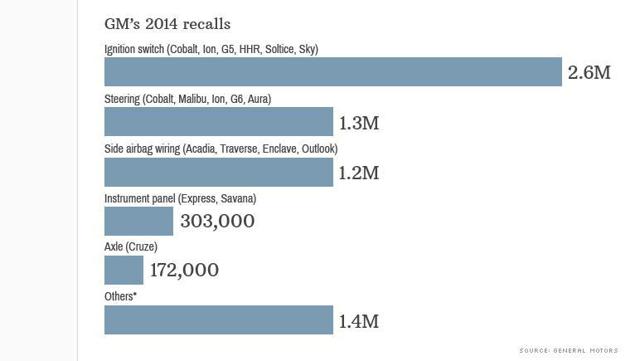 Click to enlarge
To make matters worse, headlines this morning are talking about exactly what GM knew, when they knew it, and the growing scene of incompetence that's surrounding the entire recall issue. Seeking Alpha reported this morning:
Internal GM (GM) documents show that some senior managers knew about the faulty ignition switches that have been linked to 13 deaths long before the company issued a massive recall in February.
In October 2012, for example, the chief of all small car development, Jim Federico, received an update about the company's 2005-2007 Cobalt air bag investigation in an email entitled "the Cobalt and Ignition Switch Effort."
There's no evidence that new GM CEO Mary Barra was aware of the issue until December 2013, although in 2011, when a GM VP, she did receive correspondence about a power-steering problem that had prompted a recall in 2010.
The revelations come in 700 pages of documents that the House Energy & Commerce committee released on Friday.
Meanwhile, in 2007, the head of the defects assessment division at the National Highway Traffic Safety Administration called for the agency to open a probe into the failure of air bags to deploy in frontal crashes in Cobalts and Ions, but the recommendation was rejected.
If we look at an updated GM chart, inclusive of Friday's trading, the technical picture begins to look even bleaker than it did last week.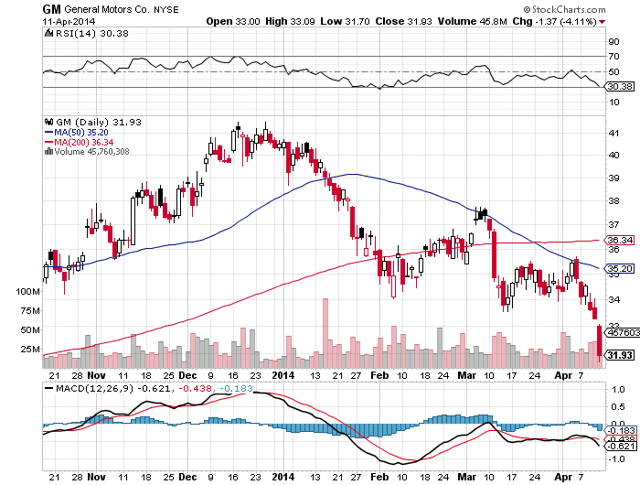 Click to enlarge
General Motors simply continues to get hit hard. The stock has plummeted through its last support level and looks destined to be trading under $30 relatively soon.
However, that doesn't take away from the success that the company has been having selling vehicles in European and Asian markets.
If you take a forward looking perspective, GM could be ripe for the contrarian buy sooner rather than later. If you thought GM had a chance of folding due to the recall, there'd be serious reason for concern. If you're like me, and ultimately think the company will come out of the other end of this stronger, we're approaching buying territory.
I bought GM warrants from $41 down to the high $30s and then sold when the recall issue first surfaced. Now, I'm looking for a position to buy back in if the stock continues to dip.

If you want the safety of the dividend, avoid the warrants.
The B Warrants - have a strike price of $18.33
The C Warrants - carry a strike price of $42.31
I'll likely be purchasing the B series warrants, as opposed to the stock. They offer more leverage, are well in the money, and have plenty of time before they expire.
As GM continues to tank, we're looking at a bonafide contrarian buying situation.
Best of luck to all investors.
Disclosure: I have no positions in any stocks mentioned, and no plans to initiate any positions within the next 72 hours. I wrote this article myself, and it expresses my own opinions. I am not receiving compensation for it (other than from Seeking Alpha). I have no business relationship with any company whose stock is mentioned in this article.