While all eyes are focusing on momentum stocks and how they've reacted to the recent market pullback, Tesla (NASDAQ:TSLA) has been busy conducting its business and continuing its plans for aggressive growth.
Again, high flying momentum stocks were roped in hard over the last month, culminating in last week's unceremonious end to the trading week as the major market indices once again sold off.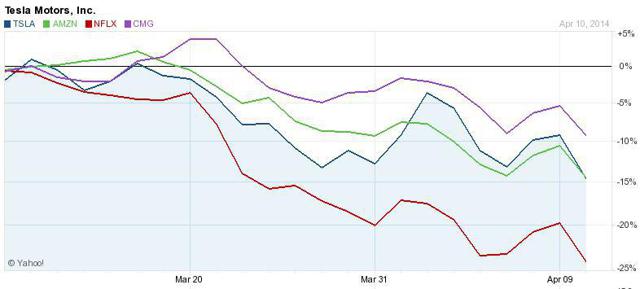 We know that China is obviously an important market for Tesla for a couple of reasons. One, it's going to introduce a new, fertile market for growth now that things are leveling off a bit in the U.S. Secondly, China is the biggest auto market in the world - companies like General Motors (NYSE:GM) and Ford (NYSE:F) are finding success with their investments in China for this reason. Tesla is hoping to get on that gravy train as well.
News had dropped the other day about Tesla CEO Elon Musk potentially hand delivering cars to customers in China - a nice little PR move to get the company off of its feet in the country.
Tesla Motors intends to begin selling its electric cars in China this month, with spokesman Simon Sproule saying that CEO Elon Musk will "personally" do customer deliveries.
Sproule added that Tesla is preparing right-hand drive versions of the Model S for countries such as the U.K. and Hong Kong.
Musk reckons that China can be Tesla's largest market, although Barclays analyst Brian Johnson retains some skepticism. "While we expect strong initial interest from early adopters in China... we see challenges to broader luxury market adoption," Johnson wrote this week. In the U.S., demand for the Model S may have "plateaued," he wrote.
The next major implementation for Tesla is for its chargers.
And, while I'm surprised the company doesn't have something a bit more concrete in place yet, Elon Musk seems to have a vision. Starting in Beijing, he plans to partner with China Petroleum to blanket the country with chargers. Seeking Alpha reported this morning:
Tesla Motor (TSLA) CEO Elon Musk will reportedly hold talks with China Petroleum & Chemical (SNP) this month about constructing charging units in the refiner's nationwide network of service stations.
China Petroleum & Chemical, also known as Sinopec, would start in Beijing and then roll out the charging stations to the surrounding areas.
Musk is due in China anyway to start delivering Model S cars to Chinese customers.
With a successful implementation of Tesla in China, we'll be able to put yet another item in the "success" column for the high flying company that I continue to contend deserves its multiple.
Chinese sales and the Model X in the U.S. are both going to serve as catalysts for Tesla to continue its aggressive growth this year. With the markets cooling off and Tesla pulling back with them, this could be an interesting dip to look at as a buying opportunity for the auto maker.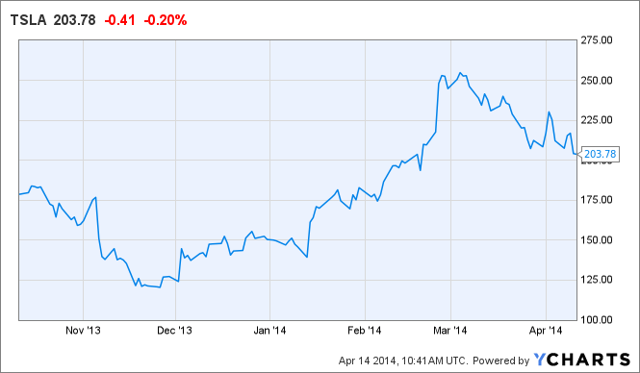 TSLA data by YCharts
As Musk continues to meet or exceed all of his goals as a company, I'm expecting China to be no different. Tesla will execute successfully in China, and it should likely help continue to prop up the company's share price in the short term. In the long-term, I continue to contend that Tesla is a good vehicle for an investment and that savvy investors might take the momentum sell-off to add to or open a position in the company.
Disclosure: I have no positions in any stocks mentioned, and no plans to initiate any positions within the next 72 hours. I wrote this article myself, and it expresses my own opinions. I am not receiving compensation for it (other than from Seeking Alpha). I have no business relationship with any company whose stock is mentioned in this article.