2014 has not been kind for Linn Energy (LINE) or its sister stock LinnCo (LNCO). These stocks did have a good run heading into the year. However, disappointing quarterly results and lackluster guidance led to several major analyst downgrades as well as sparking concerns over the future safety of the distribution(s).
Why has Linn Energy declined?
As I have written in previous articles, Linn Energy has been hit by a triple whammy of sorts. At the risk of oversimplification, below is a chart of Linn Energy price action YTD. As can be seen, the stock has declined nearly 15% since late February.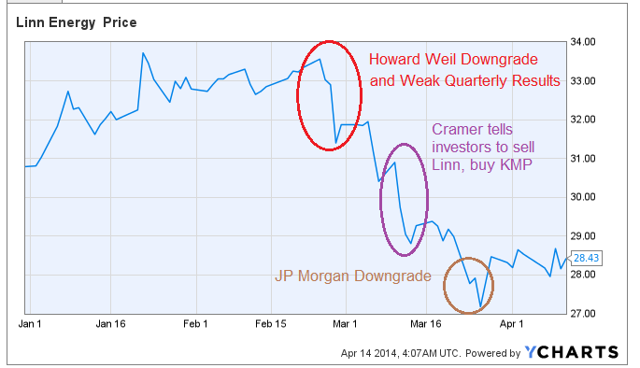 The first major decline started right after the Q4 2013 results and guidance for 2014 were released. These reports were both considered to be subpar, with the market sending shares Linn Energy much lower.
Soon after came a Howard Weil downgrade. That firm had an initial rating of "Focus Stock" on Linn Energy before downgrading the stock to "Sector Outperform". The firm cited disappointing DCF estimates and the resulting tight coverage ratio. However, they also mentioned that these problems can be solved with increased DCF from a Permian asset sale.
A few weeks later came news that Jim Cramer was suggesting investors swap out Linn Energy in favor of Kinder Morgan Energy Partners (NYSE:KMP). While this was a relatively minor event, shares of Linn Energy still reacted quite negatively.
Adding fuel to the fire was Bloomberg, which soon after came out with an extremely negative article on MLPs. While that article may have been painting with far too wide a brush, it still managed to spook investors.
Finally, we have the JP Morgan downgrade. Using a similar rationale to Howard Weil, the firm lowered its rating of Linn Energy to neutral with a $30 price target. However, this decline proved to be short-lived, with the stock fast recovering from its losses.
Coverage ratio remains a concern
The common thread echoed by bears is the coverage ratio. Linn Energy's own projections call for a 1.00x ratio in 2014. This is clearly too tight for comfort given that these projections are already baking in 3 to 4% "organic" production growth as well as somewhat aggressive assumptions for full year energy prices (WTI: $98.89 per BBL, Natural gas: $4.84 per MCF, NGLs: $40.00 per BBL).

However, Linn Energy's DCF may see some upside if NGL prices remain elevated. Simply put, unlike oil and natural gas, NGLs are not really hedged. This allows the company to capture nearly all of the upside (downside) in moves for the commodity.
Indeed, during the last quarter, NGLs were going for well above $50 per BBL in some regions, doubling prior year prices. However, due to the wide regional price differentials and high transportation costs, putting out a firm number is difficult. Still, I believe Linn Energy may have seen NGLs prices averaging above $40 per BBL for Q1 2014.
Good news? Citigroup says Permian assets could fetch over $2.0 billion
Finally, there is some good news out for Linn Energy. Last week, Athlon Energy (NYSE:ATHL) recently agreed to buy more than 23,000 acres of land in the Midland Basin for $873 million. Later, on April 10, Citigroup analysts Faisel Khan and Vikram Bagri mentioned Linn Energy's Permian Midland assets may be attracting similar interest.
In their note, Citigroup estimated that Linn Energy's 55,000 net acres in the Midland could fetch upwards of $2.0 billion in a trade and or sale. They came to this valuation using the aforementioned Athlon transaction.
Furthermore, it was noted that divesting these assets would lower the overall decline rate for Linn Energy given the Permian production decline rate of over 34% compared to 23% for the overall portfolio. In addition, the company could save upwards of $275 million in capex.
However, even with this expected windfall, the analysts still rate the stock at neutral. Citigroup expects Linn Energy to eventually issue equity to lower its overall leverage ratio to below 3.0x.
While the Midland position does offer a platform for growth, Linn Energy is currently not in good enough shape to fully exploit it. If the company is able to swap via a 1031 or "like-kind-exchange", DCF per unit should see an immediate spike higher.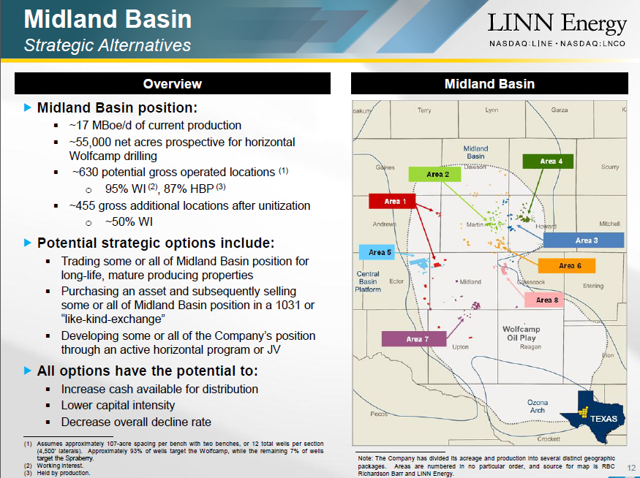 Conclusion
For investors, what should be important is that Linn Energy is able to sell/trade the Midland Permian assets at good prices. Besides another acquisition, this is the best bet for increasing DCF short to medium term. These are high quality assets. However, if no buyers emerge for the whole lot, then the company should consider selling them piecemeal.
As for the distribution, the company is projecting to be able to fully cover it in 2014. Still, Linn Energy needs to increase its cash cushion or may face continued downgrades. With the stock now yielding over 10.20%, the reward now seems to be inline with the risk.
Disclaimer: The opinions in this article are for informational purposes only and should not be construed as a recommendation to buy or sell the stocks mentioned. Please do your own due diligence before making any investment decision.
Disclosure: I am long KMI. I wrote this article myself, and it expresses my own opinions. I am not receiving compensation for it (other than from Seeking Alpha). I have no business relationship with any company whose stock is mentioned in this article.