On April 7th, RAIT Financial (NYSE:RAS) issued 60 million $25 par senior notes. Details of the offering are as follows: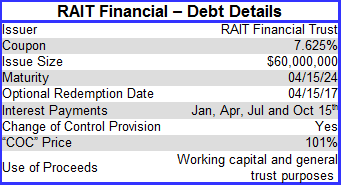 Financial covenants within the deal:
RAS will not, and will not permit any their subsidiaries to, incur any Debt other than Intercompany Debt including that which is subordinate in right of payment to the notes, if, immediately after giving pro forma effect to the incurrence of such Debt and the application of the proceeds thereof,
Their Fixed Charge Coverage Ratio would be less than 1.2x
Consolidated Leverage Ratio would be greater than 80%. Consolidated Leverage Ratio being the ratio of (NYSE:I) Total Liabilities to (ii) Total Assets
Prospectus here, term sheet here.
RAIT Financial Trust is an internally-managed REIT that provides debt financing options to owners of commercial real estate and invests directly into commercial real estate properties located throughout the United States. In addition, RAIT is an asset and property manager of real estate-related assets. As of December 31, 2013, RAIT had $3.6 billion of assets under management.
RAIT was a darling in the "go-go" years and had been around for ten years prior to the financial crisis.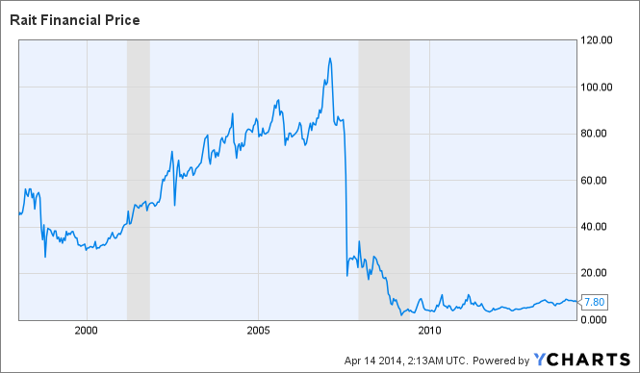 Being involved with CDOs, Mezzanine financing and real estate generally did no help this company.
The REIT has, however, turned the corner by lowering debt, reducing non-accrual loans and focusing on asset management fees: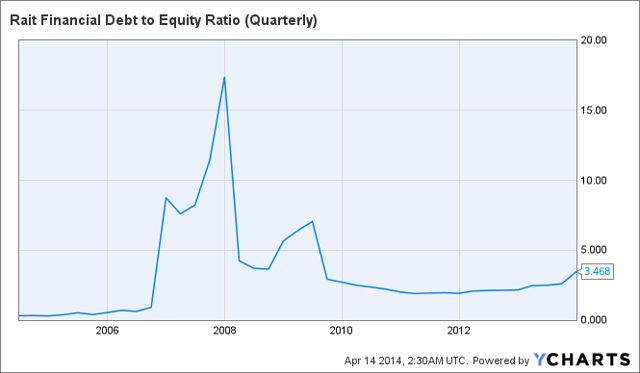 RAS Debt to Equity Ratio (Quarterly) data by YCharts
Leverage is clearly more rational than it was prior to the crisis.
click to enlarge)

The CRE portfolio seems to have turned the corner and the REIT has issued conduit debt into the market - now that it is open.
They also have the asset management business which covers CDOs and "real" properties, including those held in Independence Realty Trust (NYSEMKT:IRT), which is 39% owned by RAIT.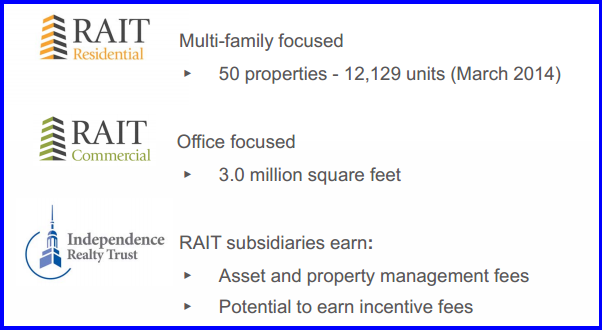 These things combined have helped resurrect the dividend that was discontinued during the crisis.
click to enlarge)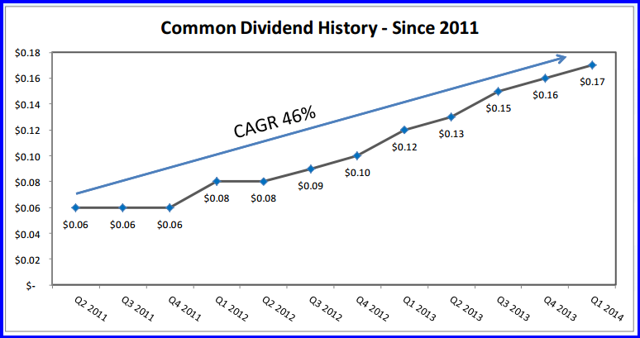 All of these factors have helped bring this REIT back from the brink during the crisis to the point where they can issue debt to diversify and lengthen their funding.
How do they look versus peers MFA Financial (NYSE:MFA), Arbor Realty Trust (NYSE:ABR), NorthStar Realty (NRF), Resource Capital (NYSE:RSO) and Apollo Commercial Real Estate (NYSE:ARI)?
click to enlarge)

Honestly, not impressed. From an equity standpoint, there might be better ways to play the CRE REIT sector. But debt is a different beast. The choice here is typically between the debt and preferred stock of the issuers (and not many, except MFA, have public debt).
Lets take a look from the debt standpoint:
click to enlarge)

Debt should trade "tighter" (lower yield) than preferred as it is higher up in the capital structure and should fare better in the case of bankruptcy or distress. RAIT's debt trades tight to all preferreds of their peers and even to the debt of MFA financial. Why? The market seems to smile on RAIT and their business prospects.
Two year equity moves versus peers: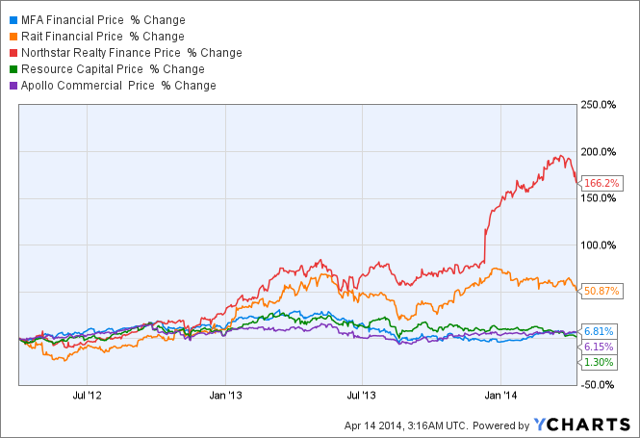 Five year equity move versus peers: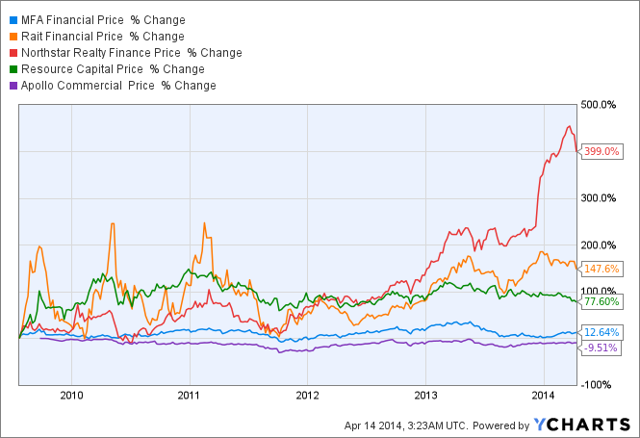 Only NorthStar has outperformed over the last two years and five years. Year-to-date, however, has been a different story: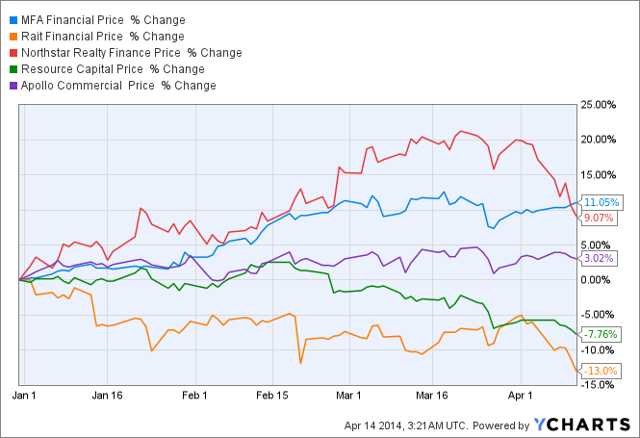 Bottom Line: The debt of RAIT financial is appealing for an income investor as it has both yield and seniority in the capital structure. Like a preferred stock, the payment is not optional and therefore can be relied upon (barring true financial distress). As with REIT preferreds, this is not QDI so no tax adjustments need to be made when comparing the two. Unlike preferred, this has a ten year final maturity, not a perpetual timeframe and will be less affected by an increase in rates (although not by as much as we might like). For an investor looking for income, but not wanting the volatility and variability of mREIT common stock and the additional security of position within the capital structure (just realize all mortgage, repo and CDO debt have priority), RAIT Financial's new ten year debt makes for an attractive option.
-----------
Sources used:
Prospectus
Investor presentation
Company financials
Peer financials
All tables were compiled by the author from various financial sources
Disclosure: I am long NRF. I wrote this article myself, and it expresses my own opinions. I am not receiving compensation for it (other than from Seeking Alpha). I have no business relationship with any company whose stock is mentioned in this article.
Additional disclosure: This article is for informational purposes only, it is not a recommendation to buy or sell any security and is strictly the opinion of Rubicon Associates LLC. Every investor is strongly encouraged to do their own research prior to investing.