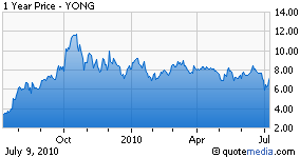 I was able to interview Sam Yu, CFO of Yongye International (NASDAQ:YONG). Yongye is a leading plant and animal nutrients company in China, engaged in the manufacturing, research and development and sale of fulvic acid based nutrients. The company has had significant revenue growth with approximately 130% CAGR from 2007-2010 and a net income CAGR of 114% in the same time period.
Buckley: Can you give me some background information on the company?
Yu: We have a unique business model, with about 13,880 branded stores across China selling our product at the end of Q1 this year. Our product increases crop yields for farmers and won one of the highest agricultural product awards in China. Our awards include: top 10 business models in china, top 10 fastest growing companies in china, and also the marketing innovation award in China. Guidance for 2010 was net income of 42-45 million and revenue of 160-165 million with total branded stores of 20,000.
Buckley: What is the expected growth for the branded stores? Do you expect 100,000 stores by the end of the decade?
Yu: We believe our product is only applied to 2-3% of areas in China. We don't have a specific target, but 100,000 stores doesn't seem like too big a number compared to 600,000 total villages.
Buckley: Who are your main competitors?
Yu: There are 500 other humic acid manufacturers in China. the vast majority are very small, regional companies. Two of our larger competitors are China Green Agriculture (NYSE:CGA) and China Agritech (OTCPK:CAGC), but we are the largest with the highest growth rates.
Buckley: Why do your customers choose your product over the competition?
Yu: There are two main reasons. Our product is based on fulvic acid, where competitors use humic acid, fulvic acid is the best part of humic acid, we extract fulvic acid from humic acid to make sure our results are reliable for farmers.
The agriculture business is very hard to sell to because farmers don't trust ads, and they are not very technical. Their crops are their life, so it is important to develop a farmers trust and a distribution network for the village level where farmers can interact with sales and support platform on the village.
Buckley: Why buy the customer list to your own stores for $25 million? Do you need to do this in all of your provinces?
Yu: The Hebei distributor is becoming too big for us, and they are growing at a very fast space. This year they grew at 60% and last year they grew at 50%. Their bargaining power has become too large and they also had the largest accounts receivable balance of any one customer. Financially, we are paying a 6x multiple for a business with a 50% growth rate, we consider this an attractive price. Our margin in Hebei will increase significantly, our margin before was 53%, and now we expect it to be 60%.
Buckley: How has your experience been with KPMG?
Yu: They treat us very well. Big 4 auditors have risk control, so for otcbb listed securities they normally give a higher risk profile. They are very careful in the beginning when providing audit services. Initially, KPMG was a bit reluctant when they got involved with us. We invited them to talk to farmers, visit the factories, and talk to customers. After they visited, they spent a lot of resources to check our books fully. We had two restatements because of KPMG, it was very technical issues and technical judgments they made based on SEC standards. KPMG is much more strict compared to non big 4 auditors.
Cost is a concern of course, the big 4 is much more expensive than the other guys. They are also more time consuming because the skill of their audits is more comprehensive. Some audit companies send people from LA and San Francisco to do the audit in one week, KPMG sent over 10 people to almost live in our factory for months. That is the type of difference in audit quality and the level of assurance KPMG can provide as to the accuracy and completeness of our financial statements. KPMG employees are all experts in the field and understand Chinese accounting and US GAAP. If you did something wrong before, they will find out, as they research the entire history of the company. Some companies may not engage the big 4 for this reason.
Buckley: If you had to invest in a small-cap US listed publicly traded Chinese company other than your own, what would it be?
Yu: We would look for small size companies with a big 4 auditor, that shows confidence in their financials, and they are very ambitious in terms of the capital markets, meaning they have big plans. If I can find a big 4 audited company in the small-cap space, they will be a winner.
Disclosure: Author is long YONG