As we start to move into the second quarter of 2014, I've closed out some positions and have begun the thought process around what companies I could be looking into as holds for the rest of the year that I don't already own.
When I was applying to college, I had "safety" schools that I knew I would be able to get into. Like that, I have identified two "safety" stocks - places where I feel confident that I can throw money without having to be on top of it at all times.
Usually, this comes around tax refund time when I have some money to throw around into new investments.
When I'm in doubt, I try and find safe dividend payers that I know are going to be around for years and put my money into them, as opposed to the paltry yield I'd currently be getting from a money market account or CD.
Here are the two I'm going to be investing in this year.
1. Apple (AAPL)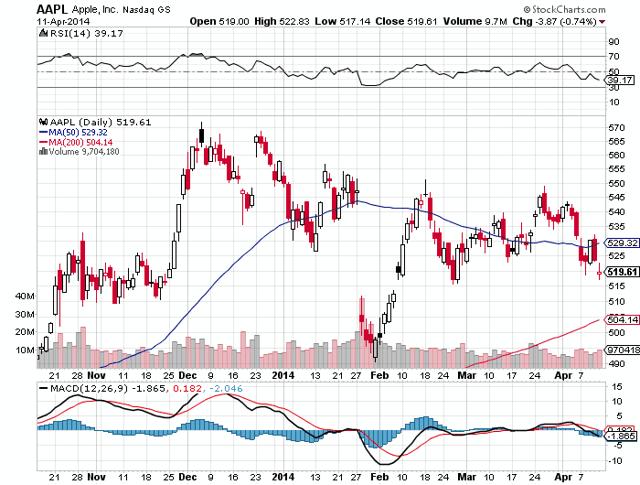 Those who know me already know that I'm a perma-bull on Apple and have been one for years.
The recent buzz around the company has been about its new iPhones rumored to be in production for Q3 2014. Seeking Alpha reported:
And I know it sounds a bit contrived, but when we're talking about stocks that we know we're going to be in for years, what we look for is security, a dividend yield, and growth potential. Apple has all three of these and is the kind of stock I could put my life savings into tomorrow and not look at the price for a couple of years.
Apple also gives us a sector-wise hedge in the way we're spending our money. The last thing I'd like to do is put all of this tax money into the same sector; so Apple will be our representative in the technology sector.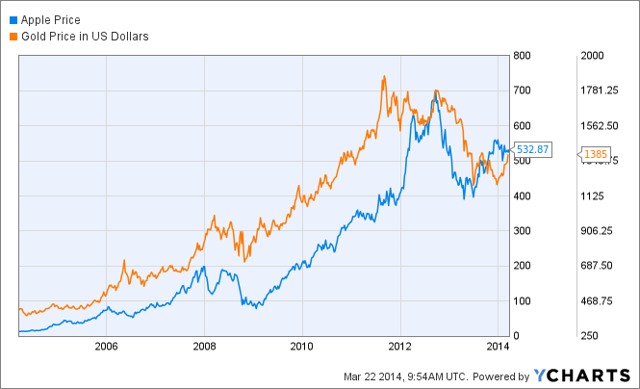 AAPL data by YCharts
Apple, to me, is like Gold (NYSEARCA:GLD). Its short term trades can be all over the map, but long-term, I fully expect the price to continue to rise. Gold has the benefit of being a non-renewable commodity that will continue to rise commensurate with money printed and inflation. Apple is the world's most fundamentally sound company with a massive foundation of cash that is returning money to shareholders. I've been bullish on Apple since I've started writing and will likely remain so for years. With new products on their way and a foray into biometrics and smartwatches coming, Apple is destined to be a winner over the next few years at least.
2. Starbucks (SBUX)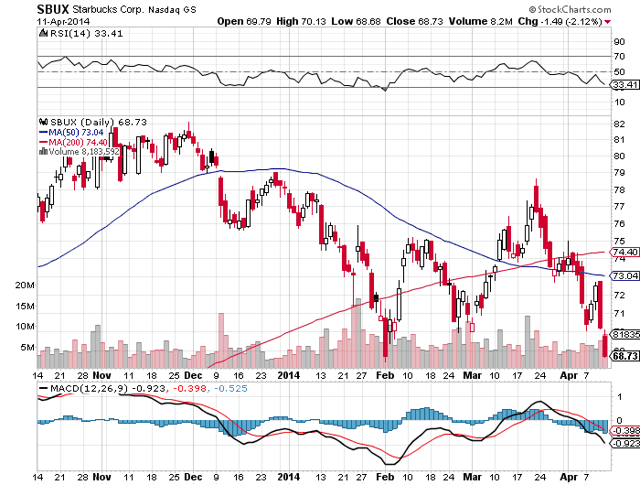 The great thing about the coffee industry is that it's like the booze industry - people need to simply get their fix every day. And, if you have a product or a brand that people identify with and come to love, you can consistently monetize that. Much like how cigarette smoker have a "brand" that they always smoke, so do coffee drinkers.
Even though recent news has focused solely on coffee futures continuing to move higher, I still like Starbucks long-term:
Prices for Arabica coffee move higher as concerns about dry weather in Brazil mount.
Brazil's National Coffee Council lowered its forecast for this season's harvest to 40.1M-43.3M bags from 44M bags.
It's not sure bet that Starbucks ( -1.3%) will pass on any sustained price increase to consumers this year. The company reportedly lowered prices at some of its stores last week in a move that might have been a response to McDonald's free coffee week. CEO Howard Schultz has also been vocal about holding off on price increases.
Starbucks' dividend yield is small right now, at 1.4%, but that's a product of the stock growing. Dividends will continue to increase in coming years as the company grows.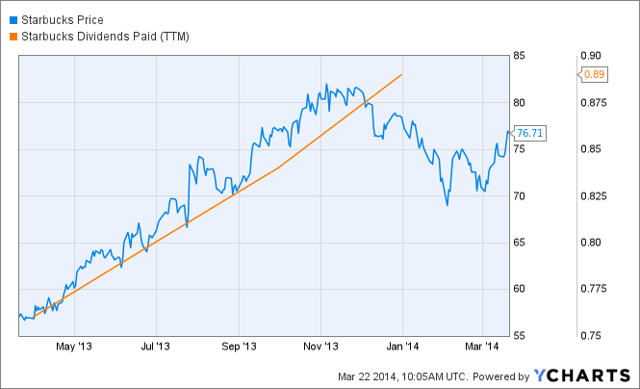 SBUX data by YCharts
My last article on Starbucks was complimenting it for its two coming avenues for future growth: mobile payments and alcohol. I recently commented:
If Starbucks can capture that and use it for queuing up orders and implement the "self service" mentality for payments (the same way supermarkets and Bank of America are using), they can get things moving even quicker in their store.

The faster the people move in and out, the faster the money gets in.

And, let's get to the alcohol. Aside from just simply thinking alcohol is generally a good idea, it can definitely be a pocket niche for Starbucks. They can play off the popularity of drinks like chocolate and espresso martinis that normal restaurants seem to be implementing more of these days. Also, they can play to the warm, home type feel the stores tend to have - especially in the winter time.

No, it's not likely that Starbucks is going to be the place where you go to get tanked up on a Friday night. But, on a Sunday in the winter, while Christmas shopping with the next Monday off, there's going to be plenty of people who would love a little Baileys and Kahlua in their coffee.
To conclude, I like Howard Schultz as a CEO. Every time I hear him speak, he comes across as sharp, genial, and shareholder friendly. He's exactly the type of guy I want at the helm working for my long-term investment.
Conclusion
I'll likely be looking at staking a long position in these companies these week, especially if the markets continue to pull back and prices continue to drift lower. I reserve the right to open, close, add to or reduce any of these positions without notice.
Best of luck to all investors.
Disclosure: I have no positions in any stocks mentioned, but may initiate a long position in AAPL, SBUX over the next 72 hours. I wrote this article myself, and it expresses my own opinions. I am not receiving compensation for it (other than from Seeking Alpha). I have no business relationship with any company whose stock is mentioned in this article.