Celgene Corporation (NASDAQ:CELG) is a top biopharmaceutical company currently involved in researching, developing, and commercializing products for treating chronic diseases such as cancer and other conditions related to immune systems and inflammatory problems. Celgene biopharmaceutical stands out for its research in terms of hematological and solid tumor cancers. Revlimid, Vidaza, Thalomid, Abraxane And Istodax are some of the products Celgene is known for. It Also Licenses Focalin Xr and Ritalin. The recent sell-off in the biotechnology sector has seen this high quality company fall out of favor among investors. We believe that the current level represents an attractive entry point for a position in CELG.
Sharp Increase In Revenues Expected
2014 holds great promise for Celgene as revenues are expected to increase by 15%, to $7.74 billion. Revlimid sales are expected to increase by 16%, amounting to $4.96 billion. As the usage of blockbuster Revlimid is increasing around the world for multiple myeloma, another 15% growth is expected in 2015. Total revenues are expected to reach $9.23 billion with sales of medicines such as Pomalyst and Otezla also expected to boost up due to the global expansion.
The Best Gross Margins In The Biopharmaceutical Industry
Gross margins are expected to rise as well, nearing 95%, which is one of the best figures in the current biopharmaceutical industry. Celgene owns most of its core marketed drugs and benefits accrue more directly to the bottom line. Operating margins are also expected to rise from 48% in 2013, to 51% and 52% in 2014 and 2015, respectively.
(click to enlarge - Source: ThomsonOne & John Schwinghamer / PurpleChips.com)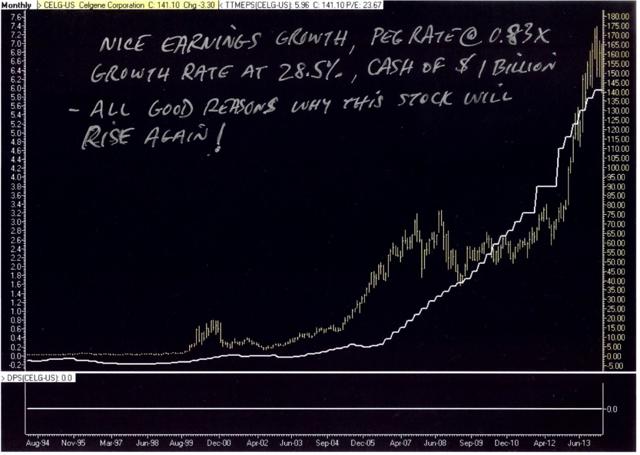 From An Investor's Perspective
Celgene is an exceptional stock to own for a few reasons. First, the earnings growth is compelling. Secondly, Celgene has sole ownership of most its key products which are marketed, therefore it has a cost advantage. Third, the biopharmaceutical is among the top players in its industry that have the potential for paramount increase in revenue and sales, due to their extensive research and development capabilities. Here are some important considerations that every investor should know when researching these stocks:
CELG does not pay a dividend but does have over $1.5 billion of net cash.
CELG trades at 23X adjusted earnings, but is growing at a rate of 28%* (Note that we use a blended growth rate that is 2/3 historical and 1/3 future).
CELG currently earns $5.96 per share, and is expected to earn $9.61 and $12.35 per share in 2015, and 2016, respectively (source: FIRST CALL). This kind of growth is attractive to investors, which will inevitably help the stock to $175.

The Final Word
Celgene is an extraordinary pharmaceutical company with impressive earnings track record. As the company does not currently pay a dividend, Purple Chips recommends half of the normal position size. Today's valuation of Celgene Corporation is attractive to a large pool of investors as it offers a low risk entry point. If the estimated EPS (as shown in chart) is reached then there is a high probability that the shares will trade higher; based on historical valuation ranges, the 12 - 18 month Purple Chips target is $175.00 and according to First Call, the average analyst target is $190.92.
Disclosure: I am long CELG. I wrote this article myself, and it expresses my own opinions. I am not receiving compensation for it (other than from Seeking Alpha). I have no business relationship with any company whose stock is mentioned in this article.