The recent market pullback has created some attractive new buying opportunities. While some stocks are not yet cheap, there are bargains that investors should consider now. For example, I recently wrote about the Firsthand Technology Value Fund that can be bought for around $21, even though it has a net asset value of about $28 per share. These types of "below the radar" value investments are what I am focused on now. With this in mind, there is an auto sector stock that is not as well known as Ford (NYSE:F) or General Motors (NYSE:GM), but it offers tremendous value after a recent pullback. Let's take a closer look:
American Axle & Manufacturing (NYSE:AXL) is a manufacturer of powertrains, chassis modules, driveline and drivetrain systems, and other automotive components. It makes these products for use in passenger vehicles, four-wheel drive SUV's, pickups, and commercial trucks.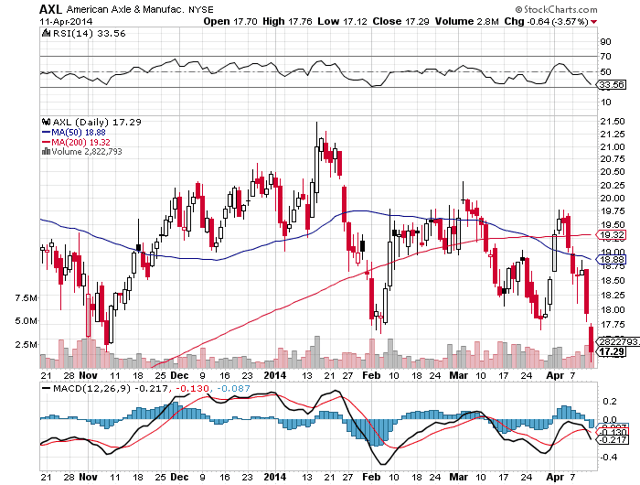 As the chart above shows, this stock was trading around $20 per share just days ago, but has declined sharply in the recent market pullback. With a Relative Strength Index or "RSI" of nearly 30, this stock has reached oversold levels. This means it could be poised for a rebound sometime soon. With the market having given up a few percentage points (on some indexes) in just the past 3 days or so, it's normal for this stock to come under some pressure, but the sell-off seems overdone at this point. With the 50-day moving average at around $18.88 per share and the 200-day moving average at $19.32 per share, I would not be surprise for this stock to rebound by at least $1 very soon, and much more in the long-run. It's worth noting that this stock traded around current levels in pullbacks that occurred in November, 2013, and February of this year. Investors who bought the pullbacks to around $17 at those times quickly saw the stock rebound. This shows there is strong support at current levels and that is one reason why I consider these shares to be in the "buy zone".
The pullback in the stock market seems healthy as too many high-flying momentum stocks had stretched valuations. However, American Axle & Manufacturing was not expensive at around $20 per share, and right now it is downright cheap at just over $17. This stock does not deserve to be part of the momentum stock sell-off and I believe investors will soon recognize the value and bid the share price back up, as they have in the past. Some momentum traders and hedge funds have been forced to sell stocks across the board in order to raise cash. But, when the market rebounds, value stocks like this one could be poised for quick gains. The fundamentals for this company and the auto industry remain very strong, as indicated by March auto sales. In March, U.S. sales for General Motors rose by 4.1%, and by 3.3% for Ford. Chrysler saw whopping gains of roughly 13%. Auto and truck sales around the world have also been solid as global growth improves.
American Axle & Manufacturing produces for many of the world's largest automakers which includes General Motors, Tata Motors (NYSE:TTM) and many others. Analysts expect it to earn $2.38 per share in 2014, and $2.70 per share for 2015. This gives the stock a price to earnings ratio of just about 7 for 2014 and closer to 6 times earnings for 2015. That is less than half the price to earnings ratio for the market in general. It is also much cheaper than many automaker stocks. For example, analysts expect Ford to earn $1.34 per share in 2014, and $1.91 per share in 2015. This gives Ford shares a PE ratio of roughly 12. American Axle & Manufacturing is expected to earn a dollar more per share than Ford this year and yet the share price for both of these companies is in the same neighborhood. This shows how exceedingly cheap American Axle & Manufacturing shares are today.
A Bank of America research report predicts that U.S. auto sales could hit a new high of 18 million units by 2018. That could mean nearly 5 years of strong sales for companies like American Axle & Manufacturing. This kind of growth potential also indicates that this stock deserves a price to earnings ratio that is much higher than just 7 times. With this stock showing strong support at about $17 per share in past sell-offs and with a history of quick rebounds from this level, this stock is a strong buy.
Here are some key points for American Axle & Manufacturing:
Current share price: $17.37
The 52 week range is $11.85 to $21.48
Earnings estimates for 2014: $2.38 per share
Earnings estimates for 2015: $2.70 per share
Annual dividend: n/a
Data is sourced from Yahoo Finance. No guarantees or representations are made. Hawkinvest is not a registered investment advisor and does not provide specific investment advice. The information is for informational purposes only. You should always consult a financial advisor.
Disclosure: I am long AXL, GM. I wrote this article myself, and it expresses my own opinions. I am not receiving compensation for it (other than from Seeking Alpha). I have no business relationship with any company whose stock is mentioned in this article.