Shares of 3D Systems (NYSE:DDD) have declined 50% from its all-time highs, and are trading around my downside price target, and have entered into oversold territory. The company seems to be at the other end of the "hype cycle", where negativity and bubble theories have become overwhelming. I have been warning about the potential downside risks in my previous article, where I said that the downside risk might be limited to $50, and stated the worst case scenario for a drop to between $35 and $40 (to a TTM P/S ratio around 7). At the time of writing, 3-D printing stocks were in a downtrend of their own, unaware of the rally in the general market. The recent sell-off in the momentum space has resulted in additional selling pressure in 3-D printing stocks, that might exacerbate the downward movement of 3D Systems, and other 3-D printing stocks. As a result, I think that 3D Systems might not done with its correction, and it might last more and the stock could fall down further if the correction in the overall market worsens.
In my previous article on 3D Systems I stated that the "worst case scenario might be a TTM P/S ratio around 7, but we might need a very bad market environment to get there. A previously stated and more optimistic bottom price would translate into 10% to 15% downside for 3D Systems. This would coincide with a technically important level of $50, which might serve as psychological level of support, as well as a point of major accumulation in the spring and summer of 2013." And we seem to be getting into a very bad market environment, at least for high growth momentum stocks. Since 3D Systems is currently trading at a TTM P/S ratio of 9.8, the expected downside from here is another 25% to 30%, with a downside price target of $35. However, on a forward basis, we are already getting there, since 3D Systems' forward P/S ratio is already around 7. We could assume that 3D Systems will grow into its valuation, but nonetheless, there is a real possibility that the downward momentum could drive the price down another 20% or 30%. The same fate awaits Stratasys (NASDAQ:SSYS), which performed better than 3D Systems this year, which can be attributed to its lower valuation at the beginning of the year.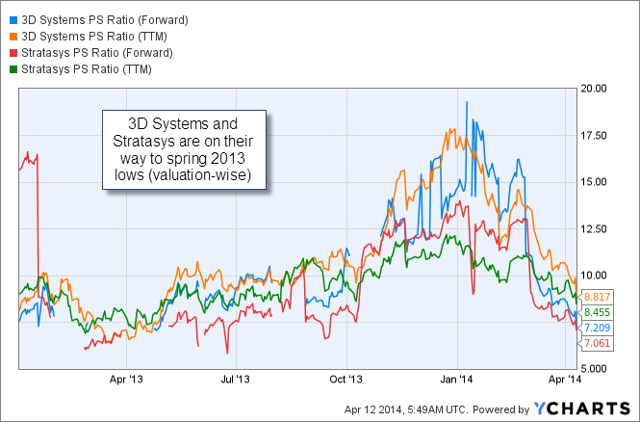 Source: ycharts.com
A crucial short-term fundamental event for 3D Systems and Stratasys is the Q1 earnings report. The reports will come after somewhat disappointing Q4 reports and profit warnings. Both 3D Systems and Stratasys are sacrificing their short-term profitability and investing heavily to expand their market share and product portfolios. 3D Systems plans to gain significant operating leverage in 2015 and beyond, which might drive accelerated earnings growth. There is also room for upward estimate revisions for 3D Systems, since the company presented a road map to $1 billion in annual revenue in 2015, which is 9% higher than the current consensus. The long-term growth prospects for 3-D printing stocks remain intact, and 3D Systems and Stratasys should enjoy strong top and bottom line growth in the next couple of years.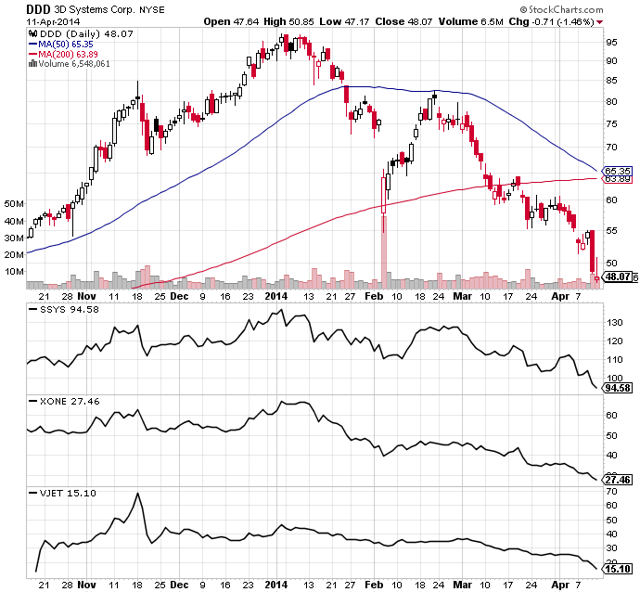 Source: Stockcharts.com
Conclusion
If the price level of $50 does not hold, and if the current sell-off in the momentum space continues, 3D Systems could fall another 20% to 30%. Stratasys and ExOne (NASDAQ:XONE) could also fall by the same amount, while voxeljet (NYSE:VJET) might fall even further, given its premium over its peers. However, I am optimistic about the long-term prospects of the industry, and we might be a few weeks or months away from a sustainable bottom. The Q1 earnings report might prove as crucial for 3D Systems and other stocks in the group, as it will shed light on the recent fundamental trends.
Disclosure: I have no positions in any stocks mentioned, and no plans to initiate any positions within the next 72 hours. I wrote this article myself, and it expresses my own opinions. I am not receiving compensation for it (other than from Seeking Alpha). I have no business relationship with any company whose stock is mentioned in this article.