The biotech ETF IBB has taken a beating over the past couple of months with a total decline of 20% since Feb 25th taking the Nasdaq (NASDAQ:QQQ) down with it. It's very tempting to look at this as a buying opportunity so let's see what the historical probabilities tell us.
The histograms below have the probabilities in percentage on the left y-axis and ranges of prices/returns on the bottom x-axis. The dark green indicates historical probabilities without consideration for the current point in time while light green probabilities are calculated based on periods with similar characteristics to today.
First probabilities for May 17th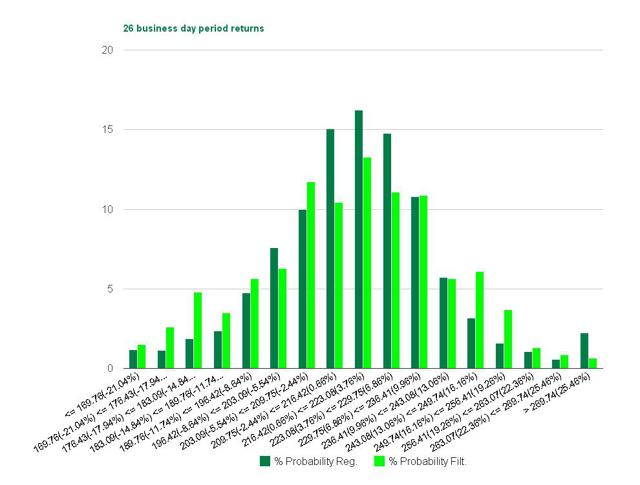 Click to enlarge
There is a slight tilt to extreme outcomes but if anything the probabilities are skewed slightly negative as compared to normal. The stats tell us a similar story with the range of outcomes showing a negative slant

Click to enlarge
While the expected return is positive it is less so than normally and the probability of a positive investment period is lower than normal. It does not appear IBB offers a good risk/reward scenario at this time, at least not with the holding period ending on May 17th.
Next probabilities for June 21st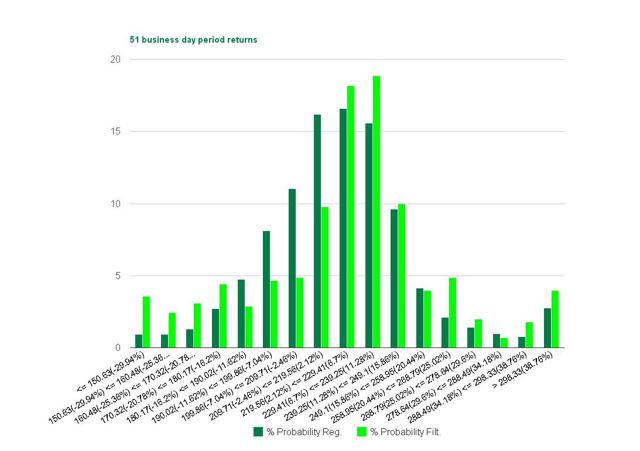 Click to enlarge
The probabilities for June 21st are decidedly shifted to the positive. There is definitely a higher than normal probability for positive outcomes, however, there is also a more than usual probability of extreme negative outcomes.
The stats also tell us that the odds are tilted in the favor of IBB for a holding period ending on June 21st. The probability of a positive investment return is above normal and the average rally is above normal. However, the risk of taking an outright IBB position is also above normal with an average drop of 15.1% in case of a negative return.

Click to enlarge
The option contracts on IBB expiring on Jun 21st are the perfect way to play this situation and while the premiums have increased they have not increased enough across all strikes to reduce the expected returns below acceptable levels. However, given the murky picture for May 17th a little bit of patience may be a good idea prior to initiating a position.
Disclosure: I am long IBB, QQQ. I wrote this article myself, and it expresses my own opinions. I am not receiving compensation for it. I have no business relationship with any company whose stock is mentioned in this article.