Well, the markets have managed to regain some semblance of their previous lunacy, going virtually parabolic on next to no volume. Indeed, if you ignored the "year" data, you'd think you were looking at 2009's market all over again what with the gaps up, late day CLEAR ramp jobs, and overnight manipulations: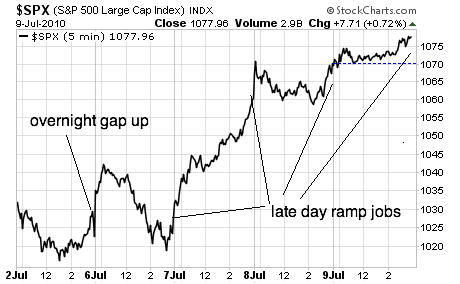 We've also seen the return of another 2009 hallmark: the no volume melt-up. Indeed, volume has been in a decline since early May. However, the volume last week was particularly pathetic as stocks entered Looney Tune-ville again.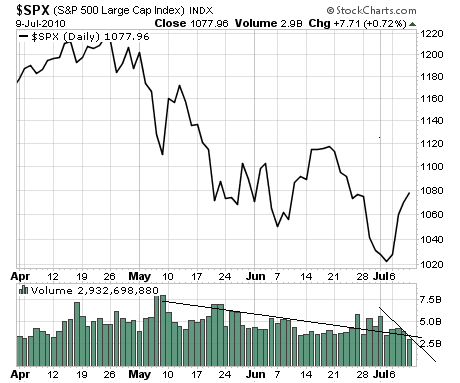 From a larger perspective, stocks have managed to close the gap from the end of May. This brings them directly under resistance at 1,080 and then 1,090. We've also got the 50-DMA at 1,000.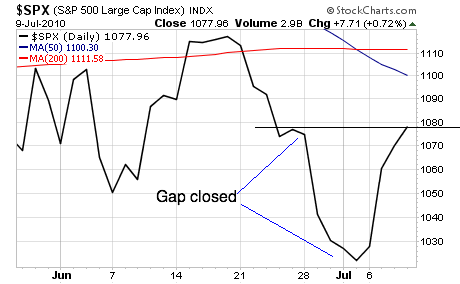 In plain terms, the easy work is over for this bounce. We're now getting to the real task at hand: overcoming resistance. If the S&P 500 can break above 1,080, 1,090 and the 50-DMA then the picture gets blurry. But until we break the 50-DMA we remain in a clear downtrend.
With that in mind, this rally, unless it turns into something more, should be seen as a gift from the market gods to shift to cash and prepare to establish another round of shorts.
On that note, back in March I urged subscribers to shift largely to cash. Since that time we've been riding the market down via a series of carefully played shorts, collecting gains of 7%, 9%, 10%, 14%, 16%, even 19% at a time when the market has lost 12%.
Indeed, all told, we've had 27 winning trades in the last two months. Over the same time period, we've only had eight losers. The largest was -9%. The others were in the low single digits (-2%, -3%, -5%, etc).
As I write this, we're preparing our next round of shorts for when the market rolls over. So far the market collapse has established a very clear pattern of lower lows. And my target for the next low will be sub-1000 on the S&P 500.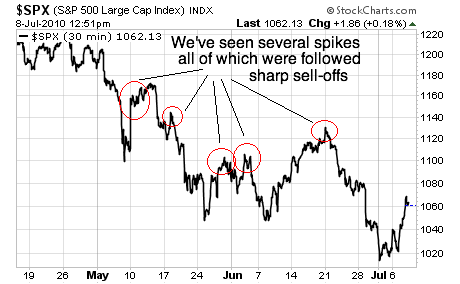 During its last plunge, the S&P 500 fell to 1,020. It actually touched 1,004 on the overnight futures session. So it's an almost certainty that when this rally ends and the next leg down begins, we're going below 1,000.