Advanced Micro Devices (NYSE:AMD) will publish its next quarterly earnings on 17 April. For this quarter, AMD President and CEO Rory Read said revenues will be down 13% to 19%. Analyst consensus is $1.3 billion for the period (-18.18% from previous quarter).
While the CEO expects revenues growth and profitability for the following year, the company faces financial problems such as lower margins and a cost cutting in R&D expenses, which are going to materialize in my opinion in the year 2014. This is why I would warn investors before buying shares. In this paper, I'm going to analyze revenues' trend, gross/operating margins, expenses, inventories and accounts receivable. I will also compare AMD to Intel (NASDAQ:INTC) to point out the company's current difficulties.
Revenues
AMD generates revenues from two segments: computing solutions, which are microprocessors and chipset products primarily sold to personal computer makers. Graphics and visual solutions include semi-custom SOC products, which are components of the new gaming consoles [PS4 from Sony (NYSE:SNE) and Xbox One from Microsoft (NASDAQ:MSFT) and GPU products. While the company enjoyed strong growth in the graphic segment, computing solutions continued to decrease at an important path (from $5 billion in 2011 to $3.1 billion in 2013]. Nevertheless, the company expects growth for its graphic solutions in the future thanks to high sales of next gen gaming consoles (PS4 and Xbox One).

Margins
While AMD increased total revenues by 46.04% from $1.088 billion in Q1 2013 to $1.589 billion in Q4 2013, gross margin tumbled from 40.9% to 34.8%. AMD increased revenues at the expenses of margins, which is not a good sign for the future. Despite the increase in graphic solutions revenues, which are supposed to have better margins than traditional computing solutions, AMD cannot reverse the declining trend. Moreover, the declining PC market adds more pressure on margins at the moment. In fact, the company's gross margin highlights higher competition in the semiconductor market in general.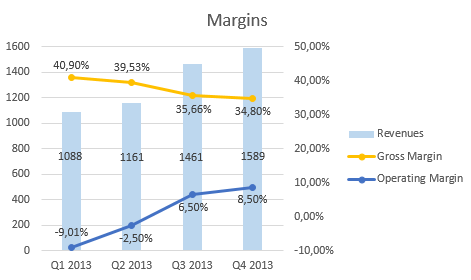 Now, you are going to say, operating margin improved in the last four quarters, as you can see in the graph. Yes this is the truth, but I'm going to demonstrate that this trend is not sustainable because it is mainly due to a cost cutting strategy. In fact, the company cannot maintain its current strategy forever and it is going to materialize in the share price in the following quarters.
Expenses
AMD achieves a successful cost cutting strategy from 2011 to 2013. In fact, R&D and SG&A expenses went down from $1.453 billion to $1.201 billion and from $992 million to $674 million, respectively. While that's a great move regarding the SG&A expenses, it would be great to start to reverse the trend from a R&D perspective. Because you must know R&D expenses are very important in this competitive market and represent the key for future sustainable growth.
On the contrary, Intel increased its R&D expenses from $8.35 billion in 2011 to $10.611 billion in 2013, representing 20.12% of total revenues. To put thing in perspective, Intel spent more than eight times the total R&D amount of AMD.
On a quarter basis, AMD expenses stayed flat in the last four quarters at $300 million. The R&D expenses of Intel increased from $ 2.527 billion to $2.826 billion, up from $300 million. If we take the R&D expenses as a % of total revenues, Intel stayed flat at 20% during the last four quarters. On the contrary, AMD's R&D expenses, as a % of total revenues, decreased from 28.68% to 18.44% as you can see in the graph.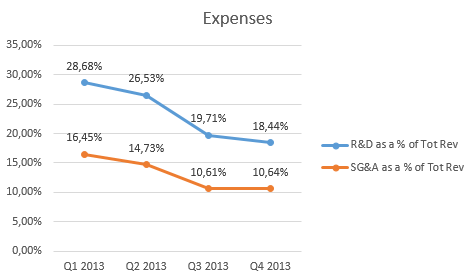 While AMD has been implementing a short term strategy by cutting expenses to improve its profitability, Intel invests for the future by increasing its R&D expenses, thanks to its financial soundness.
Inventory
During the last four quarters, AMD's inventory stayed big as a % of total revenues. More importantly, work in process remained very high, having increased from $422 million to $727 million (up 72.27%). On the positive side, finished goods decreased sharply from $225 million to $ 127 million, thanks mainly to higher sales of next gen gaming consoles.
For the year 2013, total inventory represented 16.68% of total revenues, while Intel's inventory represented only 7.91%.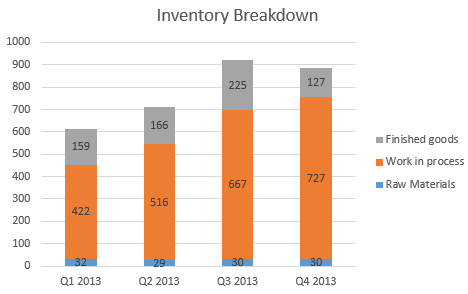 Accounts receivable
This is another metric against AMD as an investment for the future. AMD has to give more delays in payment to customers to make business. In fact, accounts receivable increased from 11.62% to 15.7% as a % of total revenues.
On the contrary, Intel improved its accounts receivable metric, which represented 6.8% of total revenues in 2013, sharply better than AMD's performance. This pattern shows something important: AMD's competitive positioning eroded during last year.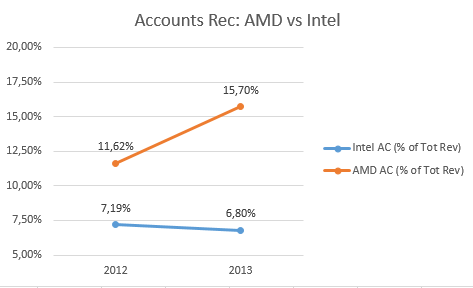 Conclusion
At first sight, AMD implements its turnaround strategy successfully by increasing revenues quarter over quarter and by improving operating margin. But if we have a deeper look at the results, they are not as good as it seems to be. Gross margin and accounts receivable show eroding competitive positioning and higher competition in the semiconductor market. More importantly, R&D expenses, which are the key to drive future growth, have been cut to improve short term profitability. On the increased revenues, I would say next gen gaming consoles' sales won't increase AMD's graphic solutions revenues forever, the company will need other deals to maintain this trend.
Furthermore, if you compare metrics with Intel, you quickly understand how bad the current situation for AMD is. By being smaller and less effective, AMD is gradually losing its chance to make a successful comeback in the semiconductor industry. This is why investors must be warned about AMD's real situation before buying shares. In my opinion, AMD is a stock to trade, not to invest in.
Disclosure: I have no positions in any stocks mentioned, and no plans to initiate any positions within the next 72 hours. I wrote this article myself, and it expresses my own opinions. I am not receiving compensation for it (other than from Seeking Alpha). I have no business relationship with any company whose stock is mentioned in this article.